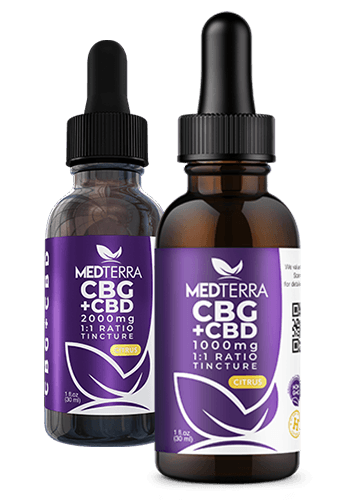 Buy Medterra CBG – CBD TINCTURE – CBD-CITRUS-1000 & 2000

Experience the power of Medterra's unique 1:1 blend of CBD and CBG in our exciting formula. CBG, known as 'The Mother of all Cannabinoids,' is a key wellness component found in the hemp plant. Unlike other CBG tinctures on the market, Medterra's CBG + CBD Tinctures combine significant amounts of both CBG and CBD, ensuring optimal benefits. At Medterra, we believe in doing things right.
Through our cutting-edge extraction technology, we have successfully produced substantial amounts of CBG for use in our products. The synergistic combination of CBD and CBG in our tinctures leads to enhanced effectiveness and maximum results. Available in strengths of 1000mg and 2000mg, our Citrus options offer 30-1mL servings and are designed for sublingual consumption.
Regardless of potency, all of Medterra's Tinctures come in one-ounce bottles, containing 30 servings of 1mL each. The dropper applicator features measurement markers (0.25, 0.50, 0.75, and 1mL) for precise and flexible serving sizes.
Servings:
Recommended Use:
Take one serving in the morning or at night. Some users prefer to take half a serving in the morning and half at night. Adjust the amount as needed after three days of use.
Flavor:
1:1 Product Offerings:
1000mg = 500mg CBD + 500mg CBG
2000mg = 1000mg CBD + 1000mg CBG
Milligrams per dropper:
1000mg = 16.6mg CBD + 16.6mg CBG per 1mL dropper
2000mg = 33.3mg CBD + 33.3mg CBG per 1mL dropper
Ingredients: Citrus
Medium-Chain Triglyceride (MCT) Oil (Coconut derived)*, Cannabigerol (CBG) Isolate Extract, Cannabidiol (CBD) Isolate Extract, Natural Citrus Flavors *Organic Ingredient