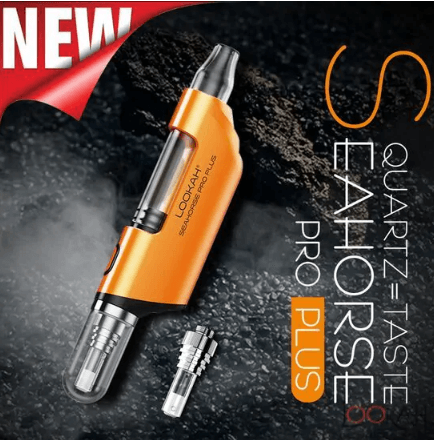 Buy Lookah Seahorse Pro Plus Dab Pen – Electric Nectar Collector- 50% OFF

Introducing the Next Generation Seahorse Pro Plus: The Ultimate Electric Nectar Collector for Wax Concentrates and Extracts!
To ensure optimal performance and longevity of the tips, we recommend following these tips:
After each use, make sure to burn off all the concentrates from the tip. This prevents the build-up of hardened residue that can potentially ruin or wear out the tips prematurely.
Avoid cleaning the Seahorse tips with the cleaning brush or any liquids/solvents, as this can cause damage to the tip.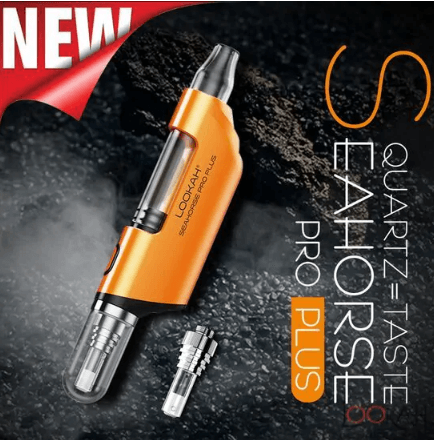 Lookah's Seahorse Pro Plus takes the evolution of the popular Seahorse dab pen to the next level. With its sleek design and advanced features, this portable dab device sets a new standard in the market.
The Seahorse Pro Plus is equipped with an improved, more durable porous quartz tip. It features a clear glass surround that allows you to see the vapor as it vaporizes from the wax on the tip, providing an immersive dabbing experience.
Powered by a 650mAh battery, the Seahorse Pro Plus offers long-lasting performance, allowing for approximately 10 to 15 dabs per full charge. Charging is a breeze with its convenient type C USB port, eliminating any hassle with cable orientation.
Compatibility is key, and the Pro Plus nectar collector works seamlessly with all 510-thread Lookah Seahorse tips. Whether you prefer quartz, ceramic, or transparent tube tips, you can find the perfect fit for your dabbing needs on our website.
Using the Seahorse Pro Plus is a breeze. It offers both manual mode and session mode dabbing experiences:
To turn on the Pro Plus, simply press the power button five times quickly.
Switch between the three voltage settings by pressing the power button twice quickly. Each voltage setting is indicated by a different colored light around the power button.
In manual mode, press and hold the power button to heat the tip. After a few seconds, you can start enjoying your dab.
Session mode is activated by pressing the power button three times quickly. The device enters a 15-second pre-heat phase, followed by 30 seconds of maintaining the set temperature, allowing for an intense dab session.
For an enhanced experience, you can connect the Seahorse Pro Plus dab pen to a water pipe using the included green hose and adapter. This allows for cooler and water-filtered dabs, providing a smoother inhalation experience.
To cater to your preferences, two accessory packs will be available separately: a stand for the device and a water bubbler accessory pack that replaces the glass mouthpiece, delivering even cooler hits.
The Seahorse Pro Plus Kit includes:
1 Seahorse Pro Plus
1 Magnetic Tip/Coil Cover
1 Connection Hose
1 14/18mm Adapter
1 User Manual
1 Cleaning Brush
1 USB Type-C Cable
1 Type 5 Seahorse Coil
Key Specifications/Features:
Battery: 650mAh
Fast heating up & new coil compatibility
Easy to clean
Portable and durable
Convenient type C USB port
Compatible with many 510 oil cartridges
Please note that this product is intended for users who are 21 years of age or older. You must be 21 or older to purchase this device.
Experience the next level of dabbing with the Next Generation Seahorse Pro Plus. Elevate your wax concentrate and extract sessions to new heights. Get yours today!