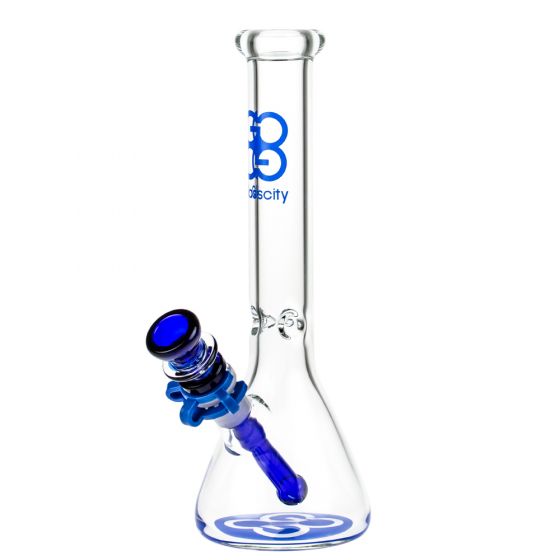 Glasscity Limited Edition Beaker Base Ice Bong

Limited edition beaker ice bong by Glasscity
High-quality borosilicate glass
Beaker base design
18.8mm ground joint
Inside-cut 18.8mm > 14.5mm slitted diffuser downstem
Ideal downstem length: 11 cm / 4.3 inches
14.5mm male herb bowl
Keck clip included
Ice notches
No carb hole
Glasscity decal on the tube and the base
Available with colored accents in: blue, black and green
Description
Glasscity Limited Edition Beaker Base Ice Bong
This limited edition beaker base ice bong is part of the Glasscity line, a line of high-quality glass bongs developed by Grasscity for very affordable prices. Made from clear, heat resistant borosilicate glass and measuring a compact 25.5 cm / 10 inches in height, this basic beaker bong will add some style and flair to any glass collection.
As you pull the smoke travels through the colored inside-cut 18.8mm > 14.5mm slitted diffuser downstem that is kept in place by a keck clip for added safety. The slits in the diffuser distribute the smoke into the water, which creates an incredible amount of bubbles for amazing filtration. The roomy beaker base provides a nice amount of space for the smoke to chill and provides great stability as well. Three ice notches in the tube allow you to place a good amount of ice cubes in the tube, for a hit so fresh it will give you goose bumps.
The removable herb bowl that is included with your purchase is equipped with an extra rim, allowing you to lift it much easier without burning your fingers. The downstem, bowl and keck clip come in a black color, which matches the Glasscity decal on the tube and bottom of the base perfectly.
This limited edition beaker ice bong has a great size to enjoy on your own, but is also big enough to share with friends. So if you are looking for an affordable beaker ice bong to add to your collection, look no further, this bong will tick all your boxes!