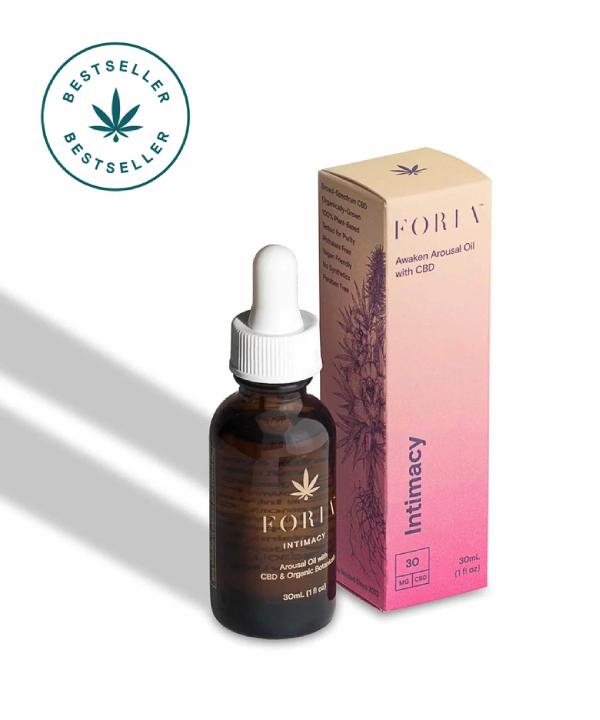 Buy Foria Awaken Arousal Oil with CBD & Organic Botanicals


This unique topical works with your body to enhance pleasure, ease discomfort and help make great sex even better with a blend of broad-spectrum CBD and organic botanicals. Awaken was designed to support sexual wellness for women and people with vulvas – solo or with a partner.
We take "clean" to a whole new level. Not only do all of our Intimacy formulas use 100% all-natural and organic botanicals, they have no fragrances, additives, or synthetic anything – ever.
In addition to out-of-this-world orgasms, our community reports benefits for vaginismus, vulvodynia, interstitial cystitis, endometriosis, other pelvic and genital pain conditions, and relief of menopausal challenges.
Awaken is organic MCT coconut oil-based, for the most sensual, natural feel – and to get the best benefits from the botanical ingredients. Not for use with latex or polyisoprene protection or toys.
Our CBD comes from USDA organic-certified, regeneratively-grown hemp.
Free of alcohol, petroleum-based ingredients, phthalates, glycerin, parabens and dyes. Never tested on animals.
Oral-friendly, vegan, gluten-free and safe to ingest. Avoid use if you're allergic to any of the ingredients.
Purity Matters
Like all of our formulas, Awaken's ingredients are all-natural and grown pesticide-free. The final product is independently tested for purity, ensuring that it's free of pesticides, heavy metals, microbes and other toxins.
Our hemp is USDA organic-certified and cultivated employing regenerative and biodynamic practices to enhance soil, water, and biodiversity.
Our MCT is exclusively from sustainably-farmed, certified virgin coconut oil, produced via cold-centrifuge process.
Instructions
Add as much as a full dropper to the clitoris, inner labia, and inside the vagina. Gently massage & allow the botanicals to absorb and work their magic.
Cautions
NOT FOR USE WITH LATEX OR POLY-ISOPRENE. Awaken is oil-based so any condoms, diaphragms or toys must be oil-safe materials.
ALLERGENS: avoid use if you (or your partner) are allergic to any ingredients. Contains coconut oil, which is considered a "tree nut."
Some people may experience sensitivities to our all-natural ingredients. We recommend doing a patch test before use. If you experience discomfort, discontinue use immediately and contact Foria Customer Care here.
Keep out of the reach of children and pets.
Ingredients
Organic MCT Coconut Oil
Whole-Plant Infusions (Organically Grown Hemp, Organically Grown Kava Root, Organic Cinnamon, Organic Ginger, Organic Vanilla)
Organic Essential Oils (Cardamom, Peppermint) Cacao Absolute
Certificate of Analysis
Every ingredient and every batch of the final product is independently tested for purity & potency.
View a summary of test results for each batch here.
Questions?
Check out our FAQ or click the chat window in the lower right of your screen to contact Foria customer service.
‡These statements have not been evaluated by the Food and Drug Administration. This product is not intended to diagnose, treat, cure, or prevent any disease.