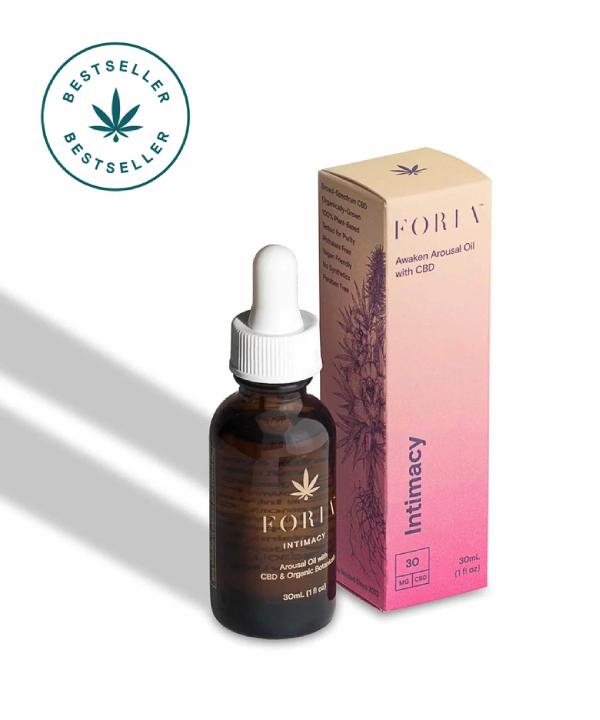 Buy Foria Awaken Arousal Oil with CBD & Organic Botanicals


Introducing Awaken, a groundbreaking topical solution that works in perfect harmony with your body to elevate pleasure, alleviate discomfort, and unlock new dimensions of sexual experiences. This revolutionary blend combines broad-spectrum CBD and organic botanicals, meticulously formulated to promote sexual wellness for women and individuals with vulvas, whether you're indulging in self-pleasure or exploring with a partner.
At our company, we redefine what it means to be "clean." Our Intimacy formulas are not only crafted from 100% natural and organic botanicals but are also entirely free from fragrances, additives, and synthetic ingredients – always prioritizing your well-being.
Awaken offers benefits that extend far beyond mind-blowing orgasms. Our community has shared remarkable outcomes, reporting relief from conditions such as vaginismus, vulvodynia, interstitial cystitis, endometriosis, pelvic and genital pain, as well as alleviation of menopausal challenges.
Experience the sensual and natural feel of Awaken, carefully crafted with organic MCT coconut oil to maximize the efficacy of its botanical ingredients. Please note that it is not compatible with latex or polyisoprene protection or toys.
Rest assured, our CBD is derived from USDA organic-certified, regeneratively-grown hemp. We hold ourselves to the highest standards, ensuring that our products are free from alcohol, petroleum-based ingredients, phthalates, glycerin, parabens, and dyes. As part of our commitment to ethical practices, we proudly state that our products are never tested on animals. Awaken is oral-friendly, vegan, gluten-free, and safe for ingestion, but we advise caution if you have any allergies to the ingredients.
Purity is paramount to us. Like all our formulas, Awaken consists of all-natural ingredients, cultivated without the use of pesticides. Each batch undergoes rigorous independent testing to guarantee its purity, ensuring it is free from pesticides, heavy metals, microbes, and other toxins.
Our hemp is USDA organic-certified and cultivated using regenerative and biodynamic practices, promoting the health of soil, water, and biodiversity. The MCT oil we use is sourced exclusively from sustainably-farmed, certified virgin coconut oil, processed through a cold-centrifuge method.
Using Awaken is simple. Apply a full dropper or as desired to the clitoris, inner labia, and inside the vagina. Gently massage and allow the botanicals to absorb, unleashing their magic.
A few cautions to consider: Awaken is an oil-based product and should not be used with latex or poly-isoprene materials, including condoms, diaphragms, or toys. If you or your partner have any allergies to the ingredients, please refrain from use. As with any natural product, some individuals may experience sensitivities, so we recommend performing a patch test before full use. If any discomfort arises, discontinue use immediately and reach out to our dedicated Foria Customer Care team.
For your peace of mind, keep Awaken out of reach of children and pets.
Let's explore the ingredients in Awaken:
Organic MCT Coconut Oil
Whole-Plant Infusions (Organically Grown Hemp, Organically Grown Kava Root, Organic Cinnamon, Organic Ginger, Organic Vanilla)
Organic Essential Oils (Cardamom, Peppermint)
Cacao Absolute
Transparency and accountability are our guiding principles. Every ingredient and each batch of our final product undergo independent testing for purity and potency. You can access a summary of test results for each batch on our website.
If you have any questions, we invite you to explore our FAQ section or use the chat window in the lower right corner of your screen to connect with our dedicated Foria customer service team.
Please note that these statements have not been evaluated by the Food and Drug Administration. This product is not intended to diagnose, treat, cure, or prevent any disease.
At Foria, we are dedicated to creating products that enhance pleasure, prioritize your well-being, and bring joy to your intimate experiences. Embrace Awaken and embark on a journey toward a new level of sexual wellness.