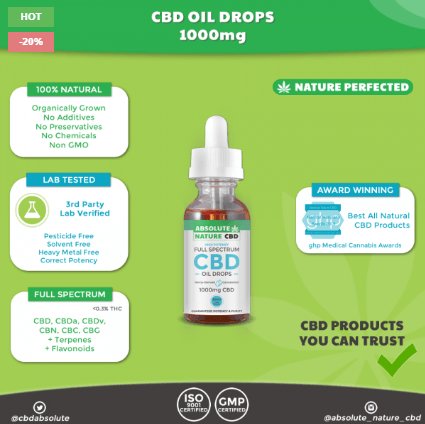 Full Spectrum 1000mg CBD-HEMP Oil Drops Tincture – 30ml – <0.3% THC

Experience the excellence of AbsoluteNatureCBD's 1000mg Full Spectrum CBD Tincture Oil:
As the pinnacle of our CBD product range, our AbsoluteNatureCBD 1000mg CBD full spectrum tincture oil stands as our best-selling and most beloved item.
Crafted with pride in the USA, our production facility is cGMP-certified, ensuring the highest quality standards for your satisfaction. We meticulously create this tincture using 100% natural whole-plant CBD oil, derived from carefully selected hemp plants.
But it doesn't stop at CBD alone. Our tincture contains a comprehensive blend of whole-plant full-spectrum CBD oil and MCT oil, specifically formulated to maximize absorption. With each ML serving, you receive 33mg of CBD, complemented by an additional 5-10mg of beneficial cannabinoids. These elements work harmoniously to deliver potent and efficient results when taken orally.
To guarantee exceptional quality, our premium CBD tinctures are exclusively made from non-GMO hemp cultivated by local farmers in Colorado. Our commitment to excellence is reflected in our meticulous CO2 extraction process, ensuring that our CBD/hemp oil retains its natural integrity while adhering to the highest industry standards from cultivation to bottling.
SKU: FSCBDO-1000-H1
Category: Full Spectrum CBD Hemp Oil for Sale
Tags: CBD, CBD Oil, CBD Tincture, Full Spectrum CBD Oil, Pain Relief
Full-Spectrum 1000mg CBD oil Drops Specifications
Ingredients: MCT (Fractionated Coconut Oil), CBD Hemp Extract
Each bottle contains:
1000 mg of CBD+CBDa
1ml of oil contains 33mg of CBD+CBDa
1ml of oil contains 37mg of total cannabinoids
A single drop contains: 2 mg CBDa+CBD
Total drops: 500
No preservatives or artificial colors, Vegan, Gluten free, non-GMO
TOTAL HEALTH WITH WHOLE-PLANT FULL SPECTRUM CBD OIL DROPS
OUR 1000MG CBD OIL CONTAINS ALL-NATURAL WHOLE-PLANT CBD (CANNABIDIOL), NATURALLY OCCURRING TERPENES, OTHER CANNABINOIDS AND POWERFUL PLANT COMPOUNDS.
CBD – CBDA – CBDV – CBG – CBN – CBC – <0.3% THC
Whole-plant full-spectrum all-natural 1000mg CBD (cannabidiol) oil that delivers the powerful whole-plant entourage effect.
The entourage effect is everything!