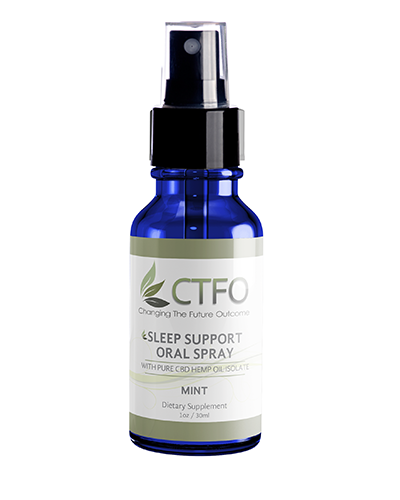 CBD Sleep Support Oral Spray – 30ml


Experience Restful Nights with Our Sleep Support Spray!
You deserve a rejuvenating and peaceful sleep experience! Our bodies naturally release hormones that promote healthy sleep patterns. However, as we age and encounter environmental factors like artificial light, the production of these hormones can diminish, leading to sleep disturbances. That's where our Sleep Support Spray comes in, combining a special blend of CBD and essential nutrients to promote deep and uninterrupted sleep. This product is ideal for individuals struggling with falling asleep or staying asleep.
Our Sleep Support Spray is designed to enhance the quality of your sleep without leaving you groggy the next day. Our unique blend of carefully selected nutrients is rapidly absorbed when sprayed orally, working swiftly to improve your sleep habits and combat insomnia. Rest assured, our CBD has undergone scientific testing to ensure safety and effectiveness.
To experience the benefits, simply spray two (2) sprays into your mouth 15 minutes before bedtime, on a daily basis or as desired. For optimal results, spray under your tongue, hold for a few seconds, and then swallow.
Ingredients: Our Sleep Support Spray contains a thoughtfully crafted blend of ingredients, including:
Hemp Derived Cannabidiol: Extracted from hemp, this CBD component helps promote relaxation and improve sleep quality.
Valerian Root Extract: Known for its calming properties, valerian root extract supports tranquility and aids in achieving a restful sleep.
Magnesium Gluconate: Essential for maintaining a healthy sleep cycle, magnesium gluconate supports relaxation and a peaceful mind.
Purified Water: Ensures the purity and quality of our sleep support spray.
Coconut Oil: Provides a smooth texture and aids in the absorption of nutrients.
Cocoa Derivative: Enhances the flavor profile and adds a touch of indulgence.
Glycerin: Acts as a natural emollient, promoting moisture retention.
Potassium Sorbate: A safe and widely used preservative that maintains product freshness.
Stevia Leaf Extract: A natural sweetener derived from the stevia plant, adding a pleasant taste without compromising health.
Xanthan Gum: A natural thickening agent that contributes to the overall consistency of the spray.
Natural Flavors: Carefully selected to create a delightful taste experience.
Choose our Sleep Support Spray and embark on a journey to restful nights and refreshed mornings. Prioritize your sleep with our scientifically tested and expertly formulated blend. It's time to reclaim your well-deserved sleep!