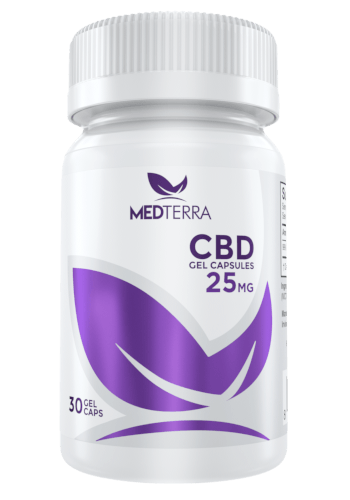 Buy Medterra CBD Gel Capsules For Anxiety – 25MG -30 Gel Caps

CBD Tinctures were among the pioneering CBD products in the market, and while we hold a special place in our hearts for them, we can't deny the appeal of CBD packaged in easily swallowed gel capsules.
Introducing Medterra's CBD Supplements – the simplest and quickest way to incorporate CBD into your daily routine. Encased in convenient gel capsules, our CBD is infused with organic MCT oil, carefully measured at 25mg and 50mg. Like all our products, our CBD Supplements are crafted in a cGMP facility, subject to regular FDA audits. This guarantees the quality and consistency of CBD in every capsule, leaving you with no doubts or concerns. Should you wish to verify for yourself, please refer to the Certificate of Analysis available on each product page.
For those seeking to amplify the power of CBD, two of our CBD Supplements feature proprietary blends designed to enhance CBD's effects. Our Good Morning Supplement combines CBD with ingredients such as Caffeine, L-Tyrosine, and L-Theanine, delivering a state of calm and focused energy without the jitters associated with coffee. Meanwhile, our Melatonin + CBD Sleep Tablets combine the soothing properties of CBD with Melatonin to facilitate falling asleep and achieving restful sleep throughout the night.
With Medterra's CBD Supplements, experiencing the benefits of CBD has never been easier or more tailored to your specific needs.