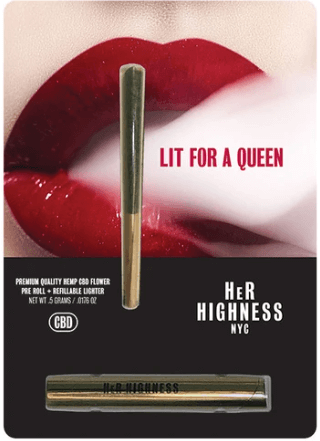 Her Highness NYC Cherry Blossom CBD SINGLE PRE ROLL JOINTS & LIGHTER

PRODUCT DETAILS
Includes: 0.5g Cherry Blossom CBD pre-roll and a refillable gold lighter. Strain sourced from a minority-owned hemp co-op in Shelton, CT.
Usage Instructions: Take 1-3 gentle puffs. Allow a moment to assess how you feel. Continue smoking or save it for later enjoyment.
Indulge in the perfect pairing for a glass of wine and a relaxing bubble bath—the half-gram Cherry Blossom flavored organic CBD hemp wrap. Our slim pre-roll features an extra-long filter to protect your nails and eyelashes from any singeing, allowing you to embrace a luxurious old Hollywood style without the harmful carcinogens of the past. True to its name, Cherry Blossom cannabis offers a blissful sense of relaxation. Whether you choose to smoke the entire CBD hemp wrap in one session or savor a few puffs at a time, there's no need to worry about overdoing it. Plus, we've crafted the accompanying gold lighter to withstand the test of time—just remember to refill it with butane for a lifetime of use.