Buy Nature's Script Premium CBD Products – CBD GUMMIES | CBD CAPSULES | CBD OIL | CBD PAIN RELIEF RUB | CBD HEAT RELIEF SPRAY | CBD BATH BOMBS | CBD LOTION | CBD PATCHES | CBD PET OIL

$49.99 – $99.99
$79.99 – $199.99
$49.99 – $99.99
$79.99 – $199.99
CBD is the perfect addition to your wellness regimen. Nature's Script™ products use premium CBD sourced from Industrial Hemp grown on licensed American farms. Shop our CBD products below. If you're not sure which product is right for you, view our CBD Products Overview.

Introducing Nature's Script™ CBD Gummies: Elevate Your Well-Being with Premium CBD
Nature's Script™ CBD Gummies are crafted to promote a happier and healthier lifestyle while providing you with a soothing sense of comfort and relaxation. Our gummies are infused with premium CBD sourced from Industrial Hemp cultivated on federally licensed American farms. With a commitment to quality, we formulate our gummies in-house using our state-of-the-art gummy machine, ensuring consistency and potency in every bite.
Indulge in a variety of CBD Gummy options tailored to your specific needs. Whether you're seeking the original formula for overall well-being, sleep support for a restful night's sleep, immune support to boost your body's defenses, or high potency for an extra strength dose, Nature's Script has you covered.
Experience the natural benefits of CBD and discover how our delicious CBD Gummies can enhance your daily routine, foster relaxation, and contribute to a healthier and more balanced lifestyle. Choose Nature's Script for premium quality and unparalleled CBD goodness.

Introducing Nature's Script Premium CBD Capsules: Unleash the Power of Wellness in Every Capsule
Nature's Script offers premium CBD Capsules that deliver a potent serving of wellness benefits in a convenient and easily digestible form. Our Hemp Extract Capsules are carefully crafted to provide you with high-quality CBD and essential nutrients such as calcium and magnesium, supporting your journey towards optimal health and well-being.
With Nature's Script CBD Capsules, you can effortlessly incorporate the goodness of CBD into your daily routine. Each capsule contains a precise dosage of CBD, ensuring consistency and effectiveness. Choose from our original capsules, each containing 15mg of CBD, or opt for our high potency capsules, packed with 30mg of CBD per capsule, for an extra boost.
Experience the power of CBD and essential nutrients working harmoniously to help you achieve your health and wellness goals. Nature's Script Premium CBD Capsules are designed to enhance your well-being, providing a convenient and reliable solution for incorporating CBD into your life. Embrace the benefits of our meticulously formulated capsules and embark on a journey towards a healthier and more balanced lifestyle.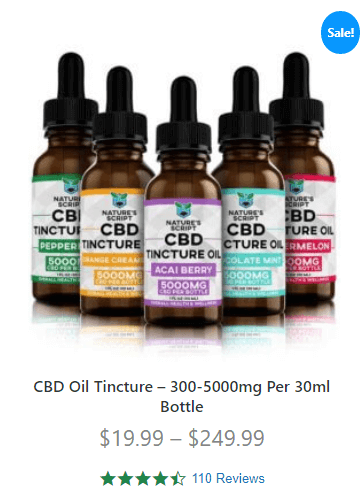 Introducing Nature's Script CBD Oil: Unleash the Power of Premium Hemp Extract
Nature's Script CBD Oil is a premium product sourced from Industrial Hemp grown on federally licensed American farms. Our CBD Oil contains the natural compound known as Cannabidiol (CBD), a cannabinoid found in the Hemp plant renowned for its potential wellness benefits. It's the perfect addition to your healthy routine, promoting relaxation, comfort, and overall well-being.
CBD Oil is commonly taken sublingually, allowing for quick absorption by the mucus membranes under the tongue. However, it can also be incorporated into your favorite foods or beverages. By adding our CBD tincture to your daily regimen, you may experience a positive impact on your overall wellness. Nature's Script offers Hemp Extract Oil in various potency concentrations, ranging from 300mg to 5000mg, catering to both newcomers and regular CBD users.
At Nature's Script, we take pride in providing you with premium, plant-based Hemp Oil. Our Industrial Hemp is carefully sourced from American farms, and all our production processes are conducted in-house to ensure quality and consistency. To guarantee that you receive a beneficial product, we consistently test our CBD Oil through independent third-party labs. Embark on a journey to explore the potential therapeutic properties of the Hemp plant by trying Nature's Script premium CBD Oil today.

Discover the Soothing Power of Nature's Script CBD Pain Relief Rub
Nature's Script CBD Pain Relief Rub is a gentle and effective topical solution designed to alleviate muscle and joint discomfort. Our Cryotherapy Pain Gel combines the benefits of premium CBD and menthol to deliver a cooling and long-lasting relief experience. Whether you're dealing with minor aches or persistent discomfort, our CBD Pain Gel is here to help. Choose from CBD concentrations of 100mg, 400mg, and 1000mg to find the perfect strength for your needs.
For convenient and mess-free application, we also offer a 200mg CBD Roll-on Pain Gel. This innovative solution allows you to roll on the same great benefits of our traditional gel without getting your hands dirty. Simply apply the roll-on to the affected areas and enjoy targeted relief.
Nature's Script sources premium CBD from high-quality Industrial Hemp. Our raw CBD is carefully obtained from experienced American farmers who adhere to strict licensing requirements. By blending our premium CBD with the cooling properties of menthol, we provide comforting relief for even the most stubborn aches. Treat your muscles and joints to the soothing benefits of our Cryotherapy CBD Pain Relief Gel today and experience the natural power of relief.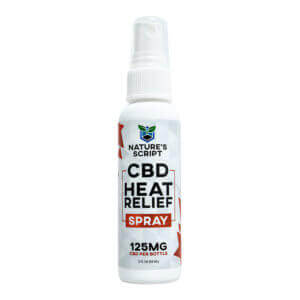 Experience Soothing Relief with Nature's Script CBD Heat Relief Spray
Nature's Script CBD Heat Relief Spray is expertly formulated to provide targeted relief for your aches and pains. Each 2oz bottle contains 125mg of premium CBD, delivering total comfort when you need it most. Revitalize your muscles and joints with the warming benefits of methyl salicylate and meadowsweet, working in harmony with CBD to enhance the soothing effects.
Using our fast-acting CBD Spray is simple and convenient. Just follow these directions for use:
Shake well before use to ensure optimal blending of ingredients.
Hold the nozzle approximately 3-4 inches away from the area you want to target.
Spray the Heat Relief Spray directly onto the affected area, taking care to avoid contact with your face and eyes.
After applying, remember to wash your hands thoroughly.
You can use Nature's Script CBD Heat Relief Spray up to 3-4 times a day to warm up stiff joints and muscles, promoting comfort and flexibility. We source our premium CBD from high-quality Industrial Hemp cultivated on American farms, ensuring the highest standards of quality and purity.
At Nature's Script, we take pride in crafting our CBD topicals in-house, allowing us to maintain strict control over the manufacturing processes to ensure cleanliness and consistency. To guarantee the quality and contents of our CBD Heat Relief Spray, we conduct both in-house and finished product testing. Furthermore, we go the extra mile by verifying our products through ISO-certified third-party lab tests. You can find the results of these tests published on our website, empowering you to make informed decisions about your CBD purchases.
Experience the soothing relief of Nature's Script CBD Heat Relief Spray and discover the natural power of comfort and well-being.

Indulge in a Luxurious Home Spa Experience with Nature's Script CBD Bath Bombs
Transform your home into a haven of relaxation and rejuvenation with Nature's Script CBD Bath Bombs. Immerse yourself in pure bliss with our three exquisite variations: Heal & Restore, Relax & Meditate, and Sleep & Rest. Each Bath Bomb is infused with 75mg of premium CBD and meticulously blended with unique aromatherapy fragrances to provide targeted benefits for your well-being.
Crafted with care, our Bath Bombs are designed to cater to your specific self-care needs. After a long and demanding day, Nature's Script Bath Bombs offer the perfect opportunity to unwind and pamper yourself. But don't just take our word for it! Our CBD Bath Bombs were recognized as a 2020 Editors' Picks Best New Product by Progressive Grocer, a testament to their exceptional quality and effectiveness.
Immerse yourself in the soothing waters and let the CBD-infused Bath Bombs envelop your senses, promoting relaxation, restoration, and tranquility. The harmonious fusion of CBD and aromatic fragrances creates a sensory experience that nurtures your mind, body, and spirit.
Experience the luxury of a spa retreat right in the comfort of your own home with Nature's Script CBD Bath Bombs. Elevate your self-care routine and embrace the transformative power of relaxation and indulgence.

Rejuvenate Your Skin with Nature's Script CBD Hand and Body Lotion
Experience the revitalizing power of Nature's Script CBD Lotion and unveil a healthier, more vibrant complexion. Expertly crafted in-house, our CBD-infused Hand and Body Lotion is enriched with 125mg of pure CBD to nourish and benefit your body. To enhance its effectiveness, we've carefully selected additional nutrient-rich ingredients such as shea butter, mango butter, and marula oil, promoting softer and more radiant skin.
Our CBD Cream offers a delightful amber fragrance and can be applied as needed, providing non-greasy rejuvenation for your skin. With Nature's Script, we prioritize natural, skin-friendly ingredients that offer specific benefits. Shea butter, renowned for its richness in essential fatty acids, helps soothe and soften your skin while reducing inflammation and redness. Mango butter, abundant in vitamins and minerals, deeply moisturizes and alleviates dry, cracked skin. Marula oil, packed with antioxidants, fatty acids, and amino acids, effectively regulates oily skin and maintains its suppleness and softness.
At Nature's Script, we take pride in manufacturing and formulating our CBD Hand and Body Lotion in-house. Our stringent standard operating procedures (SOPs) ensure consistent and high-quality CBD topicals for your skin's well-being. With our superior processes and the unique blend of premium ingredients, our CBD Cream stands as the most trusted choice for CBD topical lotions.
For your convenience, Nature's Script Hand and Body Lotion is available in a travel-sized 1.7 fl oz bottle, allowing you to maintain silky-smooth skin no matter where you go. Elevate your skincare routine and embrace the nourishing benefits of Nature's Script CBD Lotion today.

Indulge in Tranquility with Nature's Script CBD Essential Oil Rollers
Experience the soothing effects of CBD and essential oils as you melt away stress and embrace relaxation. Nature's Script CBD Essential Oil Rollers combine the therapeutic benefits of CBD with a unique blend of natural oils designed to enhance focus and promote tranquility. Available in two variants – Focus Blend and Sleep Blend – our CBD rollers are perfect for on-the-go use, allowing for easy and convenient application wherever you are. Each 10ml roll-on bottle contains a luxurious blend of premium natural oils and 125mg of concentrated CBD, providing you with a harmonious aromatherapy experience.
Focus Blend – CBD Essential Oil Nature's Script's Focus Blend CBD Essential Oil Roll-On incorporates the invigorating properties of CBD along with the uplifting scents of fresh citrus. With carefully crafted fragrances of lemon and tangerine, our Focus Blend roll-on encourages enhanced concentration. Lemon and tangerine essential oils are known to promote positivity and alleviate stress. Ideal for use in the morning or afternoon, our Focus Blend helps awaken your senses when fatigue or grogginess sets in.
Sleep Blend – CBD Essential Oil Unwind and relax with the soothing blend of our CBD Essential Oil Roller Sleep Blend. Infused with the tranquil aromas of lavender and eucalyptus, our Sleep Blend roll-on promotes deep relaxation of the body and mind. The calming scents of eucalyptus help to open up airways, while lavender offers relief from headaches, setting the stage for a restful night's sleep. Apply onto your skin or inhale before bedtime to unwind, destress, and embrace a peaceful slumber.
Immerse yourself in the tranquility of Nature's Script CBD Essential Oil Rollers, where the harmonious combination of CBD and natural oils creates a blissful journey of relaxation and rejuvenation.

Experience Convenient Relief with Nature's Script CBD Patches
Discover the ease and effectiveness of Nature's Script CBD Patches, designed for fast-acting relief that's simple to use. Just peel, stick, and place the adhesive patch on your skin to enjoy long-lasting benefits. Our CBD Patches are available in three targeted varieties: Pain, Sleep, and Hangover, each specially formulated to address specific needs. Each pack of patches contains a total of 100mg of CBD, combined with premium ingredients to enhance their effects. Apply the adhesive patch to your desired area and wear it for 8 to 12 hours to experience the full benefits.
CBD Pain Patch Take control of your lifestyle with the power of our CBD Pain Patch. Infused with lidocaine, our pain patches provide cooling and soothing relief. Each pack includes 2 transdermal adhesives, with 50mg of CBD per adhesive. The versatility of these patches allows you to target specific areas of discomfort, penetrating deep and providing long-lasting relief compared to other CBD topicals.
CBD Sleep Patch Prepare for a restful night's sleep with our CBD Sleep Patch. Each pack contains 4 transdermal adhesives, with 25mg of CBD per adhesive. Our Sleep Patches also include melatonin to aid in sleep troubles. The CBD Sleep Patch ensures absorption throughout the night, so you can enjoy uninterrupted sleep without tossing and turning. Experience the benefits of CBD and melatonin for a rejuvenating night's rest.
CBD Hangover Patch Recover quickly from a night of fun with Nature's Script CBD Hangover Patch. Crafted with Green Tea, B-1, and B complex, our Hangover Patches revitalize your post-party experience. Green tea supports liver function and has the potential to decrease blood alcohol concentration. B-1 and B complex provide essential nutrients to restore your body's balance. Each pack contains 4 adhesives, with 25mg of CBD per adhesive. Regain your focus and peace of mind with our CBD Hangover Patches.
Enjoy the convenience and targeted relief of Nature's Script CBD Patches, carefully formulated to address your specific needs and provide efficient relief wherever you go.

Nourish and Protect Your Lips with Nature's Script CBD Lip Balm
Experience the soothing and hydrating benefits of Nature's Script CBD Lip Balm, designed to keep your lips healthy, soft, and moisturized. Our lip balm is carefully crafted with high-quality ingredients, including 125mg of premium CBD, beeswax, vitamin E, sweet almond oil, shea butter, and cocoa butter. These nourishing components work together to provide a protective barrier and promote lip health.
Nature's Script CBD Lip Balm features a refreshing coconut-vanilla flavor, making it a delightful addition to your daily self-care routine. Simply apply it as needed throughout the day to enjoy the moisturizing effects and the potential benefits of CBD.
Indulge your lips with Nature's Script CBD Lip Balm and give them the care and hydration they deserve.

Benefits of CBD Relaxation Shot
Convenient Relaxation On-the-Go Experience a comprehensive sense of calm wherever you are with our CBD Relaxation Shot. Whether you're boarding a plane or facing intense stress, our portable bottle ensures that you can access the benefits of CBD anytime, anywhere.
Long-Lasting Effects Enjoy the enduring effects of our Hemp Extract Relaxation Shot, whether consumed alone or mixed with other beverages. As you ingest our CBD Shot, its therapeutic properties linger in your system, providing sustained relief. If you struggle with persistent stress or finding a state of relaxation, our premium CBD may offer prolonged support.
Potential for Improved Sleep Nature's Script CBD Shots deliver a potent 75mg serving of CBD combined with melatonin, making them ideal for even the most troubled sleepers. The soothing properties of our CBD Relaxation Shot can help calm both your mind and body, promoting a restful night's sleep. For optimal tranquility, we recommend taking it before bedtime.
Embrace the benefits of our CBD Relaxation Shot and discover a newfound sense of relaxation and restfulness.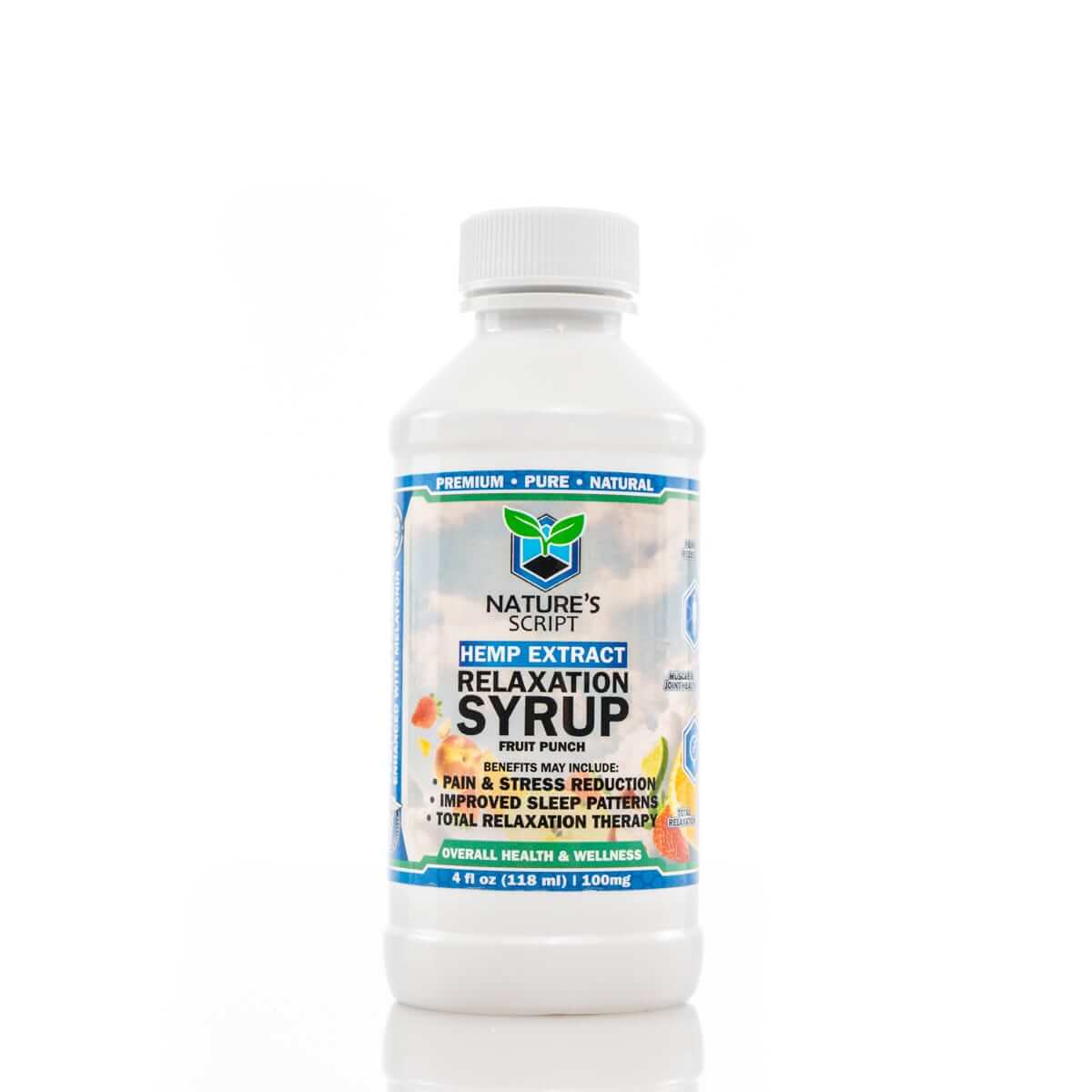 CBD for Pets: Unlocking the Therapeutic Potential
Hemp Extract, also known as CBD, has gained popularity for its numerous health and wellness benefits in humans. However, did you know that CBD may also offer therapeutic advantages for our furry friends? Nature's Script understands the importance of pets' well-being, which is why we have developed premium CBD Pet Oil using superior-quality Industrial Hemp cultivated on American farms. Through our specialized extraction process, we ensure that only the finest, potent CBD is included in our products, catering to both humans and animals alike.
If you've never considered incorporating CBD into your pet's routine, you might be curious about the potential benefits. Nature's Script Pet Oil encompasses a range of therapeutic properties that can support your cherished companion. Pet owners frequently turn to our oil to potentially address hyperactivity, separation or situational anxiety, skin issues, allergies, and more. Overall, our Pet Oil aims to promote a state of calm and relaxation, which can be especially beneficial in specific situations such as vet visits, long car rides, welcoming guests into your home, and various other scenarios.
Discover the potential therapeutic benefits of Nature's Script Pet Oil, and give your beloved pet the care and serenity they deserve.

Indulge Your Canine Companion with the Goodness of Hemp Extract in Our CBD Dog Treats
Give your furry friend a special treat while providing them with the benefits of Hemp Extract. Our CBD Dog Treats are not only delicious but also contain 10 mg of CBD per biscuit, offering your canine the daily support they need for longer walks and more delightful belly rubs. These tasty treats have the potential to promote relaxation, relieve stress, and contribute to your pup's overall wellness.
Not sure about the appropriate serving size for your dog? Refer to our Recommended Serving Guide for guidance.
Product Information:
8-count of CBD Dog Biscuits
Each biscuit contains 10 mg of CBD
Total of 80 mg of CBD
Thoroughly tested by independent labs to ensure quality and safety
Give your furry companion the goodness of CBD Dog Treats, and enhance their well-being in a delightful way.

Experience the Concentrated Health Benefits of our Premium CBD Syrup
Our CBD Syrup is carefully formulated to provide valuable health benefits, including potential relief from anxiety, support for restful sleep, and the promotion of a calm and balanced state of mind. Nature's Script Hemp Syrup goes beyond CBD, incorporating extracts from other botanicals to create a lasting sense of relaxation. You have the flexibility to personalize your CBD serving by measuring out the syrup according to your preferences.
Enjoy the delightful light fruit punch flavor of our Hemp Extract Syrup, whether you choose to take it on its own or mix it with your favorite drink. Say goodbye to any medicinal aftertaste. As with all Nature's Script products, our CBD is derived from superior-quality Industrial Hemp and undergoes thorough lab testing to ensure potency and quality.
We believe in transparency, which is why we proudly share the results of our third-party lab tests on our website. You can easily access and verify the contents of your product. At Nature's Script, we prioritize your trust by providing detailed information about our Syrup and other CBD products, empowering you to make informed choices about your wellness journey.