Buy Nature's Script Premium CBD Products – CBD GUMMIES | CBD CAPSULES | CBD OIL | CBD PAIN RELIEF RUB | CBD HEAT RELIEF SPRAY | CBD BATH BOMBS | CBD LOTION | CBD PATCHES | CBD PET OIL

$49.99 – $99.99
$79.99 – $199.99
$49.99 – $99.99
$79.99 – $199.99
CBD is the perfect addition to your wellness regimen. Nature's Script™ products use premium CBD sourced from Industrial Hemp grown on licensed American farms. Shop our CBD products below. If you're not sure which product is right for you, view our CBD Products Overview.

Nature's Script™ CBD Gummies feature premium CBD to encourage a happier and healthier lifestyle while boosting your comfort and relaxation. Our gummies are infused with CBD sourced from Industrial Hemp grown on federally licensed American farms. We formulate our gummies in-house using our state-of-the-art gummy machine. Choose from a variety of CBD Gummy options, including original, sleep, immune support and high potency.

Nature's Script premium CBD Capsules feature a potent serving of wellness benefits in an easy-to-take, digestible capsule. Our Hemp Extract Capsules contain high-quality CBD and essential nutrients like calcium and magnesium to help you reach your health and wellness goals. Our Capsules are available in original (15mg of CBD per cap) or high potency (30mg of CBD per cap) options.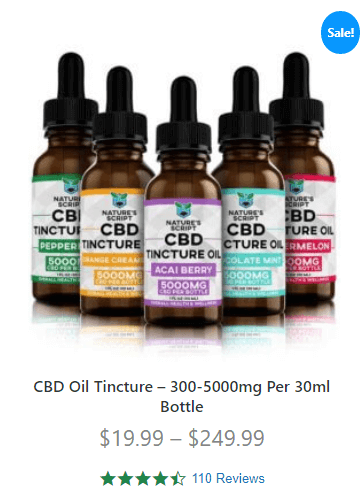 Nature's Script CBD Oil features premium CBD sourced from Industrial Hemp grown on federally licensed American farms. CBD, or Cannabidiol, is a natural compound known as a cannabinoid found throughout the Hemp plant. CBD Oil is commonly used to encourage a healthy wellness routine, promote relaxation, provide comfort and more.
Generally, CBD Oil is taken sublingually, or under the tongue, to be quickly absorbed by mucus membranes, but it can also be added to your favorite foods or beverages. Adding CBD tincture to your daily regimen may have a positive impact on your overall wellness. Nature's Script Hemp Extract Oil comes in varying potency concentrations ranging from 300mg to 5000mg. Whether it's your first time trying CBD or you use CBD every day, Nature's Script has a tincture for you.
We take pride in offering you premium, plant-based Hemp Oil. Nature's Script sources our Industrial Hemp from American farms and all of our production processes take place in-house. To ensure you receive a quality and beneficial Oil, we continuously have our products tested by independent third-party labs. Try Nature's Script premium CBD Oil today to experience the potential therapeutic properties of the Hemp plant.

Nature's Script CBD Pain Relief Rub is a soothing topical solution for easing muscle and joint discomforts. Our Cryotherapy Pain Gel features premium CBD and menthol to deliver cooling, long-lasting relief. Our CBD Pain Gel is available in CBD concentrations of 100mg, 400mg and 1000mg. We also offer a 200mg CBD Roll-on Pain Gel that delivers the same great benefits of our traditional gel in a mess-free applicator, allowing you to roll on relief without getting your hands dirty.
Nature's Script's Pain Gel uses premium CBD sourced from high-quality Industrial Hemp. We obtain our raw CBD from licensed and experienced American farmers. We blend our premium CBD with the cooling benefits of menthol to provide comforting relief for the most stubborn aches. Treat your muscles and joints to the soothing benefits of our Cryotherapy CBD Pain Relief Gel today.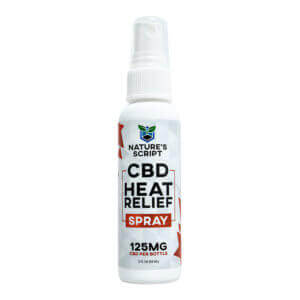 Nature's Script CBD Heat Relief Spray was specially formulated to soothe aches and pains. Each 2oz bottle features 125mg of premium CBD to deliver total comfort. Revitalize your muscles and joints with the added benefits of methyl salicylate and meadowsweet to provide warming relief. Our fast-acting CBD Spray is easy to use and allows you to target your desired area of support. Follow these directions for use:
Shake well before use
Hold the nozzle about 3-4 inches away from the targeted area
Spray on the area of pain or discomfort (avoid face and eyes)
Wash hands immediately after use
Use up to 3-4 times a day to warm up stiff joints and muscles. Nature's Script CBD Heat Relief Spray uses premium CBD sourced from high-quality Industrial Hemp grown on American farms. We craft our CBD topicals in-house, allowing us to ensure all processes are clean and consistent. We conduct in-house and finished good testing of all CBD Heat Relief Spray batches to verify the quality and contents, and we also verify our products with ISO-certified third-party lab tests, the results of which we publish on our site so you can make informed decisions about your CBD purchases.

Create a luxurious spa environment within the comfort of your own home with Nature's Script CBD Bath Bombs. Available in three variations: Heal & Restore, Relax & Meditate and Sleep & Rest – each Bath Bomb contains 75mg of premium CBD and its own unique aromatherapy fragrances to deliver targeted benefits.
We specially craft our Bath Bombs to help you obtain your desired self-care needs. Nature's Script Bath Bombs are the perfect way to de-stress and treat yourself after a long day. Don't just take our word! Our CBD Bath Bombs were named a 2020 Editors' Picks Best New Product by Progressive Grocer.

Revitalize the look and feel of your skin with Nature's Script's CBD Lotion. Carefully crafted in-house, our CBD Hand and Body Lotion contains 125mg of pure CBD to benefit your body. We've included additional nutrient-rich ingredients like shea butter, mango butter and marula oil to encourage healthier and softer skin. Our CBD Cream offers a pleasant amber fragrance and can be applied as needed for non-greasy skin rejuvenation.
We selected natural, skin-friendly ingredients like shea butter, mango butter and marula for the specific benefits they offer. Shea butter contains high concentrations of essential fatty acids to help soothe and soften your skin. Additionally, shea carries anti-inflammatory properties to help reduce skin swelling and redness. Mango butter possesses vitamins and minerals beneficial to moisturizing your skin. It can help relieve dry skin that is cracked or damaged. Marula oil is high in antioxidants, fatty acids and amino acids. It's effective in regulating oily skin and keeping it soft and supple.
Like all Nature's Script CBD products, we manufacture and formulate our CBD Hand and Body Lotion in-house. We implement strict standard operating procedures (SOPs) that allow us to create consistent and quality CBD topicals for your skin's health. Our superior processes and unique blend of high-quality ingredients make our CBD Cream the most trusted CBD topical lotion available.
Nature's Script Hand and Body Lotion is available in a 1.7 fl oz, travel-sized bottle so that you can maintain silky, smooth skin wherever you go.

Soothe your stress with the relaxing properties of CBD and essential oils. Nature's Script CBD Essential Oil Rollers combine the benefits of CBD with a unique blend of natural oils to enhance focus and relaxation. Available in focus or sleep blend, our CBD rollers are perfect to take on-to-the go for easy application. Each 10ml roll-on bottle contains a luxurious blend of premium natural oils and 125mg of concentrated CBD. Our special blend of ingredients in these soothing CBD topicals creates an invigorating aromatherapy experience.
Focus Blend – CBD Essential Oil
Nature's Script's CBD Essential Oil Roll-On Focus Blend includes the beneficial properties of CBD and the revitalizing scents of fresh citrus. We specially craft our Focus Blend roll-on with the fragrances of lemon and tangerine to encourage concentration. Lemon and tangerine essential oils are said to improve positivity and alleviate stress. We recommend using in the morning or the afternoon, our Focus Blend helps awaken the senses when you are feeling tired or groggy.
Sleep Blend – CBD Essential Oil
Relax your senses with the calming blend of our CBD Essential Roller Sleep Blend. We infuse our CBD Sleep Blend with the essential oil aromas of lavender and eucalyptus. Our Sleep Blend roll-on promotes relaxation of the body and mind. The peaceful scents of eucalyptus can help open up airways while lavender offers relief from headaches to enhance sleep. Apply on your skin or inhale before bed to unwind and destress into a perfect night's sleep.

Nature's Script CBD Patches are easy-to-use and fast-acting. Peel, stick and place the adhesive on your skin for long-lasting relief. Available in Pain, Sleep and Hangover varieties – our CBD Patches are specially formulated for your targeted use. Each Patch pack contains a total of 100mg of CBD and other premium ingredients to enhance its effects. You can apply our adhesives to your desired area of relief and wear them for up to 8 to 12 hours.
CBD Pain Patch
Manage your lifestyle with the power of the patch. Formulated with lidocaine, our CBD Pain Patches provide a cooling and soothing relief. Nature's Script CBD Pain Patches pack comes with 2 transdermal adhesives containing 50mg of CBD per adhesive. The versatility of our adhesives allows you to target specific areas of discomfort. These CBD patches penetrate deep and last longer than other CBD topicals, providing greater potential relief.
CBD Sleep Patch
Get ready to catch some Z's with our CBD Sleep Patch. Our CBD Sleep pack comes with 4 transdermal adhesives, each containing 25mg of CBD. Nature's Script Sleep Patches also contain melatonin to help relieve troubles with sleeping. CBD Sleep Patches allow for absorption throughout the night so you don't have to worry about tossing and turning. The addition of melatonin helps encourage a healthy night's rest.
CBD Hangover Patch
Don't let your night of fun ruin your next day. Nature's Script CBD Hangover Patches are crafted with Green Tea, B-1 and B complex to revitalize your postparty recovery. Green tea offers liver support and has the potential to decrease blood alcohol concentration. B-1 and B-1 complex provide essential nutrients to help restore the body's balance. Our Hangover variation comes in a pack of 4 and each adhesive contains 25mg of CBD. Regain your focus and peace of mind with our CBD Hangover Patches.

Keep your lips feeling healthy, hydrated and soft with Nature's Script™ CBD Lip Balm. Our CBD Balm uses high-quality ingredients to soothe and protect your lips, including 125mg of premium CBD, beeswax, vitamin E, sweet almond oil, shea butter and cocoa butter. Nature's Script CBD-Infused Lip Balm features a refreshing coconut-vanilla flavor and can be applied as needed throughout the day. This lip balm is perfect for adding more CBD to your everyday self-care routine.

CBD Relaxation Shot Benefits
On-the-Go Relaxation
Whether you're catching a plane flight or under extreme stress, our CBD Shot is here to provide you with an encompassing calm. A portable bottle makes it easy to take anywhere you go, so no matter where you are, make sure to have our CBD Shot on hand to access CBD's benefits.
Long-Lasting
Mixed or taken on its own, our Hemp Extract Relaxation Shot effects are sure to be long lasting. Since you ingest our CBD Shot, its contents remain in your system much longer. If you are continuously irritated by nagging stress or are having trouble finding a calm, relaxed state of mind, the effects of our premium CBD may provide extended relief.
Potential to Improve Sleep
Nature's Script CBD Shots pack an effective CBD serving of 75mg and melatonin to help even the worst sleepers. The soothing properties of our CBD Relaxation Shot may help calm your mind and body for an optimal night's rest. We recommend taking it before bed to experience full tranquility.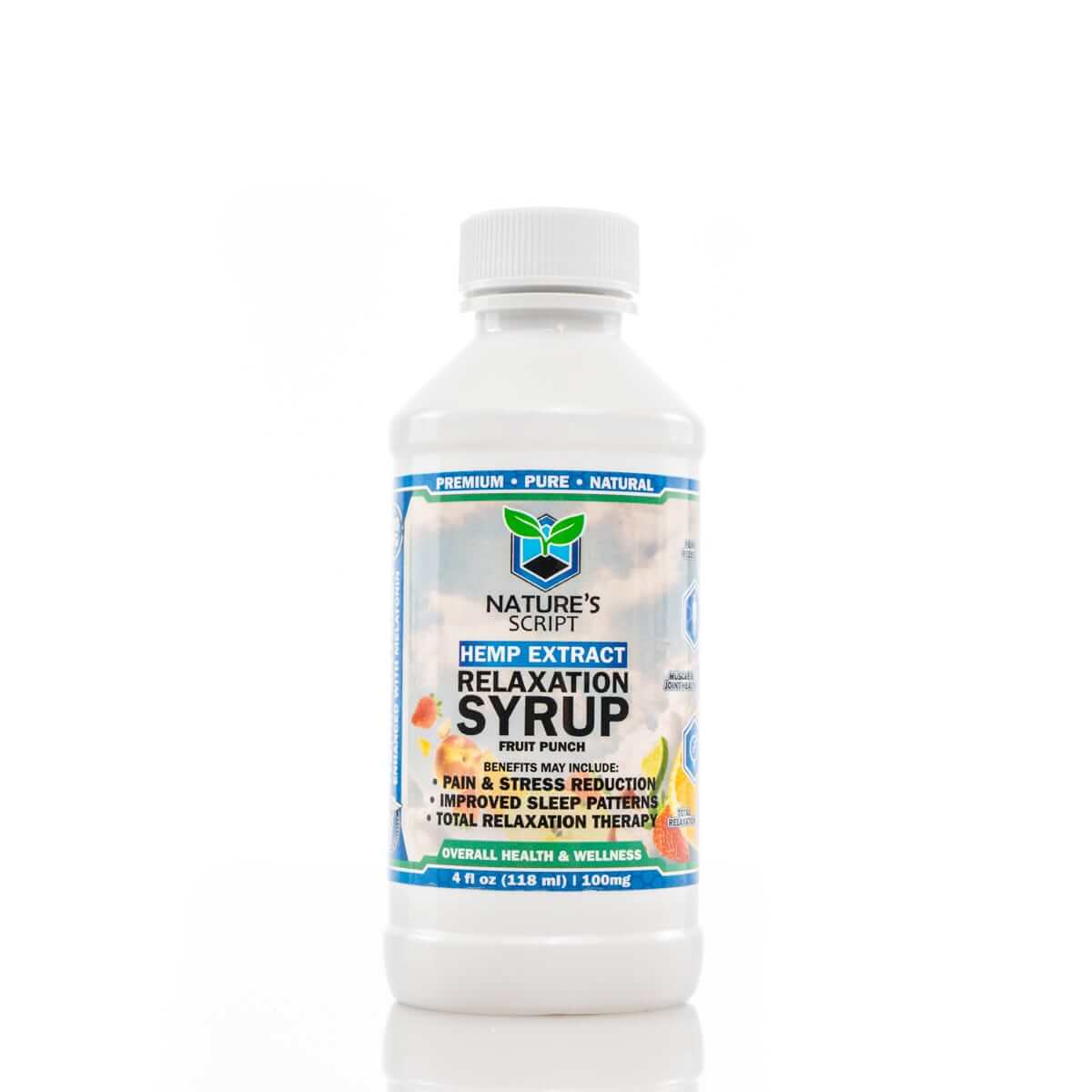 Hemp Extract, or CBD, is used to help provide people with a variety of health and wellness benefits. But did you know CBD may have therapeutic benefits for pets too? At Nature's Script, we make our premium CBD Pet Oil from superior-quality Industrial Hemp grown on American farms. Our high-grade Industrial Hemp is then put through our specialized extraction process to remove any unwanted compounds and to ensure only the most premium, potent CBD is included in our products for both humans and animals.
If you've never considered giving your pup a CBD product before, you may be wondering what the benefits for your pet may be. Nature's Script Pet Oil packs an array of potential therapeutic properties for your beloved companion. Pet owners commonly use our oil to potentially help with hyperactivity, separation or situational anxiety, skin problems, allergies and more. Overall, our Pet Oil may help your pet find a more calm, relaxed state, which can be very helpful in particular instances, such as a trip to the vet, a long ride in the car, in advance of having guests over to your home and in many other situations.

Treat your furry friend to the benefits of Hemp Extract with our CBD Dog Treats. Our tasty treats pack 10 mg of CBD into each biscuit, giving your canine the daily support they need for longer walks and more belly rubs. CBD Dog Biscuits may help promote relaxation, relieve stress and assist the overall wellness of your pup.
Unsure how many biscuits to give your dog? View our Recommended Serving Guide
Product Info
8-Count of CBD Dog Biscuits
10 mg of CBD per Biscuit
80 mg of CBD total
Tested by Independent Labs

Our premium CBD Syrup is concentrated with valuable health benefits, which may include anxiety relief, sleep support, and the promotion of calm and balance. Nature's Script Hemp Syrup also includes extracts from other botanicals to help create a lasting sense of relaxation. You can personalize your Hemp Extract, or CBD, serving by measuring out your syrup to your liking.
Whether you take our syrup on its own or mix it with your favorite drink, you'll enjoy the light fruit punch flavor without a medicinal aftertaste. Like all Nature's Script products, the CBD in our Hemp Syrup is derived from superior-quality Industrial Hemp and is thoroughly lab tested to ensure potency and quality.
In fact, we post the results of our third-party lab test results on our website so it's easy for you to look up your product and see exactly what's in it. At Nature's Script, we want to be transparent about our products and educate you on their benefits, so that you can trust the quality of our Syrup and other CBD Products.