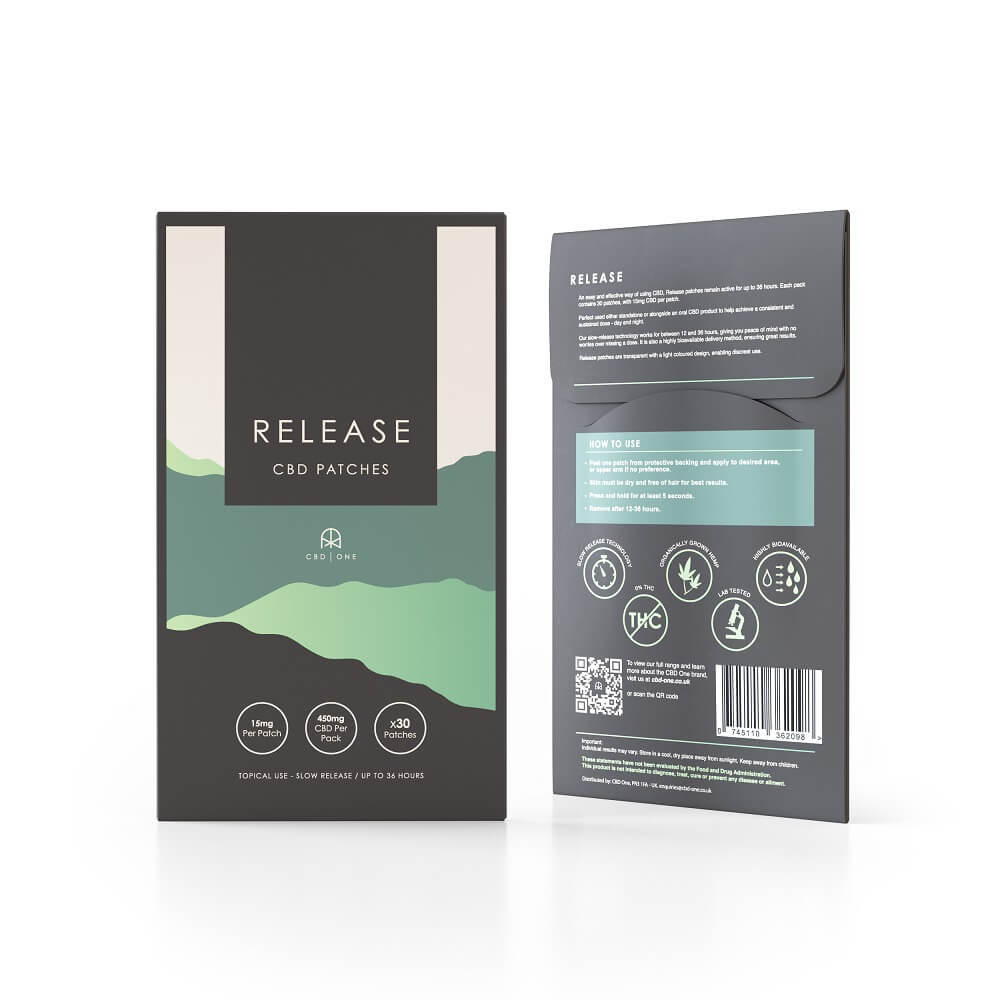 BUY CBD-ONE UK RELEASE CBD PATCHES FOR PAIN RELIEF AND ANXIETY

Release CBD patches are a super-effective and convenient way to use CBD. Simply apply to skin and leave for 12-36 hours with 30 patches per pack.
PRODUCT DESCRIPTION
Release CBD patches are a revolutionary step forward in the way we supplement with CBD. After trying many different types of the patch, we were struggling to find an effective product – despite some containing apparently high levels of CBD. Thankfully, we are now confident we've cracked it.
Each patch contains 15mg of active CBD, which is slowly released over the course of 12 to 36 hours. They are also 100% THC free – a perfect choice of CBD for professional athletes.
Simply stick one patch on the desired area of your body and enjoy the rest of your day with total peace of mind. It's that simple!
Due to the very high bioavailability of this delivery method, we have pleasantly surprised by the feedback in our trials so far. In fact, it is fair to say we've been blown away. After seeing the market explode in recent years mainly with gimmicky products that do not offer any real benefit to our health – we don't say that often.
At CBD One, we like to keep it simple. You might not see our range bursting with dozens of different products – from chocolate bars to bath bombs and CBD infused alcoholic drinks. That's because we will only ever put our name on a product we genuinely believe can help improve your health and wellbeing. That's a promise! So, you can be confident with the addition of Release patches to our range that you are in for a treat.
If you're one of the people who doesn't like the taste of CBD oils; Release patches are a perfect choice. Many people turn to capsules in this instance – something we have always steered people away from since when CBD is swallowed in a capsule it is very ineffective, with over 95% being destroyed by the body. Only products like our Absorb range have been designed to be swallowed and still retain effectiveness.
Topical patches are also a great choice for those who use oral CBD products and find they have to dose regularly or with higher amounts to achieve the desired effect. You may be able to reduce either the dose or frequency, meaning your products will last longer. Also, if you're prone to forgetting to take your CBD sometimes wearing a patch means you are always in control.
Release patches are safe and super effective when combined with your existing CBD products. They are also suitable to use standalone – so whether you're looking to add them to your routine or use them on their own, they are sure to be effective.
Due to the nature of the slow-release technology involved in Release patches, they are zero THC and therefore not full-spectrum like our oral products. If you are looking for the entourage effect of all cannabinoids and compounds working together; use one of our oils or Absorb products alongside them. However, due to the extremely high bioavailability of the patches – do not be fooled: they're incredibly effective.
With 30 patches per pack – they also represent fantastic value for money. Release patches are another product we are incredibly proud to call one of our own.
HIGHLIGHTS:
Super easy to use
THC Free – perfect for professional athletes
High bioavailability – super effective
All-natural ingredients
Laboratory verified
30 patches per pack
15mg active CBD per patch / 450mg CBD per pack
Slow-release technology works for up to 36 hours
INGREDIENTS:
15mg CBD per patch.
INSTRUCTIONS:
Peel one patch from protective backing and apply to the desired area, or upper arm if no preference.
Skin must be dry and free of hair for the best results.
Press and hold for at least 5 seconds.
Remove after 12-36 hours.
IMPORTANT:
Individual results may vary.
Store in a cool, dry place away from sunlight.
Keep away from children.
These statements have not been evaluated by the Food and Drug Administration.
This product is not intended to diagnose, treat, cure or prevent any disease or ailment.