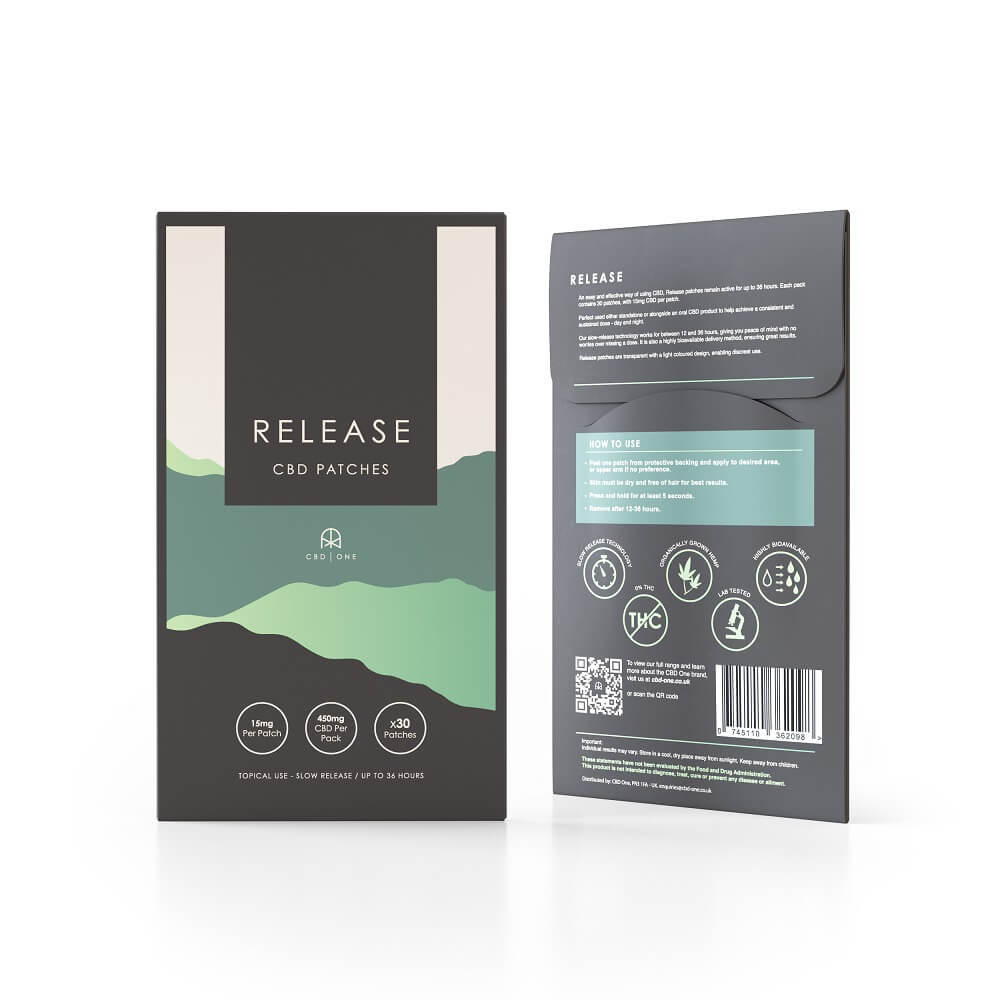 BUY CBD-ONE UK RELEASE CBD PATCHES FOR PAIN RELIEF AND ANXIETY

Experience the effectiveness and convenience of Release CBD patches. Simply apply them to your skin and enjoy their benefits for 12-36 hours. Each pack contains 30 patches, providing a long-lasting supply.
Our revolutionary Release CBD patches have been carefully designed to deliver exceptional results. After extensive testing, we have developed a truly effective product that stands out from the rest, even those claiming high CBD levels. Each patch contains 15mg of active CBD, gradually released over the course of 12 to 36 hours. Rest assured, our patches are 100% THC-free, making them an ideal choice for professional athletes.
Using our patches is incredibly easy. Simply apply one patch to the desired area of your body and continue with your day, knowing you're benefiting from CBD's effects. It's as simple as that!
During our trials, we were pleasantly surprised by the high bioavailability of our patches. We have been blown away by the positive feedback we received. In a market saturated with gimmicky products that offer little real benefit to our health, we are proud to offer a product that truly delivers.
At CBD One, we believe in simplicity and quality. While our range may not include an overwhelming variety of products like chocolate bars, bath bombs, or CBD-infused drinks, rest assured that every product bearing our name is carefully selected to improve your health and well-being. That's a promise! The addition of Release patches to our range is a testament to our commitment to quality.
If you're not a fan of the taste of CBD oils, Release patches are a perfect alternative. Many people resort to capsules in such cases, but we advise against it because swallowing CBD in a capsule renders it highly ineffective, with over 95% being destroyed by the body. Our Absorb range is specifically designed for oral consumption while retaining effectiveness.
Topical patches are also an excellent option for those who use oral CBD products but find themselves needing frequent or higher doses to achieve the desired effects. Using patches may allow you to reduce either the dose or frequency, making your products last longer. Additionally, if you occasionally forget to take your CBD, wearing a patch ensures you're always in control.
Release patches are safe and highly effective, whether used alongside your existing CBD products or as standalone options. While they do not provide the full-spectrum entourage effect of our oral products, due to the slow-release technology, their high bioavailability ensures incredible effectiveness.
With 30 patches per pack, our Release patches offer fantastic value for your money. We take immense pride in offering Release patches as one of our own products.
HIGHLIGHTS:
Easy to use
THC-free, making them ideal for professional athletes
High bioavailability for superb effectiveness
All-natural ingredients
Laboratory verified
30 patches per pack
15mg of active CBD per patch / 450mg CBD per pack
Slow-release technology for up to 36 hours of use
INGREDIENTS: Each patch contains 15mg of CBD.
INSTRUCTIONS:
Peel one patch from the protective backing and apply it to the desired area, or the upper arm if you have no preference.
Ensure the skin is dry and free of hair for optimal results.
Press and hold the patch for at least 5 seconds.
Remove the patch after 12-36 hours.
IMPORTANT:
Individual results may vary.
Store in a cool, dry place away from sunlight.
Keep out of reach of children.
These statements have not been evaluated by the Food and Drug Administration.
This product is not intended to diagnose, treat, cure, or prevent any disease or ailment.