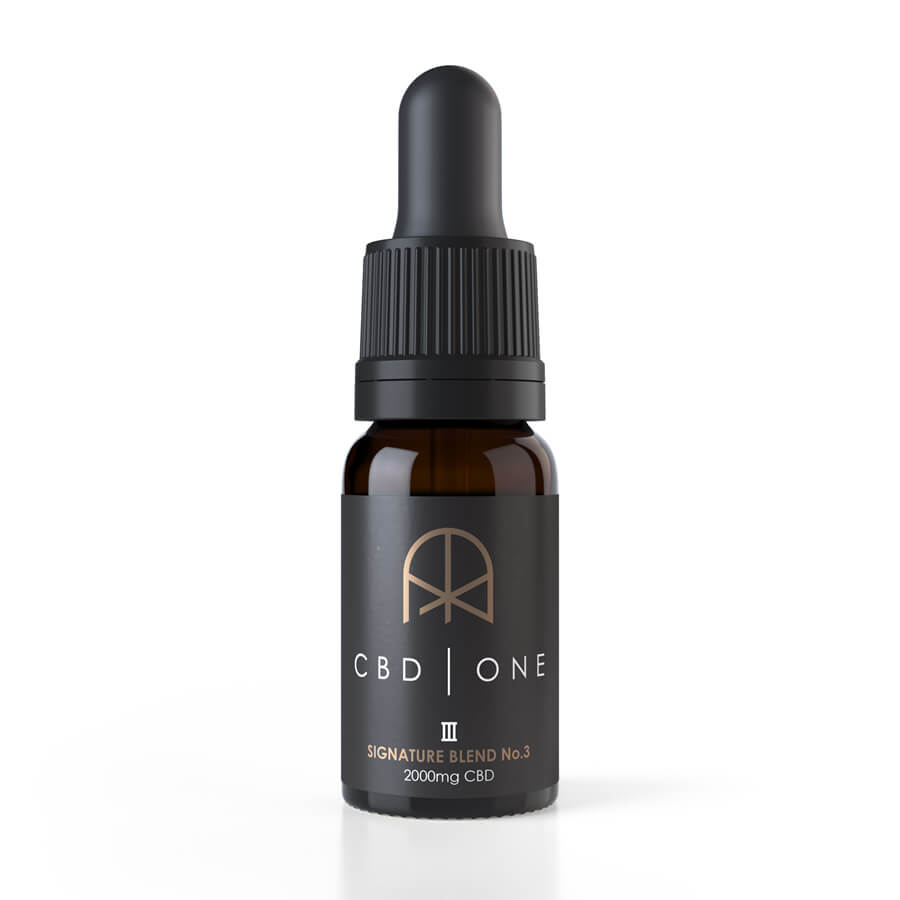 BUY CBD ONE OIL UK – PREMIUM SIGNATURE BLEND NO.3 FOR ANXIETY AND DEPRESSION

Discover our highest strength blend, a premium choice for experienced users.
PRODUCT DESCRIPTION
Signature Blend No.3 is our highest strength, top of the range option. For those accustomed to higher doses of CBD oil, you will be pleased to discover our unique full spectrum blend contains 2000mg of CBD per 10ml. This is one of the most cost-effective CBD products available.
The Signature Blend No.3 is delivered as a smooth tasting oil drop. We have found that oil drops offer an accessible and popular way to consume CBD products.
All of our Signature product lines is crafted from a Dutch extract. This results in a superior quality product with powerful potency. You can see, smell, and feel the difference.
The Signature Blend No.3 contains 2000mg of CBD per 10ml. It is also available in a 20ml option.
Experience a full spectrum of cannabis extract
The rich terpene profile offers a smoother taste and aroma
Enjoy the "Entourage Effect"
Contents are certified by a laboratory
Our oils are created by our team of cannabis experts in the Netherlands.
We rely on their decades of experience to bring you a superior product.
As these are natural, plant-derived blends – there can sometimes be slight changes to the consistency and color of the product.
Note:
We do not add any flavorings at all, what you will experience is as nature intended. While most people like the taste, if you are not keen you can have a drink or piece of food after. Beware of any flavoured gimmicks, this is a plant extract and isn't designed to taste like bubblegum! Products on the market that resemble water or are super clear should be avoided as they are a far cry from a genuine full spectrum plant extract.
INGREDIENTS:
Hempseed oil, Cannabis Extract
Contains 2000mg of CBD.
IMPORTANT:
Do not exceed the recommended dose.
Keep out of reach of children.
Store at room temperature away from sunlight.
Not intended to be used as a medicine, or a substitute for a varied diet.
Will stain
Don't use when pregnant or breastfeeding
INSTRUCTIONS:
Shake before use. Hold 2-3 drops under the tongue for 2 minutes then swallow. Repeat 2-3 times per day. Start small and gradually increase.
Note: All our products contain less than 0.05% THC which in most cases is undetectable.