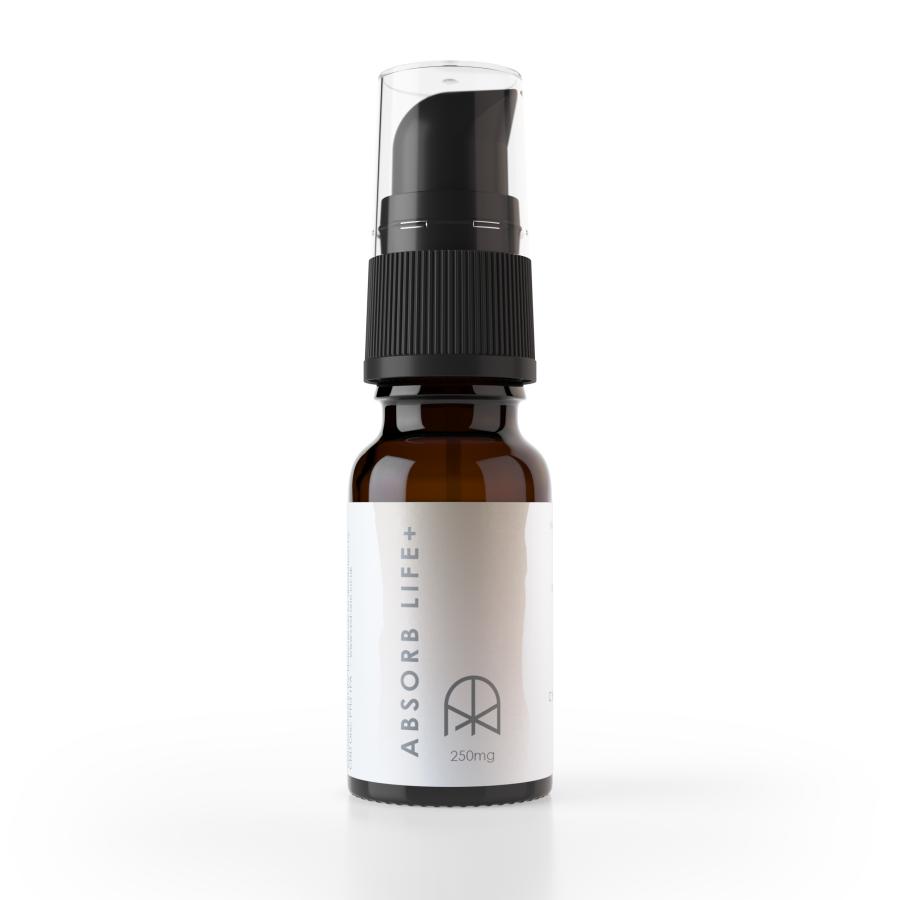 BUY CBD ONE OIL UK – PREMIUM ABSORB LIFE+ Best Water Soluble CBD for Anxiety

Absorb Life+ is the first in our unique range of drinkable CBD supplements that are completely water-soluble. It is the perfect entry-level product for those looking to explore water-soluble CBD on a budget.
PRODUCT DESCRIPTION
The Absorb range is the result of research and refinement and we are incredibly proud of the results. We believe they are the most effective CBD supplements available on the market today.
The Absorb range is designed to be consumed once per day. And since it's water soluble, this can be easily added to your favorite hot or cold drinks. Why not upgrade your morning coffee with a boost of CBD goodness?
Every 10ml contains 250mg of bioavailable CBD which provides around 45-50 one-a-day shots. 250mg may not be the strongest available, but since it is fully bioavailable, it is more effective and therefore more potent.
Add your CBD to any hot or cold drink. Unlike many CBD gimmicks flooding the market at the moment, our CBD product is highly effective. You can see, taste, and feel the difference.
THE MOST EFFECTIVE CBD AVAILABLE
Many people enjoy CBD as an oil-based product. While these are very popular and effective, they do not make the most of the ingredients. When CBD is taken under the tongue as an oil drop, the maximum bioavailability is just 10-12%. This means that around 90% of your CBD product goes to waste.
The solution to this is often to increase the concentration of CBD in the oil-based product. Or you can choose a water-soluble product which is more easily absorbed into the body.
Using an all-natural full spectrum extract, our Absorb range contains a unique formula. This presents the CBD in an "active" state so it can be easily absorbed into the bloodstream. The result? Almost perfect bioavailability and one of the most effective CBD products on the market.
Note:
While our water-soluble formulas allow full bioavailability meaning a more effective product, this is not the case with all "water-soluble" products. Being water soluble isn't the key – being bioavailable is. Beware of "liposomal" CBD formulas which, put simply, do not work. Sure, they will mix perfectly into a drink, but there is little point if the body cannot absorb the ingredients. For more information – download our buyer's guide and see our explanation on different types of water-soluble CBD.
CBD One Absorb Life+ has a CBD content of approximately 250mg per 10ml with 45-50 servings.
Bioavailable formula
Up to 10x more effective than traditional products
Great taste
Easy to add to your favorite drinks
One-a-day dose
Full-spectrum
Laboratory verified
INGREDIENTS:
Water, Curcumin, Vegetable Glycerine, Triglycerides, Terpenes, Sodium Bicarbonate, Bioavailable cannabis extract
Contains 250mg of bioavailable CBD per 10ml.
IMPORTANT:
Do not exceed the recommended dose.
Keep out of reach of children.
Store at room temperature away from sunlight.
Not intended to be used as a medicine, or a substitute for a varied diet.
Will stain
Don't use when pregnant or breastfeeding
INSTRUCTIONS:
Shake well before use. Add 1 pump to your favorite hot or cold drink. Can be added directly to mouth if you prefer. Use 1 pump per day. Wipe the pump with clean tissue after use. Can increase to 2-3 pumps per day if required.
Note: All our products contain less than 0.05% THC which in most cases is undetectable.