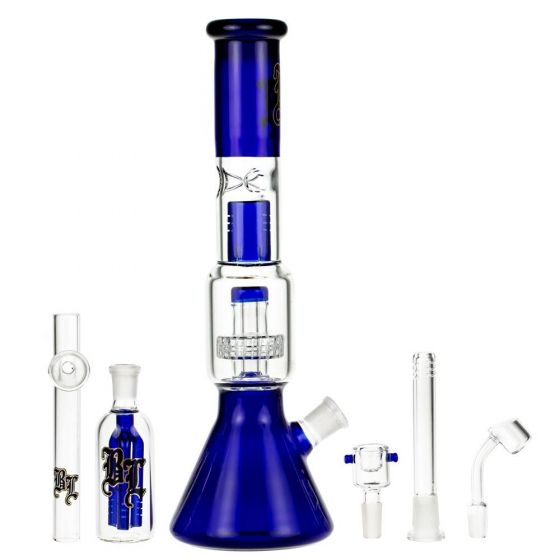 Black Leaf – ELITE Beaker Base 6-arm Perc Bong – Complete Set in Box

Introducing the Deluxe Boxed Set by Black Leaf—an all-inclusive package for the ultimate smoking experience. Crafted with high-quality borosilicate glass, this set includes a beaker base bong with a drum percolator, a pre-cooler with a 3-arm tree percolator, a slitted diffuser downstem, a glass herb bowl with a built-in screen, a glass banger, and a glass steamroller pipe, all elegantly presented in an easy-to-store padded box.
The beaker base ice bong features a stunning clear and cobalt blue design, combining style with exceptional percolation power. With its slitted diffuser, slitted drum percolator, and slitted splashguard, this bong delivers a flawless smoking experience. Switch between concentrates and herbs effortlessly with the included glass herb bowl with roll stoppers and the glass banger.
Enhancing filtration even further, the set includes a matching cobalt blue pre-cooler with a 3-arm slitted tree percolator. This pre-cooler not only provides additional filtration but also helps maintain the freshness of your bong water for extended periods.
For those on-the-go smoking sessions, the glass steamroller pipe is the perfect companion. Each piece in the set features a black Black Leaf logo with gold outlining, symbolizing the quality craftsmanship and attention to detail.
Packaged securely in a padded box, this Deluxe Boxed Set by Black Leaf is the epitome of convenience and style. Don't miss out on the opportunity to elevate your smoking experience—order this extraordinary boxed set today from Grasscity.com!