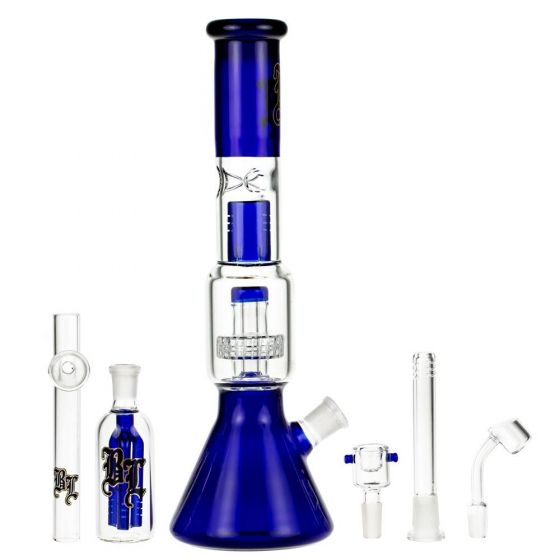 Black Leaf – ELITE Beaker Base 6-arm Perc Bong – Complete Set in Box

Deluxe boxed set by Black Leaf
Quality borosilicate glass
Beaker base bong with drum percolator
18.8mm ground joint
Inside-cut 18.8mm > 14.5mm slitted diffuser downstem
Ideal downstem length : 11.5 cm / 4.5 inches
14.5mm male glass banger
14.5mm male glass herb bowl with built-in screen
Blue accents throughout
Ice notches
Slitted splashguard
14.5mm pre-cooler with 3-arm tree percolator
Glass steamroller pipe included
Comes in easy to store padded box
Black and gold Black Leaf logo on bong, steamroller and pre-cooler
Description
Black Leaf Beaker Ice Bong with Drum Percolator | Boxed Set
It doesn't get any better than this complete boxed set by Black Leaf. This extensive set includes everything you need own to be able to smoke your concentrates or herbs in style: a beaker ice bong with drum percolator, a pre-cooler with 3-arm tree percolator, a slitted diffuser downstem, a glass herb bowl with built-in screen and roll stoppers, a glass banger, and even a glass steamroller, for a quick hit on the go.
The beautiful clear and cobalt blue beaker base ice bong is going to blow your mind with its amazing percolation power. Equipped not only with a slitted diffuser and a slitted drum percolator, but also with a slitted splashguard that all work together seamlessly to provide you with nothing less then perfection. Delivered not only with a glass banger, but also a glass herb bowl with roll stoppers for easy lifting, which makes it perfect for lovers of concentrates that like to switch things up every ones in a while.
But that is not all, a pre-cooler with matching cobalt blue 3-arm slitted tree percolator is included with your purchase as well. The pre-cooler filters the smoke thoroughly before it even reaches the bong for another round of filtration and also keeps your bong water fresh for a much longer period.
Out and about? Then grab the included steamroller pipe to join you on your missions. All of the pieces are adorned with a black Black Leaf logo with gold outlining, so you know you got quality in your hands. The items are safely boxed in an easy to store box with padding. So what are you waiting for, be prepared for everything and order this wonderful boxed set today at Grasscity.com!