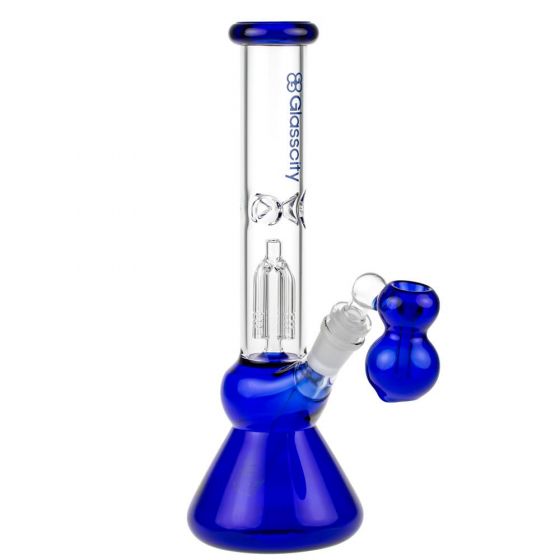 Glasscity 4-arm Perc Beaker Ice Bong with Ash Catcher

Ultimate filtration for a bargain price
Made from quality borosilicate glass
Clear glass slitted 4-arm tree percolator
18.8mm ground joint
Inside-cut 18.8mm > 14.5mm diffuser downstem
Diffuser downstem length: 12 cm / 4.7 inches
Ice notches
Colored glass ash catcher
Colored glass accents throughout
Glasscity decal
No carb hole
Available in green, blue and black
Description
Glasscity 4-arm Perc Beaker Ice Bong with Ash Catcher
It is Glasscity's mission to make quality glass accessible for everybody. Take this beautiful beaker base ice bong for instance, its curvy silhouette and colored glass accents make this percolator ice bong the perfect addition to any glass collection.
It features a clear, slitted 4-arm tree percolator for amazing diffusion the added ice notches allow you to place a few ice cubes in the tube for an even smoother, cooler hit.
This percolator ice bong comes complete with an inside-cut 18.8mm > 14.5mm diffuser downstem and a matching colored glass ash catcher that keeps unwanted ash and debris out of your water. The bongs tube is decorated with a Glasscity decal and the flat base provides excellent stability.
If you are in need of a quality bong, but you are on a tight budget, then this beaker base percolator ice bong with 4-arm tree percolator by Glasscity is your perfect match. It perfectly combines a superb smoking experience with a stylish exterior, all for a very affordable price.