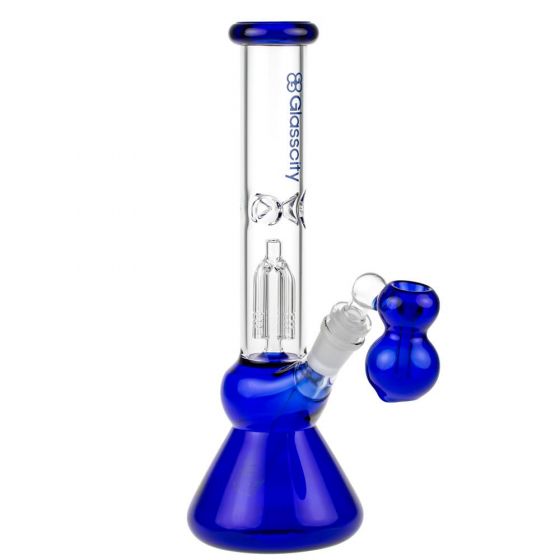 Glasscity 4-arm Perc Beaker Ice Bong with Ash Catcher

Experience the ultimate filtration at an unbeatable price with the Glasscity 4-arm Perc Beaker Ice Bong with Ash Catcher. Crafted from high-quality borosilicate glass, this bong offers exceptional performance and affordability.
Equipped with a clear, slitted 4-arm tree percolator, this bong ensures excellent diffusion for smooth hits every time. Enhance your smoking experience by adding ice cubes to the ice notches, delivering cooler and more refreshing hits. The inside-cut 18.8mm > 14.5mm diffuser downstem further enhances filtration, while the 12cm/4.7-inch length provides optimal functionality.
Included with the bong is a matching colored glass ash catcher, preventing unwanted ash and debris from entering the water and maintaining cleaner hits. The bong's tube features a stylish Glasscity decal, and the colored glass accents throughout add a touch of elegance. With a stable flat base, this bong offers excellent stability during use.
Available in green, blue, and black, this beaker base percolator ice bong by Glasscity is the ideal choice for those seeking a high-quality bong on a budget. It combines superb smoking performance with a stylish exterior, ensuring a satisfying smoking experience at a remarkably affordable price point.