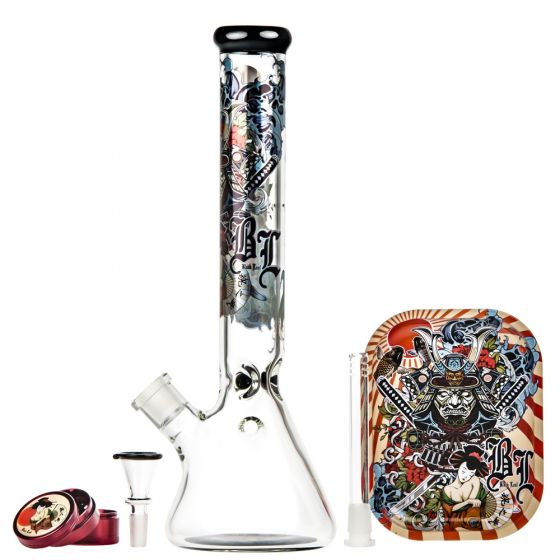 Black Leaf Ronin and Geisha Beaker Ice Bong Box Set

Japanese style beaker ice bong set by Black Leaf
High quality borosilicate glass
Beaker base design
18.8mm ground joint
Inside-cut 18.8mm > 14.5mm slitted diffuser
Ideal downstem length: 13.5 cm / 5.3 inches
Funnel herb bowl with 14.5mm male joint
Carb hole
Ice notches
Japanese art on tube and bottom base
Black accents on mouthpiece and ice notches
Rolling tray and grinder included
Black padded gift box with silver Black Leaf logo
Description
Black Leaf Ronin and Geisha Beaker Ice Bong Box Set
Spoil yourself or your favorite smoke buddy with this amazing Japanese themed boxed set by Black Leaf. Equipped with all the items you need for a smooth, well prepared smoke session and beyond.
Included in this set is a sturdy 7mm thick beaker base ice bong made from the finest borosilicate glass available. It comes with an 18.8mm bi-stable that provides an extreme strength, perfect for even the clumsiest smoker. The inside-cut 18.8mm > 14.5mm slitted diffuser downstem spreads the smoke into smaller particles for better filtration and a much more gentle hit. A funnel bowl with a 14.5mm male joint completes the bong set-up, we do recommend using a screen to keep unwanted ash and debris out of the bong water. The ice notches are placed quite low in the tube, offering loads of space for ice cubes, for a hit so fresh it will give you goosebumps.
But what really makes this piece stand out is the amazing Japanese style artwork on the tube and on the base. Not only can you find a fearless ronin (masterless samurai) and a beautiful geisha adorning the tube and the base of the bong, but the koi fish, rising sun and samurai swords really put the finishing touch on this stunning design. The best part is that the box set comes with a matching 4-part herb grinder in the same theme, with razor sharp diamond shaped teeth that will effortlessly shred your herbs into the finest fluffy consistency. Nothing gets lost, as the kief catcher in the bottom of the grinder collects all the pollen dust for later use. The included scraper makes it extremely easy to collect the pollen from the bottom of the grinder.
But it doesn't stop there, the set also includes a rolling tray with the same Ronin and Geisha print as featured on the bong. Great for mixing, rolling and keeping all of your smoking equipment in one spot. The box comes perfectly packaged in a black padded box with handle for safe transport that's decorated with a silver Black Leaf logo. So if you are a fan of herbs and Japan, then this definitely is your perfect match. Go to Grasscity.com and grab you very own box set today before it runs out!