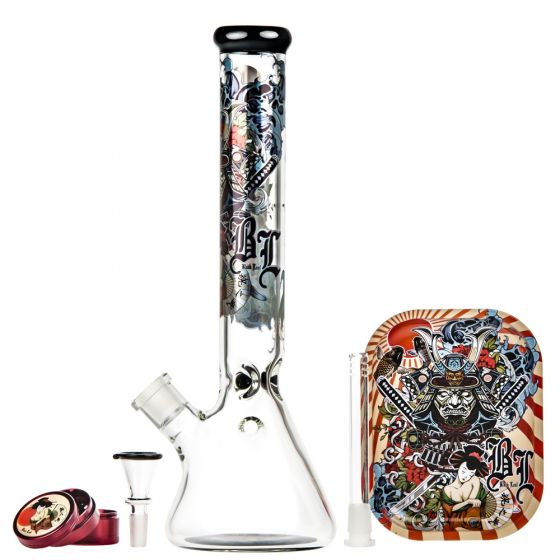 Black Leaf Ronin and Geisha Beaker Ice Bong Box Set

Experience the exquisite Japanese style with the Black Leaf Ronin and Geisha Beaker Ice Bong Set. Crafted from high-quality borosilicate glass, this set offers a remarkable smoking experience like no other.
The beaker base design provides stability and durability to the 7mm thick glass bong. It features an 18.8mm ground joint and an inside-cut 18.8mm > 14.5mm slitted diffuser downstem, ensuring smooth filtration and gentle hits. The ideal downstem length of 13.5 cm / 5.3 inches enhances the overall performance.
Complete with a funnel herb bowl boasting a 14.5mm male joint, this set offers convenience and functionality. The carb hole allows for easy control of airflow, while the ice notches provide ample space for ice cubes, delivering a refreshingly cool smoking experience.
What truly sets this bong apart is the captivating Japanese artwork adorning the tube and bottom base. Immerse yourself in the captivating world of fearless ronin, elegant geishas, koi fish, the rising sun, and samurai swords. The artistic details create a stunning design that is sure to impress.
The set also includes a matching 4-part herb grinder featuring razor-sharp diamond-shaped teeth for effortless herb grinding. The kief catcher collects pollen dust for future use, and the included scraper makes pollen collection a breeze.
Additionally, a rolling tray with the Ronin and Geisha print is included, providing a convenient space for mixing, rolling, and organizing your smoking accessories.
Packaged in a black padded gift box embellished with a silver Black Leaf logo, this set makes for a perfect gift or personal indulgence.
Visit Grasscity.com and secure your very own Black Leaf Ronin and Geisha Beaker Ice Bong Set today before it sells out. Experience the fusion of artistry and functionality in this remarkable set that celebrates both herbs and Japanese culture.