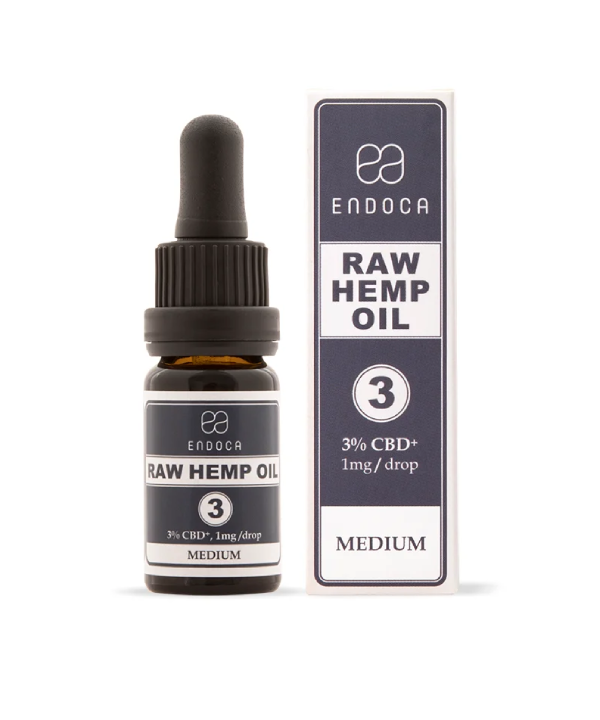 Buy Endoca Raw Hemp Oil – 30MG CBD+/ML (MEDIUM)

Unprocessed and Unheated: Our medium-strength CBD+CBDa is a raw formula that preserves the natural benefits of the hemp plant. It contains omega-3, vitamin D, vitamin E, flavonoids, terpenes, co-factors, and co-nutrients. Unlike heated products, our raw formula retains vital minor cannabinoids, vitamins, and minerals that are typically lost. We extract CBD using an innovative process that relies on compressed air—no chemicals involved. CO2 extraction is the best method for maintaining the plant's properties. Our whole plant raw formula supports your endocannabinoid system and promotes balance in the body.
Ingredients:
Hemp seed oil (80%)
Omega-3 (1.2g)
Omega-6 (4g)
Vitamin E (8mg)
Phytocannabinoids: Cannabidiol and cannabidiolic acid 3% (CBDa+CBD 300mg)
Low concentrations of natural forms of (CBC, CBG, CBN)
Terpenes: Myrcene, Limonene, Alpha & Beta-pinene, Linalool, B-caryophyllene, Caryophyllene oxide, Terpinolene, and Humulene.
Other natural molecules: Cannabis plant waxes, alkanes, nitrogenous compounds, amino acids, ketones, flavonoids, glycosides, vitamins, pigments, water, co-factors, and co-nutrients.
*Cannabidiol (CBD) is a natural constituent of the hemp plant.
EAT, SLEEP, RELAX: Essential for overall health. At Endoca, we believe that the hemp plant, in its natural state, works synergistically with our body's biochemistry. It provides optimal levels of cannabinoids, co-factors, macronutrients, terpenes, flavonoids, and essential fatty acids. The whole plant approach leads to holistic health.
Suggested Use:
To supplement your diet with CBD oil, take once or twice daily.
We recommend 1-3 drops per day on an empty stomach.
Mix the oil into your favorite drinks and recipes for CBD benefits without compromising taste.
To use the dropper, gently squeeze the rubber tip and release to fill the dropper.
For sublingual administration, fill the dropper and gently press the rubber tip to release the drops.
Store the bottle in a cool, dry place.
Hygiene tip: Avoid putting the dropper applicator in your mouth and returning it to the bottle.
PURE NATURE IN A BOTTLE: By choosing unheated and unrefined raw hemp oil, you embrace the natural benefits of the hemp plant. Our philosophy revolves around using plants in their most natural form. Our unique formula allows you to consume hemp while preserving the plant's complex structure of over 400 molecules. This formula contains both CBDa+CBD and other cannabinoids in their raw state, along with vital omegas, vitamins, and minerals typically lost during heating. Experience the power of nature in one simple oil.
SUPPORT THE BODY'S INTERNAL BALANCE: The endocannabinoid system is a complex network of cannabis-like chemicals and receptors that continuously work to maintain a sense of healthy balance. Sometimes, the body doesn't produce enough endocannabinoids, leading to an imbalance. Plant cannabinoids naturally found in hemp can support the endocannabinoid system and be a beneficial addition to your wellness routine.
GET MAXIMUM BENEFITS FROM YOUR CBD: Taking raw hemp oil in liquid form ensures higher absorption rates, meaning more CBDa+CBD is utilized by the body. Each 3% Raw Hemp Oil bottle contains 300mg of CBDa+CBD from organically certified hemp cultivars free from pesticides, herbicides, and chemical fertilizers. We also provide the recommended 1:3 ratio of Omega-3s and Omega-6s found in nature, along with vitamin E, a natural antioxidant, and other co-factors.
PRODUCED UNDER PHARMACEUTICAL CONTROL: Endoca guarantees that what you see on the label is precisely what you get. Through a strict pharmaceutical standard control program and rigorous laboratory testing, we ensure consistent potency and purity in every bottle. Our production methods are continually evolving, and our team of scientists, herbalists, and nutritionists adhere to the highest standards of good manufacturing practices to formulate our organic extracts.