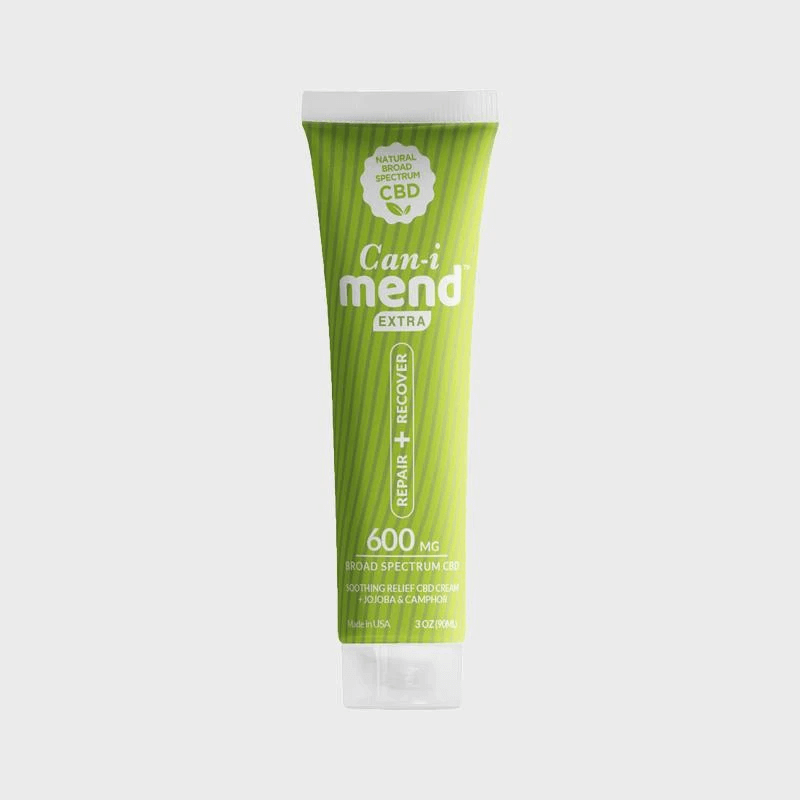 Buy CaniBrands Cani-Mend Topical CBD Cream Extra Strength


Cani-Mend is formulated with broad-spectrum hemp extract and selected botanicals to ease muscle discomfort instantly. Formulated with coconut oil to promote hydration and protect the skin. Keep your body feeling in tip-top shape, always!
Description
600 mg of broad-spectrum hemp extract (CBD, CBG, CBDA)
Aloe vera
Coconut oil
Vitamins E & C
0% THC
This topical hemp-derived CBD cream for muscle discomfort is easily absorbed into the skin to provide soothing relief to your muscles. It's light and airy texture makes it easy to apply and absorbs fast into the skin to provide instant relief to the affected area. Our CBD cream formulation with coconut oil provides greater hydration and moisturization to the skin. Our tube packaging makes the cream easy to apply whenever you need relief and is so sleek, you can easily throw it in your bag and be on your way. CBD cream is ideal for applying on larger muscle groups.
Details
CBD 600 mg
Our unique, multi-ingredient formulation combines broad-spectrum hemp extract with aloe vera, vitamins E & C, and jojoba, rosemary, camphor & coconut oils to provide relief from muscle discomfort instantly while providing greater hydration and moisturization for your skin.
The Benefits of our Multi-Ingredient Formulation
Aloe Vera – used topically to soften and soothe the skin.
Sunflower Oil – contains vitamin E, an antioxidant that supports healthy skin. Sunflower oil also contians linoleic and oleic acids that support the body's anti-inflammatory response: linoleic acid maintains the skin's natural barrier to retain moisture, while oleic acid supports restoring tissues surrounding wounds.
Jojoba Oil – a powerful emollient that mimics the natural oils produced by the body, helping to lock in moisture in your skin to promote hydration. Jojoba oil does not block your pores, making it ideal for sensitive skin relief.
Vitamin E (tocopherol) – easily absorbs into the skin to increase moisture and helps support temporarily relief.
Vitamin C – an antioxidant that promotes skin hydration and helps support your body's anti-inflammatory response.
Rosemary Oil – an essential oil that promotes anti-inflammation in the body. Rosemary oil also helps support your body's circulatory system by increasing blood flow through the blood vessels.
Coconut Oil – contains nourishing fatty acids (including medium chain triglycerides and omega-6) that help hydrate, soften, and protect the skin. Coconut oil also contains lauric acid, which has antibacterial properties which helps support your immune system.
Camphor Oil – readily absorbed into the skin to soothe and provide relief. Camphor oil promotes the anti-inflammatory response and increases blood circulation.
Suggested Use
Apply a dime-sized amount over the affected area as often as needed.
For external use only.
Ingredients
Distilled water, aloe vera, sunflower oil, jojoba oil, meadowfoam oil, stearic acid, cetyl alcohol, emulsifying wax, vegetable glycerin, palmitic acid, tocopherol, potassium sorbate, vitamin C, citric acid, rosemary oil, coconut oil, cannabidiol (CBD), camphor oil.