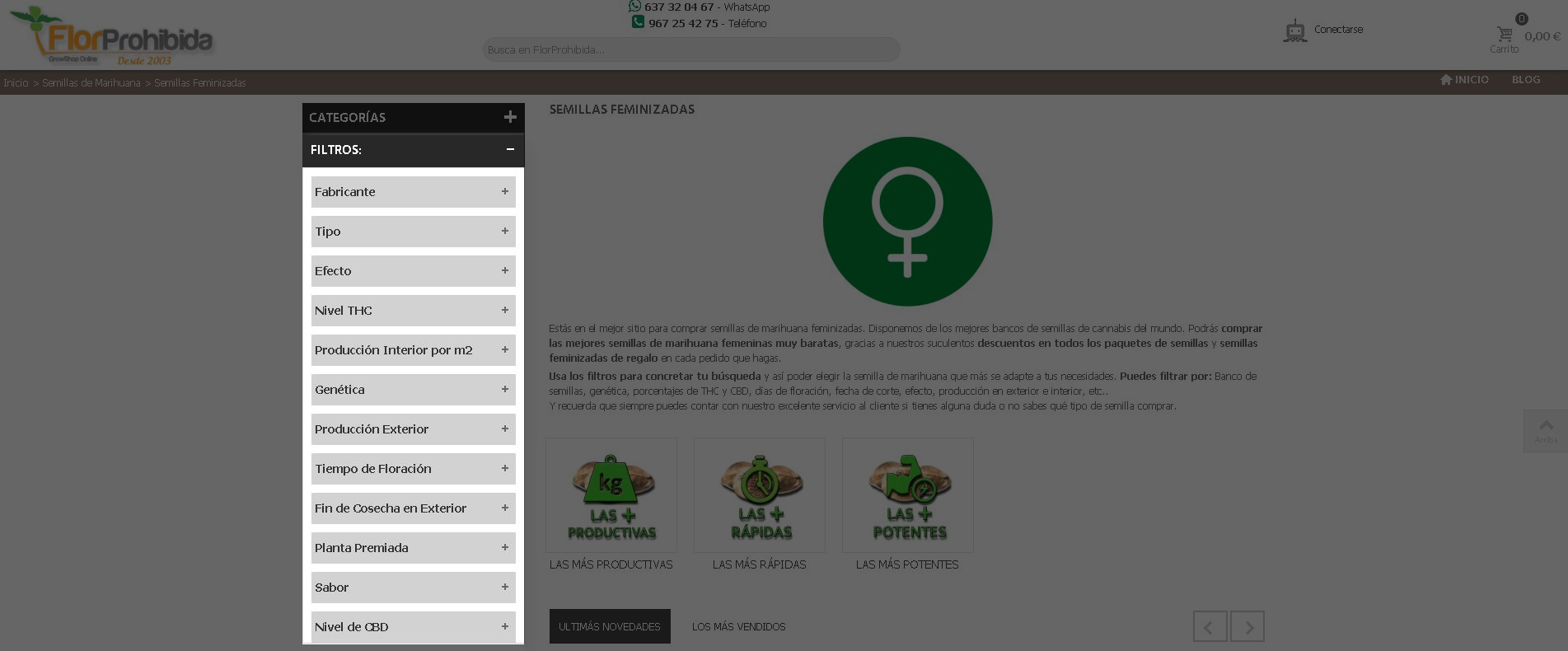 Choosing the seed to plant is not always an easy task, every year, new seeds come out and the variety is usually very wide, so from Flor Prohibida, we provide you with the following details to take into account so that the selection of marijuana seeds, to your crops, it is easier and simpler.
Entering our Grow Shop Online in the seeds category, you will find a wide variety of types of seeds and brands, right there you will find a specific section on "news 2021" you can apply the filters to find the different varieties of the best banks of seeds, choose by "type" "effect" "THC level" "genetics" "flowering time" "flavor" and other filters that will help you to better tell about what type of seed is best for you.
TYPES of marijuana seeds
Feminized seeds. They are the marijuana seeds that female plants produce, which are the ones that will later give us our precious buds. These seeds are from the photodependent variety, that is, they need a photoperiod to be able to flourish. In addition, within this section you can filter by the Fast Version version, which without being autoflowering, these seeds are considered the fastest on the market.
Autoflowering Seeds. In addition to being feminized, these marijuana seeds are very fast and almost automatic since they do not require much care. Unlike the previous ones, these seeds do not need a photoperiod to flourish, since around the month from their germination date they flower automatically, regardless of the daylight hours you have. Autoflowering seeds are born from the crossing of a cannabis sativa with a Ruderalis, a rare cannabis plant that grew and flourished in record time.
Outdoor Seeds. You can also filter depending on where you want to grow your marijuana plants. Outdoor seeds are actually the same as indoor ones, but with the peculiarity that they work much better in outdoor crops where the plant is capable of unfolding its full potential.
Indoor Seeds. Both feminized and autoflowering, in this section you will find varieties selected and tested by us with a magnificent quality and production ratio in indoor crops.
News 2021. In this section you will find the new varieties of 2021 from the best seed banks regardless of their type. A section designed so that you do not miss any of the new genetics that come out on the market.
Bulk Feminized Seeds. A very cheap and economical way to get feminized and autoflowering marijuana seeds. In this section you will find PREMIUM bulk seeds with the highest possible quality and reliability.
Seed PRODUCTION level
Indoor production per square meter. If you are interested in indoor seeds, you can filter by the amount of production in grams:
Up to 400 g
Between 400g – 500g
Between 500g – 600g
More than 600g
Foreign Production. On the other hand, if you are looking for outdoor seeds, you can select the seeds according to the level of production:
Flowering time of marijuana seeds
Flowering time. One of the most important factors when it comes to caring for your marijuana plants is their flowering time, and depending on your patience, you can select the seeds that most interest you based on their flowering time:
35 and 45 days
46 and 56 days
57 and 56 days
66 and 75 days
More than 75 days
Time from germination to harvest. When choosing an autoflowering seed, a very important factor is the time it takes throughout its cycle, from germination to harvest:
Up to 60 days
60 to 75 days
More than 75 days
End of Harvest Outdoors. The growing season is another factor to take into account when starting to plant marijuana seeds. For this reason, you can filter according to the month and days in which the harvest ends outdoors:
November (From 1 to 15)
November (From 16 to 30)
October (From 1 to 15)
October (From 16 to 31)
September (From 1 to 15)
September (From 16 to 30)
FLAVOR of marijuana plants
We are not going to fool ourselves, once the whole process of growing and caring for the plants is finished, one of the most important factors is their final taste. With our filter you can select from a wide range of flavors, because we know that "for tastes, colors":
Fruity
Citric
Diesel
Candy
Spicy
Floral / Fresh
Hashish
Haze
Incense
Kush
Wood
Cheese
Earthy
Acid
EFFECT of the seeds
In addition to its flavor, we each look for a different effect. There are some who prefer marijuana to use medicinal for all the benefits it brings, but there are people who prefer marijuana for its effect relaxing to forget about worries and reduce stress.
You can also prefer marijuana for its effect psychoactive or who knows maybe you prefer a new experience with an effect mixed. Whatever effect you are looking for, in FlorProhibida you can select between these four effects and enjoy without worries.
THC and CBD level
If you thought that all these filters were enough, you can still refine your search much more by selecting the level of THC or CBD that your buds are going to have.
You can select the intensity of THC (tetrahydrocannabinol) and thus decide what intensity of this psychoactive you want:
Less than 2% THC
Up to 10% THC
Between 11% and 15% THC
Up to 20% THC
Less than 20% THC
If you are looking to get the medicinal benefit from your marijuana crops, in the same way, you can do the same with the level of CBD. Select the percentage you need and get your best selection in just one click:
Less than 2% CBD
Up to 10% CBD
Up to 20% CBD
More than 20% CBD
Other filters to choose your ideal marijuana seed
Likewise, you have many more options to better refine your search. You can select the genetics of the plant (CBD, Hybrid, Indica, Sativa, predominantly Indica or predominantly Sativa) or choose if your plant is awarded. A wide variety of filters to find your ideal seed.
Aspects that will help you choose better
In addition to our filters to choose the marijuana seed that best suits your needs, we offer you a selection of the best seeds based on different factors.
THE MOST POWERFUL
AMNESIA BILBO. This seed takes the podium of our top of the most powerful. It will produce hard buds full of THC with a highly psychoactive, very cerebral effect. In addition, both indoors and outdoors, we will have large and high-quality harvests in 69-75 days of flowering.
Discover the complete TOP of the most powerful marijuana seeds on the market here.
THE MOST PRODUCTIVE
Monster Cookies is a monster seed with a beastly production. It has a great high, a happy effect and a taste of freshly baked cookies with an earthy background that will awaken all our senses. Its production is excellent, since it can give us up to 500 grams per square meter indoors and one kilogram per plant outdoors.
Click on the image and discover our TOP of the most productive seeds.
THE FASTEST
Let's talk about the ones that flower between 46 and 56 days.
WHITE OG: In just 45-50 days we will obtain a very generous harvest of extreme quality. It is the result of a cross between two very strong and above all extra-resinous genetics.
SUGAR BLACK ROSE F1 FAST VERSION: Without a doubt, one of the tastiest and most powerful indica that Delicious has had. It will provide us with a very powerful indoor production with only 40-45 days of flowering.
NEPAL KUSH: 100% indica, powerful and very productive. In just 50-55 days of flowering it can develop up to 2.5 kilograms.
EFFECT AND FLAVOR
Leaving aside the production and cultivation of seeds, we highlight some of the best seeds that stand out both in their effect and in their taste:
AUTO MAGNUM: It has a powerful effect that will not stop you laughing and a fresh and spicy aroma and flavor. It will produce large, branched plants full of large buds covered with THC, it is undoubtedly one of the most productive and strongest autoflowering plants on the market.
GLOOKIES: It is a plants of great volume, resistant, they are not very tall, as the flowering progresses, they populate on the sides of huge buds. Its aroma contains notes of diesel, hints of refreshing lime and notes of Walnut. THC levels that reach 25% produce a powerful heavy and relaxing high at first, but then it evolves into motivating and strengthening sensations that will make you feel super full of energy and ready to face the day.
PURPLE CHERRY PUNCH: If you are a lover of red fruits, this seed is for you. With its very high THC content, it has a flavor of red fruits and cherries that will leave you speechless. A selection created through advanced genetic techniques of the best characteristics of the Purple Punch strain, which comes from Granddaddy Purple x Larry OG, two classics of the cannabis world, for its flavor, effects and productivity.
Today we tell you about the types of seeds for this 2021, enter Flor Prohibida where you will find the best offers in seeds and all kinds of tools for cultivation and extraction, as well as all kinds of paraphernalia and accessories to enjoy a unique experience with cannabis. Tell us in the comments what you think about the selection of seeds we made for you.