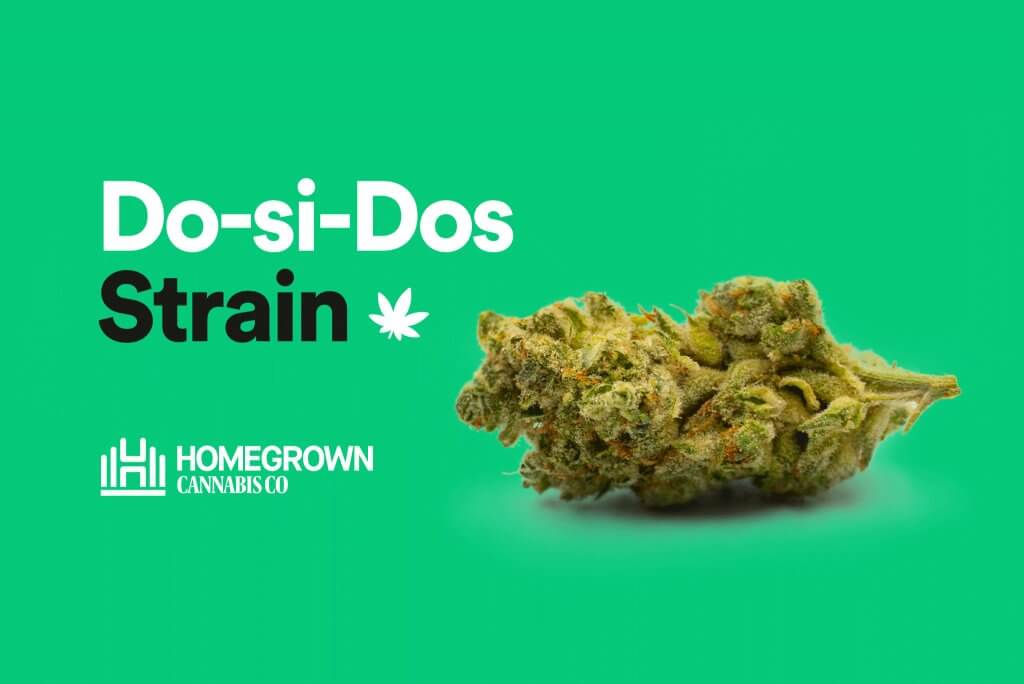 The do-si-dos strain is a cannabis hybrid with its roots firmly on the indica side of the fence. It comes from a legendary lineage, so expect a body-melting calmness radiating from the inside out. Inhaling this herb and its sweet citrus and floral scents will keep you coming back for more. 
Keep reading this review to find out all about this flamboyant weed breed and how you can get the most out of your do-si-dos strain seeds.
Do-si-dos strain (aka, Dosi, and Do-si-dos #6 strain)
You don't need dance lessons for the do-si-dos weed strain, making it great for beginner and veteran consumers alike. This is the same for cannabis growers looking to cultivate their own herb in their gardens. 
Before exploring this hybrid and its mellowing effects, let's look at the main talking points of the do-si-dos weed strain.   
Type: Indica-dominant hybrid
THC: 14-30%
CBD: 0.9%
Top reported effects: Relaxed, euphoric, happy, and sleepy
Top reported flavors: Citrus, earthy, and berry tastes
Dominant terpenes: Limonene
Flowering time: 8 – 10 weeks
Difficulty: Beginner friendly 
Yield: Around 17 ounces per plant  
Do-si-dos strain description
The do-si-dos cannabis strain is truly one to behold. You'll notice hues of purple throughout the light green bud and burnt orange pistils. Rather than the snowy effect on breeds like White Widow, the trichomes coat the do-si-dos like a piece of glistening candy.
As far as the do-si-dos smell goes, this flower could replace a rose on Valentine's day. Its pungent yet sweet floral smell is due to the commanding number of limonene terpenes. You should also taste berry and citrus hints, making the do-si-dos weed smooth on the throat.
The do-si-dos strain THC levels can reach as high as 30% so expect a strong relaxing feeling when ingested. You'll also notice a somewhat euphoric and happy sensation run through your body.
When it comes to the medicinal do-si-dos marijuana strain effects, you'll receive some help in the stress department. Its soothing benefits are fantastic at fighting off any anxious feelings and can assist with relieving pain.   
Do-si-dos strain grow information
The do-si-dos can yield as much as seventeen ounces if grown in the right conditions. If you're starting as a grower, this marijuana breed should keep your confidence sky-high. The reason for this is mainly down to its easy-to-grow and straightforward needs.
Although you'll get the best results when grown indoors, the do-si-dos #6 strain can also flourish in a greenhouse. You'll need to wait between eight to ten weeks for this breed to flower, which can reach up to 100 cm in height. 
As for the exact do-si-dos strain grow info, you'll want to keep the temperature around 74 degrees Fahrenheit and an RH (relative humidity) of 55%. In the late stages of vegetation, you can encourage the lavender colors by exposing your cannabis plant to colder temperatures. 
Whether you've got your hands on a cherry do-si-dos strain or any other delicious variant, you'll want to give the same treatment. As a general rule of thumb, make sure that you:
Water your weed plant generously.
Use high-quality soil like coco peat for better water and oxygen retention.
Give it plenty of light, as the weed strain do-si-dos thrives in the sun.
Regularly test nutrient levels and correct any deficiencies.
You'll know it's time to harvest as soon as the hairs on the weed bud turn orange. When it comes to trimming, consider using the wet method. It allows you to remove the leaves without disrupting the trichomes and visual appeal as much as you would when dry cutting.
If you're planning to make your own do-si-dos THC oil, you'll need to put your herb in the oven. Set the temperature to 250 degrees Fahrenheit and allow to decarb for up to 30 minutes. The result will be a cannabis wax – perfect for sumptuous edible recipes.
Do-si-dos genetics
As we mentioned earlier, the do-si-dos genetics come from the legendary Girl Scout Cookies (GSC) breed. It was created by combining OG Kush Breath and Face Off OG. Just like its folks, the do-si-dos strain is indica dominant, enforcing its relaxing effects.
Below is a visual guide of this strain's interesting genetics, showing why it's such a desirable bud. It also explains why some dispensaries call it the do-si-dos cookies strain, accrediting its one iconic parent.
Face Off OG

Do si dos

OG Kush
Girl Scout Cookies
Durban Poison
Some growers have taken things further, increasing the weed breed's flavor profile. The orange do-si-dos strain looks to bring out the citrus flavors by crossing it with Orange Tree breed genetics.
Do-si-dos seeds to buy near you
If our do-si-dos strain review has aroused your interests, you can pick up your own seeds from the Homegrown Store. We have a variety of packs that'll make your friends green with envy. 
Choose from:
Do-si-dos regular seeds: A mixture of males and females like nature intended.
Do-si-dos feminized seeds: This strain time takes longer to mature, but it offers a larger yield and higher THC count.
Do-si-dos autoflower seeds: Fast growers that require very little attention. 
Do-si-dos strain reviews
David P.
"I got about 4 ozs per plant. I planted in woods and watered about 3 times a week if I had watered more I would have got more"
Paul G.
"Best strain ever"
William m.
"Very potent and flavorful!"
Kinggreen007
"Great product great prices excited to keep using homegrown"
Should you dance with the do-si-dos strain?
Don't let the beginner-friendly badge fool you; the do-si-dos strain is no slouch. Its calming effects and stress-relieving benefits will keep you coming back for more regardless of your expertise level.
To get the most out of your harvest, subscribe to the Homegrown Diaries to track your plant's growth as well as gain valuable advice every step of the way. You can also join our Homegrown Forum to discuss tricks and ask more in-depth questions with other like-minded individuals.     
Whether you intend to grow delicious cannabis buds or take things further by creating a do-si-dos strain cartridge for vaporizers, this breed doesn't disappoint.