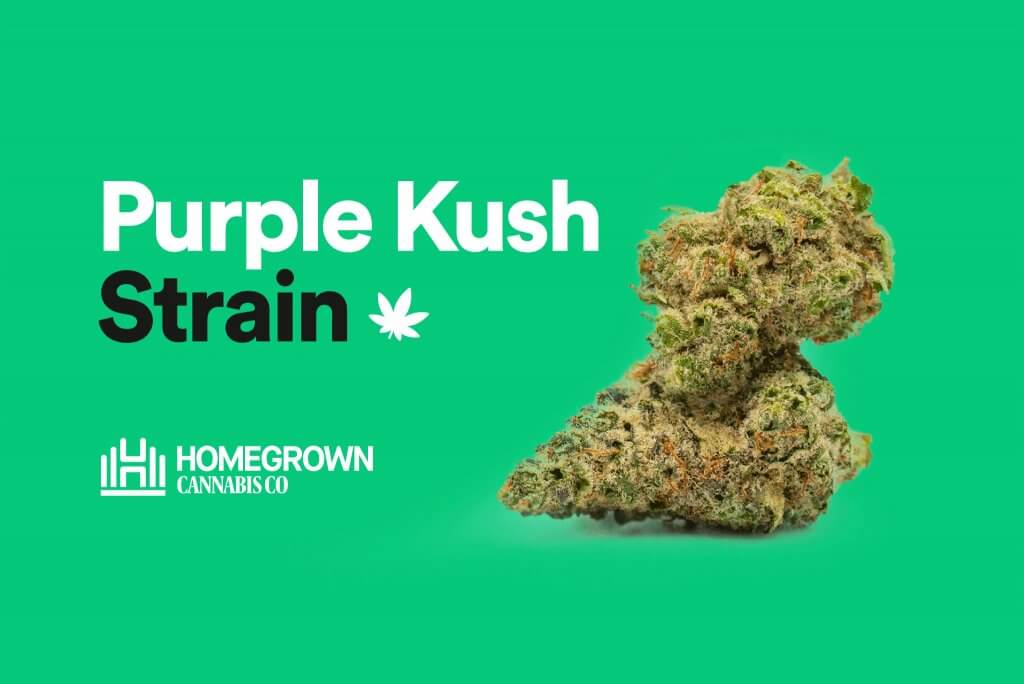 The Purple Kush strain is a legend amongst stoners. This Indica strain has made a name for itself for its calming properties. The brainchild of growers out in California has made a mark for being a strong painkiller, antidepressant, and anti-anxiety herb. 
It's perfect for relaxing and chilling out with friends, but be wary that you're likely to polish off a tub of ice cream and some extra-large bags of chips when the hunger strikes. Our Purple Kush review takes you through the details of what makes this such a popular option for treating anxiety and boosting mental wellbeing.
Purple Kush strain (aka Purple Hindu Kush)
Type: 100% Indica
THC: 17-19%
CBD: 0-0.6%
Top reported effects: Calming, euphoric, focused
Top reported flavors: Berry, earthy, grape
Dominant terpene: Myrcene
Difficulty: Not for beginners
Yield: 1.15 to 1.6 ounces per square foot
Purple Kush strain description
The Purple Kush is 100% Indica that emerged by crossing the Hindu Kush and Purple Afghani. It originates in the Oakland area of sunny California and is famous for its calming and sleep-inducing effects. The aroma is soft and earthy, with sweet overtones. It creates a long-lasting euphoria for the mind while the body physically relaxes. 
Users with high levels of pain or stress find that this strain soothes them and helps them cope with daily stressors. The cannabis plant is hardy and suitable for both indoor and outdoor cultivation. 
Purple Kush strain grow information
This vibrant plant is a joy to grow and has made a name for itself among cultivators and smokers alike. The foliage sports greens and purple hues, and it thrives well indoors. It does exceptionally well on hydroponics with a SOG setup. 
This cannabis plant likes a moderate temperature, so be sure to monitor the temp and keep it between 21 to 26 degrees Celsius in your grow room. The Purple Kush weed strain booms when it's well maintained. Remember to trim the branches regularly so that the air and light get to its bottom leaves. 
The foliage has a bitter taste, so the weed plant tends to repel pests easily. If you take good care of the crops, you can expect a Purple Kush yield of between 400 to 500g per square meter after a flowering period of 6-8 weeks. 
It has a photoperiod flowering style and for best results, plant your crops to harvest by September. 
Purple Kush strain genetics
Purple Kush isn't the best strain to indulge in if you want to be productive, as it gives a euphoric buzz while simultaneously relaxing you. It's a strong contender in the cannabis industry even though there are so many other equally potent strains available. 
The Purple Kush was created by a group of breeders in Oakland, California. It stems from the blending of two Indica landraces from the lush forests of South-East Asia. If you're wondering, what is the dominant strain in Purple Kush? The short answer is there isn't one; the plant is 100% indica. 
The Purple Kush strain specs are as follows:
HINDU KUSH FEMALE
(THC 18%, CBD 0.3%)
A herby, woody taste evokes a euphoric cerebral buzz
Indica with a Dominant Terpene of Limonene
PURPLE AFGHANI PHENOTYPE
(THC 18%, CBG 1%)
The sweet earthy smell promotes sleep
Indica with a Dominant Terpene of Limonene
Purple Kush strain genetics
Purple Kush strain seeds to buy near you
If you're looking for the best Purple Kush strains seeds to buy, then look no further than the three most popular ones below. 
It's not a plant to cultivate for beginners, but with the proper care, ventilation, and soil, you'll be happy-go-lucky in no time. 
Homegrown Customer Opinions
Anon
One of the best indica strains I've experienced, it brightens up your supposedly dull day through giggles, and one of the best body buzzes ever. I now understand why this strain is a classic.
H.L
Purple kush is an amazing antianxiety strain, two hits, and you've forgotten what you were worried about.
Eddie. R
Great smell, nice big buds, sticky buds, great smoke. Love this strain, definitely going to order again.
Y.K.
The go-to weed for anxiety relief. It makes life bearable at the worst of times! You'll huff, and you'll puff, and you'll sink into the couch with some Doritos without a care in the world! Very pleasant high. Wicked dry mouth, though.
L.Y.
I couldn't stop smiling halfway through the first bowl.
Chill out with the Purple Kush strain
The Purple Hindu Kush strain is one of legend, as it's established itself in the world of cannabis users through its calming yet mood-enhancing properties. It's a strain worth trying for pain control, depression, and insomnia with benefits for people suffering from anxiety and overall restlessness. 
Share your Purple Kush cannabis strain growing adventures on our Homegrown Diaries section. If you need to get some answers or advice, you should join our community on the Homegrown Forum. You'll want to buy these Purple Kush strain seeds to plant. The chilling effect of the weed strain is second to none. Just make sure you have a healthy stash of snacks for when the munchies hit.