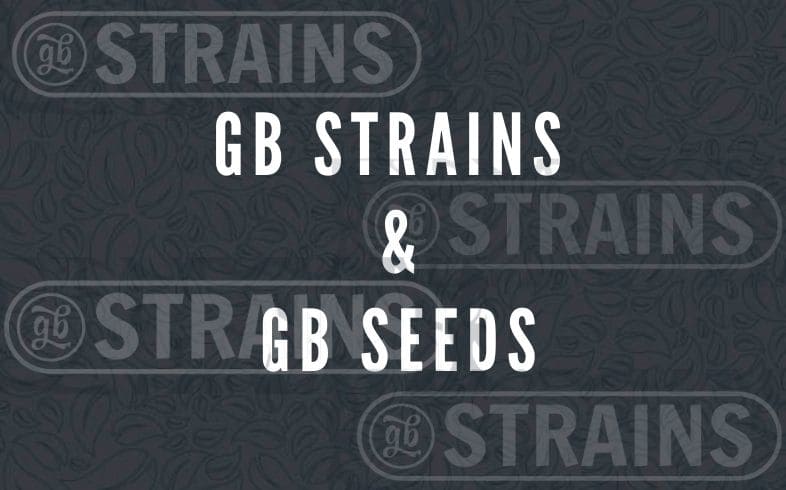 GB The Green Brand, formerly known as Growbarato, has been experiencing an unstoppable national and international rise for years, the result of the commitment made to further expand its incredible catalog, currently made up of more than 10,000 products. The creation of new own brands has also been decisive to satisfy an audience that has positioned it as the reference grow shop by and for cannabis growers. Immersed in this exciting challenge, he has founded GB Strains, a distinguished seed bank with the most exclusive genetics on the American market. Therefore, this article is intended to publicize what are the differences between GB Strains and GB Seeds, whose claim to offer top-quality bulk seeds at a price unattainable by the competition, has led to considerable popularity within the cannabis community.
GB Strains, a new look at the American market
GB Strains occupies the most exclusive space within GB The Green Brand's extensive catalog. East distinguished seed bank, recently created but with a lot of history behind it, offers a careful selection of American genetics of high quality, difficult to find in other cannabis companies that coexist in the European market. The work carried out by the team of geneticists and breeders has resulted in an extraordinary line of marijuana varieties, based on the latest trends from the West Coast of the United States.
Currently, GB Strains presents a collection of 22 cannabis seeds, which are 17 feminized and 5 autoflowering. The journey of GB The Green Brand has been accredited for the last 10 years offering products related to the cultivation of marijuana at the best price in the market, with this new brand it aims to meet the needs of cannabis growers and consumers more demanding and curious.
One of the main qualities of GB Strains is the magnificent genetic variety that makes up its selection of seeds, in which you can find historical lineages made in the USA such as Gorilla Glue, from which they arise Dos y Glue, New Glue y Auto New Glue; plus Girl Scout Cookies (Tropicanna Cookies o Banana Wafelz) and Gelato (Ice Cream Cake). OG Kush genes also have a privileged place within GB Strains, as they can be enjoyed in varieties such as Auto Tangerine Kush, Auto Velvet Krush, OG Kush CBD y Blue Cheese CBD, among other.
Simple to grow under floodlights and outdoors, they offer large dry productions through the use of different cultivation methods, guaranteeing flowers of great beauty, covered with sticky resin glands. Also, its multiple varieties are ideal for different types of recreational and medicinal uses, in addition to being an excellent material for extracting cannabis such as BHO, hashish, rosin, crumble or ice-o-lator, among other modalities.
GB Seeds, high quality bulk seeds at an unbeatable price
Get quality seeds at a reduced price it is possible thanks to GB Seeds. GB The Green Brand's renowned bulk seed line has dominated the market for years, as no other company has managed to match it. For gardeners and consumers who want to save a considerable amount of money, this section of GB offers seeds of indica, sativa and hybrid varieties, which can be feminized, autoflowering and with a high content of CBD.
GB Seeds is made up of the most classic genetics, such as Critical, Blueberry, Amnesia, Jack Herer o G-13, among many others. Its catalog is made up of more than 60 varieties, which are capable of producing abundant crops both in indoor and outdoor crops, either in mother earth or pot with substrate. Other of the most representative and demanded strains are Original GB, Larry OG S1 and Cheese, whose organoleptic properties and psychoactive effects are positively valued by the vast majority of users.
In addition, they respond optimally to growing media such as soil, coconut fiber, and hydroponic and aeroponic systems, in the same way as germination is guaranteed by more than 90%, since they are subjected to exhaustive quality controls and kept in a refrigerator without humidity until the moment of sale.
What are the main differences between GB Strains and GB Seeds?
GB Strains and GB Seeds share many similarities, as are born from the same objective of offering high quality marijuana seeds for all kinds of growers, regardless of their degree of experience. However, yes that there are certain differences between GB Strains and GB Seeds when defining the origin, presentation, price and research, selection and genetic stabilization, among other factors.
Therefore, in the first place, it is convenient to value the meticulous work carried out by the GB Strains team of breeders and geneticists during the making of the different crosses that make up its range of seeds made in the USA. Attending to the latest developments in the American market and being able to access them is within the reach of few European banks, which is why the creation of a new line of totally exclusive varieties acquires even more value.
Due to this distinguished character, GB Strains aims to be the reference for an experienced audience, who knows first-hand the quality of these products and who wants to be in the latest fashion. Similarly, it is characterized by a elegant picture, according to the new generation of growers, with striking designs and a stylish packaging, in resistant plastic bags with safety closure.
On the other hand, GB Seeds offers a greater variety of more conventional and accessible genetics, with the exception that the prices are the most affordable in the entire market. It should be noted that the seeds are meticulously cared for, as well as controlled and stabilized in order to prevent the appearance of errors during their germination. The cultivation of these varieties is especially recommended for growers with a lesser degree of experience, as well as for commercial producers.
GB The Green Brand, 10 years of experience in cannabis cultivation
Total exclusivity, maximum quality and excellent genetic stabilization work are some of the main hallmarks of GB Strains, while the unbeatable price is synonymous with GB Seeds bulk seeds. Due to all the characteristics, similarities and differences exposed in this post, the choice of the seed that best suits each type of grower and consumer becomes easier with the extensive catalog of varieties which can be found at GB The Green Brand.