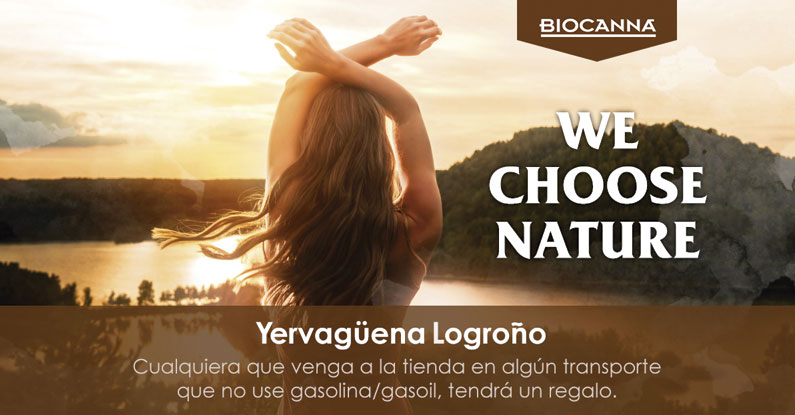 As a plant lover, surely we do not need to insist on how important it is to maintain a firm commitment to respect the environment. The responsibility we have with the well-being of the planet and ecological awareness are two aspects that you will have learned well during your experience as a cannabis grower and that deserves an award, don't you think?
Our support for a cleaner world
How about building a greener planet? Your marijuana plants are already putting that note of color in the world, but at Yervagüena we are convinced that much more can be done.
We have proposed a campaign for a less polluting world in which the protagonists are the customers of our stores. With the amount of times you visit us, don't you think it would be better if you started to move in a more ecological way?
Leave your motorcycle or car parked and come to either of our two stores using a non-polluting method of transport. You can come taking a walk, pedaling or riding your skateboard. As long as you do not contribute to the increase in pollution levels in Logroño, we will be happy to know which means of travel you have chosen to get to the physical stores in Yervagüena.
During the journey you only have to take a photo in which we can verify that you have taken seriously this to put yourself in mode ecofriendly and with the purchase you make in our establishments you will get a gift as a reward. Are you curious to know what it is? We can only anticipate that, following the same line of this proposal, it is something made in a sustainable way and with recycled materials.
If you want to unravel the mystery, you just have to stop by our grow on Calle Duques de Nájera 97 or on Avenida Mendavía 37, in Polígono Cantabria. When you show us that you have come this far in a non-polluting vehicle, we will add a little surprise to your purchase.
The satisfaction of things well done

Do not think that this ecological awareness is something temporary. At Yervagüena we have always opted for sustainable cultivation methods and that is why among our product catalog you will find articles from BioCanna, the well-known line of the Canna brand intended for the implantation of organic crops.
Since the early 1990s, the Dutch firm Canna has worked very hard to develop a type of production that is respectful of the environment. A dedication and investment in technical and human resources that has turned its biological products into a benchmark of culture ecofriendly within the framework of marijuana cultivation.
Currently BioCanna offers a complete catalog of 100% organic fertilizers that constitute one of the safest alternatives for growers who want to farm in a more responsible way. So much so that each of the products in this line is subject to strict control of the international guidelines CU (Control Union Certifications) to guarantee that both in the production process and during its application, the conditions that are required of this type of fertilizer are being respected to enter the category of organic products.
The CU seal certifies that no microorganisms that have been genetically modified are present in the BioCanna catalog. A guarantee that justifies the fact that these entirely natural formulas facilitate the obtaining of high quality crops for which it has not been necessary to use any chemical or polluting element.
The difference in the results is more than remarkable in these marijuana plants that have only been treated with organic inputs. And it is not just the fact that your crop has that special touch, it is the satisfaction of knowing that you are doing something positive for the environment.
Do you have any other ideas to improve the planet?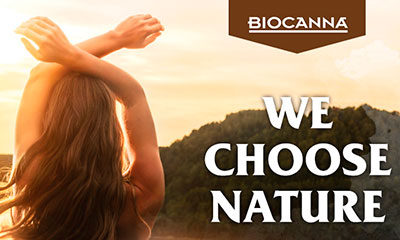 BioCanna's drive to promote a sustainable lifestyle is not limited to its fertilizer products. The brand wanted to go one step further in developing environmentally conscious proposals by launching the We Choose Nature project.
The formula adopted by the prestigious Dutch brand to combine purposes, ideas and attitudes in favor of a greener planet consists of creating a space for exchange in which to work together and start taking action. From this online platform, BioCanna presents itself as a speaker for all those global and local initiatives that have emerged with the idea of inspire greater respect and admiration for nature.
Through the We Choose Nature website, you can also make your financial contribution to the campaigns supported by BioCanna in different corners of the world. The development of a hydrological corridor in Tanzania, the greening of Amboseli or the excavation of terraces in Kuku (Kenya) or the hydrological works of Rehamna, near Marrakech, are some of Justdiggit's projects to make better use of rainwater and increase the presence of grasslands currently supported by BioCanna.
But since all the ideas that are oriented to improve the state of conservation of the planet, especially in the most sensitive areas, anyone can communicate with the brand and present their local project to make it known to the world through this platform.
For our part, we invite you to visit the Yervagüena stores, leaving aside polluting transport and we encourage you to continue maintaining this 'green conscience' by rewarding yourself with a small gift for contributing your grain of sand to this cause.