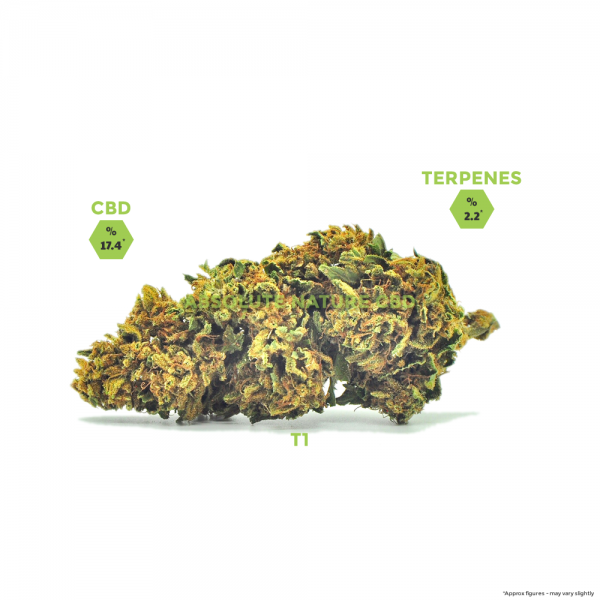 T1 (Trump) CBD Hemp Flower Buds For Sale

Introducing Our T1 AKA 'Trump' Hemp Flower:
We take pride in sourcing our T1 AKA 'Trump' Hemp flower from small, specialized, craft hemp flower growers who are state registered, licensed, and fully compliant with legal regulations. Each bud is meticulously hand-trimmed and slow-cured to ensure exceptional quality, delightful flavor, potent effects, and meet the high standards our customers expect. These T1 hemp flowers exude a divine aroma, boast an abundance of trichomes, and showcase their beautiful frosty appearance—just the way you like them!
Uncompromising Quality: High Standards, Cleanliness, and Potency
At our core, we prioritize quality above all else. That's why we invest significant time, care, effort, and resources to ensure that our hemp flower meets the highest standards of excellence. We meticulously test and scrutinize each batch to ensure it is of the utmost quality—clean, safe, potent, and ready to deliver your desired experience. For more information on our hemp flower sourcing and testing processes, please visit our main CBD hemp flower page.
Anticipating Your Love for Our T1 Hemp Flower
We are confident that you will fall in love with our T1 strain of hemp flower. Its captivating aroma, rich trichome coverage, and exquisite frosty appearance are sure to delight your senses. We know that once you experience it, you'll be eager for more.
Delivered with Care in Recyclable Glass Jars
To demonstrate our commitment to sustainability, your T1 buds will be delivered in recyclable glass jars with childproof lids. We believe in protecting both the environment and the freshness of our products.
Customer Satisfaction is Our Priority
We are dedicated to your satisfaction. If, for any reason, you are not completely satisfied with any aspect of your T1 hemp flower or if you have any concerns or questions, please reach out to us. We will promptly address any issues, fix any problems, and strive to provide the utmost satisfaction. Your happiness is always our top priority.
GENETICS: – The Wife and the Afghan Skunk
TYPE: Indica Hybrid
AROMA: Loud, Hops, complex, fresh, skunky, sweet, fruity and spicy
TOTAL CBD (CBD+CBDA) % 17.44%
Total CBD mg/g 174.4 mg/g
TOTAL CANNABINOIDS 21.34%
TOTAL CANNABINOIDS mg/g 213.4 mg/g
PROMINENT TERPENES: β-Myrcene, β-Caryophyllene, α-Pinene, δ-Limonene, α-Humulene
TOTAL TERPENE %: – 2.2%
EFFECTS: Big hitter for relief. full body, comforting, soothing, relaxation and sleep.
Indoor (Greenhouse) grown CBD Hemp Flower
3.5 Gram Increments
Hand Trimmed Buds
CBD Rich Hemp Flower Buds (Nugs)
Slow Cured
Lab Tested for purity and compliance
100% Organic Grown – No pesticides
No Heavy Metals
Non-GMO
Recyclable Glass Jar – Child Proof Lids
SKU: N/A
Category: CBD Hemp Flower Online Store
Tags: CBD Flower, Hemp Buds, Hemp Flower, Hemp Flower Buds, Smokable Hemp