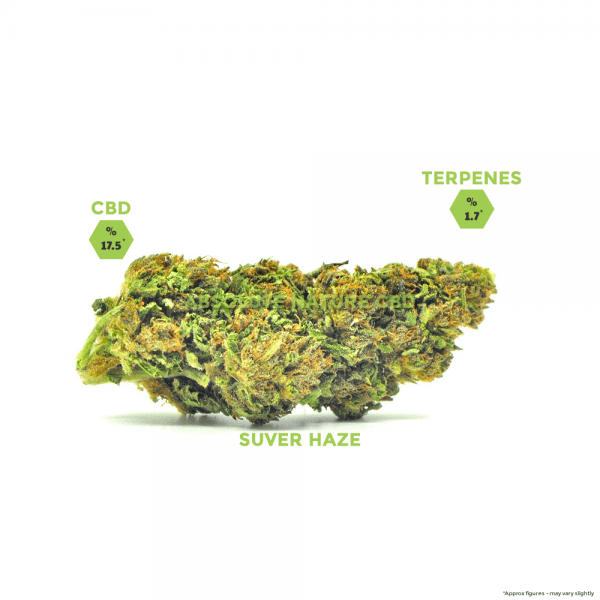 Suver Haze CBD Hemp Flower Buds For Sale

Introducing Our Suver Haze Hemp Flower:
At our core, we prioritize exceptional quality and customer satisfaction. That's why our Suver Haze Hemp flower is carefully sourced from small, specialized, craft hemp flower growers who are state registered, licensed, and fully compliant with legal regulations.
Crafted with Precision: Hand-Trimmed and Slow-Cured
We take pride in the meticulous process of hand-trimming and slow curing our Suver Haze Hemp flower to ensure the highest possible quality, flavor, and potent effects. Meeting our customers' demanding standards, these flowers boast high amounts of THCa and a delightful aroma that's enhanced by their trichome-covered, frosty appearance. It's everything you love in hemp flowers!
Uncompromising Quality: Clean, Safe, and Potent
We go above and beyond to guarantee that our hemp flower meets the highest standards of cleanliness, safety, and potency. Our team invests significant time, care, effort, and resources to ensure that every bud undergoes rigorous testing for your satisfaction and peace of mind. For more information on our sourcing and testing processes, please visit our main CBD hemp flower page.
Customer Satisfaction Guaranteed
We are confident that you will fall in love with our Suver Haze strain of hemp flower and crave more. Your order will be delivered in recyclable glass jars with childproof lids, reflecting our commitment to sustainability. As always, if you have any concerns or questions, or if any aspect of your Suver Haze CBD Hemp flower doesn't meet your expectations, simply reach out to us. We will promptly address any issues and strive to provide the utmost satisfaction. Your happiness is our priority, always.
GENETICS: – Suver #8 x ERB
TYPE: Sativa-dominant Hybrid
AROMA: Loud, Hops, complex, fresh, skunky, sweet, fruity and spicy
TOTAL CBD (CBD+CBDA) % 17.54%
Total CBD mg/g 187.8 mg/g
TOTAL CANNABINOIDS 21.51%
TOTAL CANNABINOIDS mg/g 215.1 mg/g
PROMINENT TERPENES: β-Myrcene, β-Caryophyllene, Ocimene, δ-Limonene
TOTAL TERPENE %: – 1.7%
EFFECTS: Big hitter for relief. full-body, comforting, soothing, relaxation, and sleep.
Indoor (greenhouse) grown CBD Hemp Flower
3.5 Gram Increments
Hand Trimmed Buds
CBD Rich Hemp Flower
Slow Cured
Lab Tested for purity and compliance
100% Organic Grown – No pesticides
No Heavy Metals
Non-GMO
Recyclable Glass Jar – Child Proof Lids
SKU: N/A
Category: CBD Hemp Flower Online Store
Tags: CBD Flower, Hemp Buds, Hemp Flower, Hemp Flower Buds, Smokable Hemp