Reading time
4
minutes
The grow shop sector and allparaphernalia for the smoker that accompanies it continues to grow and innovate, which can be seen in particular in the weed grinders, among other articles. 15 years ago you could barely find 3 or 4 shredder models, but today there are dozens of them, with thousands of different models.
Among all the types of crushers available, some are distinguished by their originality, others by their ease of use and still others by the materials of which they are made. In this article, we will see what are the best grinder models on the market in 2021, without special order, the top 10 in general, you want to know which are they? Well, let's not wait any longer… .👉
⭐ Ranking of the 10 best grinder models
Quick Grinder : Your faithful and infallible companion. The Quick grinder has it all, premium materials, a perfect ride, a really nice design, and an innovative button that makes this mission easier in the best possible way.
SLX 2.0 : This weed grinder is a hit because it is made with high tech materials used in the aerospace industry. Its interior is made of non-stick ceramic, which makes it easy to clean and maintain. It's practically indestructible, so it can last forever.
Solinder : This grinder is made of CNC aluminum, a very good material for its lightness and resistance. It has a camera to collect the kief, five anodized colors to choose from, and measures 62 mm. in diameter and 48 mm. height. It has a practical wavy design which helps in the task of grinding cannabis.
Thorinder: The Thorinder is one of the best shredders on the market in terms of quality / price ratio. It is very light, very thin, and has a spectacular design. One of its advantages is that the top part is transparent so you can see the marijuana inside.
Cali Crusher : For many the best grinder in the world without question. Made in California with military grade CNC aluminum, it ensures perfect gearing and weed grinding like no other. Its price is higher than that of others, but it is guaranteed for life.
Santa Cruz Shredder Jumbo : This marijuana grinder is made of medical grade aluminum and finished with ultrasound. It has been on the market for many years, which is a guarantee of reliability. The only downside is its high price.
Grinder pollinator at mill : Yes, you unite practicality, ease of use, efficiency and the right price, you get the mill crusher with pollinator. It's hard to find a weed grinding device with better performance and such a competitive price.
Card grinder : It has a lot of advantages, cheap, easy to hide, resistant, easy to maintain and its operation is very simple. In addition, there are hundreds of models of grinder cards different, so it's easy to find a theme you like.
Rosewood wood crusher : The most puritanical cannabis users still prefer to chop cannabis with a wood chipper. In this category we highlight the rosewood wood, elegant, durable, and with a spectacular sculpture.
Magic fly : This grinder is probably the best for chopping cannabis before vaping. Crumbles the weed finer than any other, so it's great for taking advantage of all the trichomes while vaping.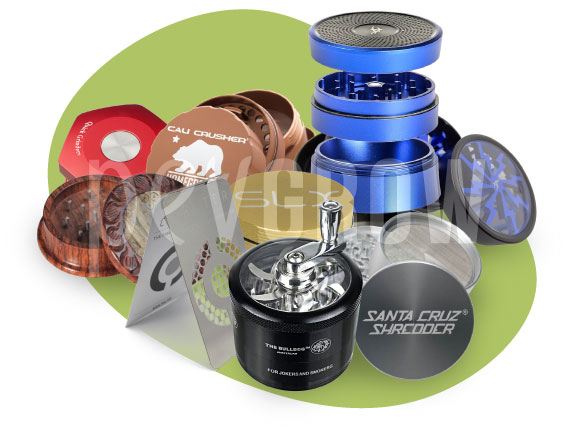 ⛳ What is the best electric grinder?
In the growshop market, you can find many different models of electric grinder, but many of them are unreliable. We at Pevgrow tried quite a few things, and in the end we were left with the one that wasn't a problem after a lot of use. Our automatic grinder ax weed very well, is easy to take apart and has unbeatable value for money.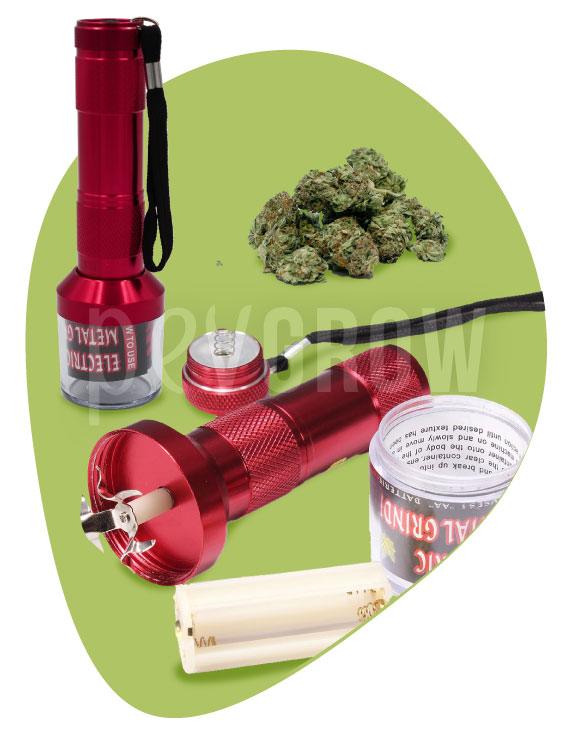 ✨ Are there quality shredders at low prices?
Of course, there are models of acrylic or plastic grinders that can last for years if you take care of them. One of the things to consider for its durability is cleanliness, which must be regular and with products that do not damage this material. If you are unsure of the best way to clean the grinder, I suggest you read this article. The grinder card is also very economical and robust, just like those in wood.


👌 What is the best grinder for vaporizing?
From our point of view, there is no doubt, as we have seen before, the Magic fly is the one who leaves the cannabis more ground. This is a great advantage, because the vaporizer heats the plant material evenly, so that every trichome in the bud is used.
It depends on what you mean as better, if you want a shredder with a pollinator that collects a lot of kief I recommend the Thorinder. But if what you are looking for is the best quality of kief, then the SLX 2.0 model may be better, since the micraje of its mesh is lower, so it collects less trichomes but more filtered.
🚀 What is the best grinder in the world?
From our point of view, the best shredder on the market for a long time is the Quick grinder. It was released a little over 10 years ago, but its flawless functioning, finishes and practicality have made it a favorite among many cannabis smokers.
It's not the cheapest, the original hit the market with a price tag close to € 50, an investment that many people cannot invest in a grinder no matter if it's the best sound. high price is linked to the patent of the unloading mechanism it contains, revolutionary at the time.
Fortunately, versions 2 and 3 were released later, with very similar finishes and more competitive prices.
If we were to make a Top best grinders for cannabis, the Quick would always be at the top for us, other users might prefer the Thorinder which is also very good, some prefer a pollinator grinder to collect the Kief, others maybe an electric one, and still others prefer a classic wooden grinder, because as you know "to each his own".
And you ? Do you know a best grinder that this classification? If so, send it to us to include it, and if you liked the article, consider to share it so that more people can read it… 😜

Fran Quesada Moya
Pevgrow editor, cannabis activist and fanatic in all its fields, especially the breeding and development of new strains.
See more posts