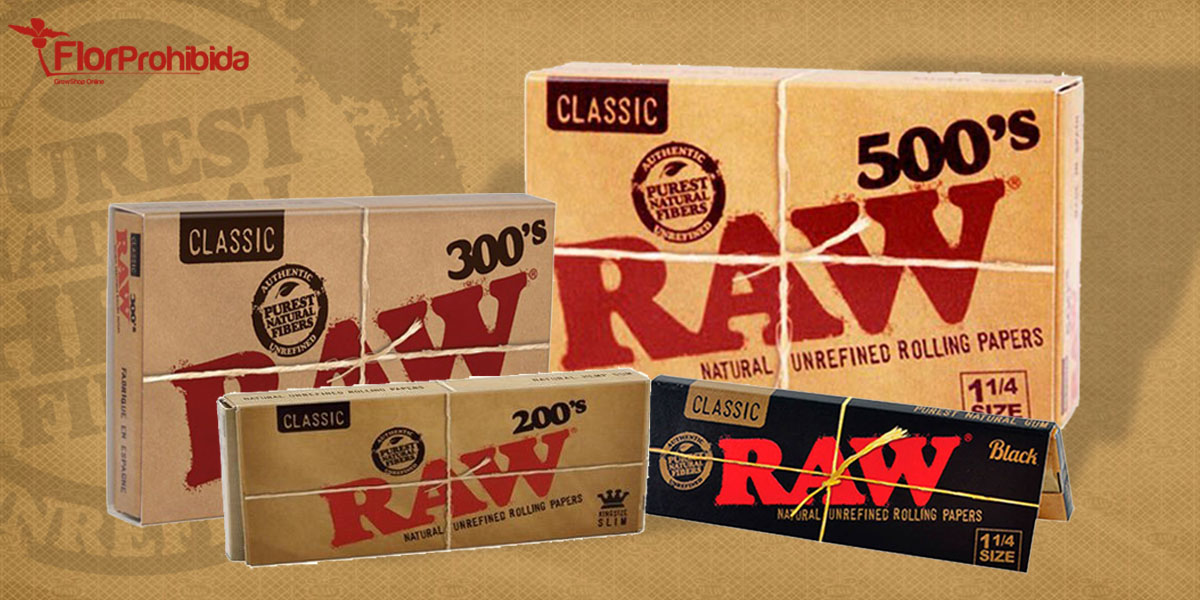 RAW rolling papers have established themselves as one of the best in the world, thanks to their quality and natural materials. Stay and know all the details about RAW and its products.
What is RAW?
RAW (Raw Rolling Papers) is currently known for producing the least processed papers on the market. With more than 15 years of experience, this brand has become an international symbol, reaching a popularity that goes beyond cigarette paper and becomes a lifestyle.
Rolling paper made with 100% organic natural fibers and manufactured entirely in Alcoy, Spain. But nowadays it is not just a company that manufactures rolling paper, but they also manufacture all kinds of accessories for smokers. It is also a lifestyle, he has collaborated with celebrities like Wiz Khalifa, betting on rap classics, as well as new generations.
Rolling papers
Raw is the quintessential manufacturer of the best tobacco rolling paper. With this brand we can find the different varieties that can make your experience as a smoker the best. We are going to start with the different types of tobacco rolling paper that Raw offers with a classification by size.
Sizes
Single Wide. It's the perfect size for those looking for short but intense tobacco experiences. It is the smallest rolling paper measuring 68 millimeters long by 36 millimeters wide.
¼ size. It is still a smaller size than the traditional cigar because we also want them to last a little less and thus enjoy the flavor better.
½ size. The rolling paper for a more classic size cigarette. It has a width that allows you to more easily modulate the amount of tobacco you want to use.
King Size. With its 110 millimeters long, you will be able to have a truly pleasant duration to be able to enjoy tobacco with a high quality time. It also has two versions, a smaller one (Slim) and another with a greater width (Supreme).
Giant. The best way to smoke with friends is with this rolling paper. It is ideal for sharing as it is characterized above all by the fact that it takes more than one person to make the cigarette.
Organic rolling paper
RAW is characterized by manufacturing natural rolling paper, 100% vegan and free of artificial bleaches. The materials are important since they will intervene in the combustion process and when tasting the tobacco.
Raw offers us two types, the classic version, a very fine paper made with unrefined raw paper and without using chemicals, and the organic version. With RAW organic rolling paper we will lengthen the burning time by generating few ashes, they are also made from totally natural hemp and free of chlorine, this will make it perfect for rolling providing lightness to the cigarette.
This type of paper will make us have a better smoking experience without additives, allowing us to enjoy tobacco without affecting the taste or smell.
In addition, the organic paper from Raw, or also known as vegan rolling paper, is respectful with the environment and is that environmental awareness is also present in its packaging made from recycled materials.
Cannabis smoking accessories
RAW not only stands out in rolling papers, but also presents a large catalog of ideal products so that we can roll cigarettes or joints like true professionals. Here are some of these products and their utilities.
Carton filters (pre-rolled). We know how heavy it is sometimes to look for cardboard and make your own filters, so with this pack of 21 cardboard nozzles already rolled up and ready to use, they will be a complement that you cannot miss from now on.
Cones. Everyone who has tried it has been astonished, since with these cones we will have the RAW paper already bundled, so that it will only be necessary to fill it. And the best of all. keeping the pure and unprocessed materials that you are used to.
Rolling machine. There are people who for speed or simply because they want a perfect joint use a machine that allows them to roll easily and without complications, saving a lot of time.
Pipe. Do you want to liven up your parties? RAW offers us pipes with which we can couple 2 or 3 simultaneous cigarettes to mix the flavors. They are made of high quality wood, they do not weigh, they do not bulk up and they can be easily carried in your pocket.
All these supplements will save you a lot of time and you can also try new ways of smoking that will get you out of the routine.
Ideal accessories for all smokers
In addition to rolling papers and accessories, RAW offers us a wide variety of products that will make our lives much easier when it comes to smoking. Among all these articles we can find:
Ashtrays. An essential element for any smoker and that cannot be missing from any table. But, in the event that you are not at home and need an ashtray, the solution to your problems is the portable ashtray. With the RAW pocket ashtray you will be able to put out and dispose of cigarette butts and ash without harming your environment thanks to the fact that it is made of a fire-retardant material inside, which will also prevent bad odors from coming out of it.
Click cans. With these cans you can store your tobacco or other types of herbs safely. Thanks to its easy-to-use closure and its size it is ideal to carry in your pocket.
Metal boxes. Ideal for storing everything you need to smoke; cigars, paper booklets, lighters, etc. It is the size of a tobacco packet and is made of metal which makes it very resistant and comfortable to use.
Trays. The utility of RAW trays is to keep your area to roll cigarettes clean and organized, if you are tired of cleaning the rest of the tobacco from the table with this tray you will keep everything cleaner and more organized. Put an end to all that wasted cannabis.
All these items, in addition to facilitating the experience when it comes to smoking, are an ideal gift for that smoker friend who always has a cigarette in his mouth.
Hemp rope
Did you know that many smokers use hemp rope to light their joints, bongs or pipes? It is not very common, but there are people who use hemp rope as a lighter due to its advantages.
Hemp rope is a piece of yarn made from hemp fibers and to prevent the wick from burning, many manufacturers cover the wick with beeswax.
Among its advantages, the hemp rope avoid gas pollution. Lighters burn butane as fuel to keep the flame burning, and if enough builds up, it can affect the taste of marijuana for the worse.
A hemp rope burns at less than half the temperature of a butane lighter, allowing us to preserve cannabis terpenes. It is also good for the environment and will avoid burns when lighting a pipe.
You know, if you want to roll with the best paper, make your life much easier with a wide variety of accessories or try new ways of smoking, without a doubt the indicated brand is RAW. You can find all these products and much more at Flor Prohibida.