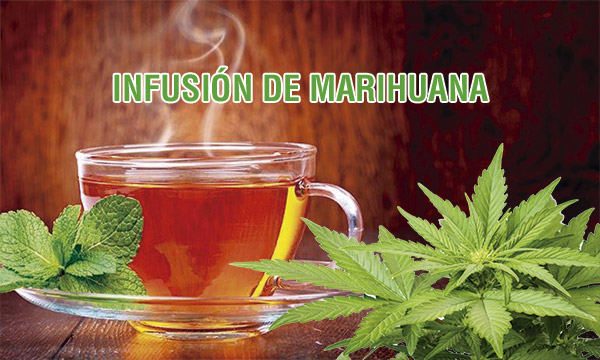 The marijuana infusion It is one of the fastest and easiest recipes that we have available in Naturaleza Grow. It is a way of consuming cannabis without damaging our lungs. Learn to enjoy cannabis in other ways and thus take care of our health a little more.
🥄 Materials

🍲 Ingredients

As it is such a quick and easy recipe, it has almost no ingredients, below we will detail what they are:
Marijuana or cannabis
The amount of marijuana for the infusion is about 0.2 grams. Depending on the tolerance of the person and the quality of the yerba, we will add more or less quantity.
Unsalted butter
One of the recipes that we offer you below uses unsalted butter.
Water or milk
Depending on the recipe we use, we will add 400 ml of water or milk.
Optional:
We can complement our infusions with licorice, anise, ginger … depending on the tastes of each one. To sweeten, we recommend natural ingredients, such as stevia or honey.
🍵 How to infuse marijuana?

Once we have all the materials and ingredients, we will teach you how to make a marijuana infusion in two different ways:
Infusion of marijuana with milk
We can use whole cow or goat milk, however, vegans prefer almond milk. It is necessary that we use a milk that contains fatty acids so that the cannabinoids dissolve with them. Cannabinoids do not dissolve in water, they are fat soluble, this means that they only dissolve with fatty acids.
Crumble the marijuana into very small pieces, to facilitate our work we can use a grinder.
We heat the milk in the saucepan over medium heat and as soon as it starts to boil, we add the marijuana. As before, we cover it and let it rest for about 5 minutes.
Afterwards, we can strain the marijuana tea and enjoy it.
Infusion of marijuana with water
Crumble the marijuana into very small pieces, to facilitate our work we can use a grinder.
We place the saucepan with the water to heat over medium heat and add the butter. As soon as it boils, we turn off the heat.
Now we incorporate the shredded marijuana and stir a little so that it is well integrated. We cover it and let it rest for about 5 minutes.
Now using a strainer, we pass the infusion to the cup and we can now enjoy our cannabis tea.
How to make marijuana leaf tea?
We can perform the infusion with marijuana leaves manicure, provided they contain resin. The leaves do not contain the same amount of cannabinoids as the flowers, so the infusion will be lighter. In this way, we will get a lighter marijuana tea
To make marijuana leaf tea we will follow all the steps mentioned above, the only thing that varies is the proportion to be added. With cannabis buds they are 0.2, however, with leaves we will need to add a gram to achieve similar effects.
❓ What is marijuana infusion for?

Marijuana infusions or teas they are one of the best consumption options for medicinal patients. They can get all the benefits of cannabis without the need to smoke it.
💚 Properties of maria infusion

We are facing one of the healthiest ways to consume cannabis. Marijuana tea can provide our body with endless properties such as:
The infusion of maria is used for pain
Increases cardiovascular health
Insomnia
Anxiety
Depression
Stress
Arthritis
Osteoarthritis
Healing
Glaucoma
Prevents the development of Alzheimer's
Relief from nausea
Anti-inflammatory
Anti-convulsive
Rheumatic diseases
Dizziness
Moisturizing
🙃 Marijuana Infusion Effects

The effects of smoked marijuana vary greatly. When the maria is ingested the effects do not become visible until after a period of 30 to 90 minutes. If we measure the amounts correctly, the effects will be milder than smoking or vaporizing it.
Less is added to an infusion than to a joint for a very simple reason. The joints when they go into combustion volatilize cannabinoids and terpenes, however, in an infusion almost all of it is used.
The effects and sensations perceived after taking the infusion of marie will take longer to disappear than when smoking it.
Marijuana infusion for pain
If we want to achieve anti-inflammatory and relaxing effects, it is necessary to use indica varieties, with lower THC and higher proportion of CBD. The properties of CBD will help muscle aches, rheumatism and joints.
Depending on the intensity of the pain, we will add more or less amount of cannabis.
Infusion of marijuana to sleep
It is one of the most used options among consumers to combat insomnia. Marijuana tea can be very effective for sleeping if we choose the variety correctly, we recommend the White Rhino or varieties with a higher proportion of CBD than THC.
The marijuana tea It usually takes an hour to take effect, therefore, it is better to take it right after dinner, in this way it is already taking effect at bedtime.