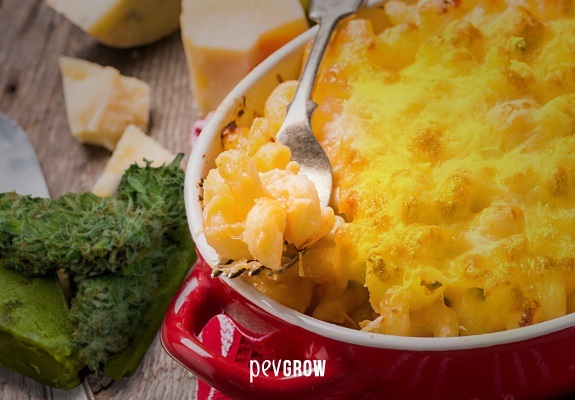 Reading time
4
minutes
The recipe for green mac and cheese is popular, quick and easy to prepare, and of course delicious too. In this article, you will have the instructions to enjoy it with the star ingredient: cannabis.
I really don't want to go on forever as I think we've all eaten this delicious dish before, and that's enough for you to know that this recipe will be exquisite. A meal that can be eaten at any time of the day …
✨ What do macaroni contain?
+ List of ingredients:
½ cup cannabis butter. If you still don't know how to make your own butter, here is a direct link to marijuana butter for you to learn the procedure, it's simple.
½ traditional butter, preferably unsalted
Salt to taste, about two teaspoons
Black pepper
A tablespoon of
One tablespoon of cayenne pepper
1 cup of grated Swiss cheese
1 cup grated cheddar cheese
1 cup grated mozzarella cheese
3 ½ to 4 cups of milk
3/4 cup grated Parmesan
1 cup of flour
3/4 cup breadcrumbs
400 to 500 grams of cooked macaroni pasta
Make sure you have all the tools to cook your cheese and macaroni, you need a container suitable for the oven, a large container where you mix all the ingredients, a ladle, a pan and a whisk.
* To help you make your own marijuana butter, here is a video with the recipe:
+ Step by step instructions
1Preheat the oven to 180 degrees Celsius in which you mix the ingredients.
2The first thing you will do is heat the cannabis butter, but leave some for you to use later, also add the traditional butter to the pan; it will take about five minutes. When it is well melted proceed to the integration of the flour, add it little by little. Make sure to beat until well combined.
3..The next thing you will do is put on the milk, it is important to do not put the milk all at once because you run the risk of the mixture becoming lumpy. You have to mix it up little by little, there is no rush. The intention is that a good uniform mixture remains. After the milk, what follows is to incorporate the spices, black pepper, cayenne pepper and salt.
4When the mixture is well seasoned, it's time to remove it from the heat. Then it is around the cheeses, who after the weed are the ingredients that make this recipe stand out. We add one cheese after another and you also have to do it little by little, you have to make sure that they are well mixed, only when you have finished integrating one, take the next cheese. Be careful, when it is the turn of the Parmesan, save a little, you will use it later.
5Finally, it is time to integrate the macaroni already cooked previously, your cheese and macaroni are already taking shape. Stir all the ingredients well until the pasta is well absorbed. You will put all the mixture in a container that you will put in the oven, make sure you have previously greased the container.
Do you remember the cannabis butter and cheese that you have reserved? It's time to use them, to these two ingredients we add breadcrumbs, when they are well mixed you will put them on the macaroni.
6.With the oven preheated to a temperature of about 180 degrees Celsius, you will put your green mac and cheese for about half an hour to forty minutes. When you see that the top layer is golden, it's time to peel it off.
When you take them out of the oven let them cool a bit, you don't want to burn yourself. It's that simple !, you have a dish ready to eat. Invite your friends over, go out for an afternoon, maybe watch the sunset, but eat a good portion of these first. cannabis macaroni, and enjoy the effect.


⛳ How to make macaroni when there is not too much time?
I'm not going to lie to you, making food in a box isn't my thing, but sometimes you really don't have the time, and the inclination to cheese and macaroni is so great that you have no choice but to succumb to it immediately. Anyway, even in these types of recipes, you can incorporate a little magic grass, and believe me, it will make a big difference.
Take the box of macaroni and just read the directions on the side or back, heat the pasta on the stovetop. Super simple and straightforward, right?
The trick is not to heat the dough, but to heat the cannabis butter. So you leave out the traditional butter and put a little magic in these macaroni that you have already heated. Add a little more than what is recommended in the instructions. Reheat again, stir well and voila !!
⭐ Conclusion
This is the speed at which you can make a good and efficient recipe, which also gives you the opportunity to taste the effects of cannabis.
Prepare them green mac and cheese on any occasion. I give you some tips, if you still do not know how to prepare cannabis butter, it is better that you learn how to do it, because it will not only serve you for this dish, you can use it for another, like delicious cannabis cupcakes.
I have no choice but to say goodbye to you, to ask you if you liked the recipe, share it with your friends. Tell us how the process went, maybe you've made an adaptation, it's always nice to know how everyone adds their own style to meals.

Alan Martínez Benito
CEO of Pev Grow, expert grower with over 20 years of experience.
In constant struggle for the regulation of cannabis, mainly in the medical field.
See more posts