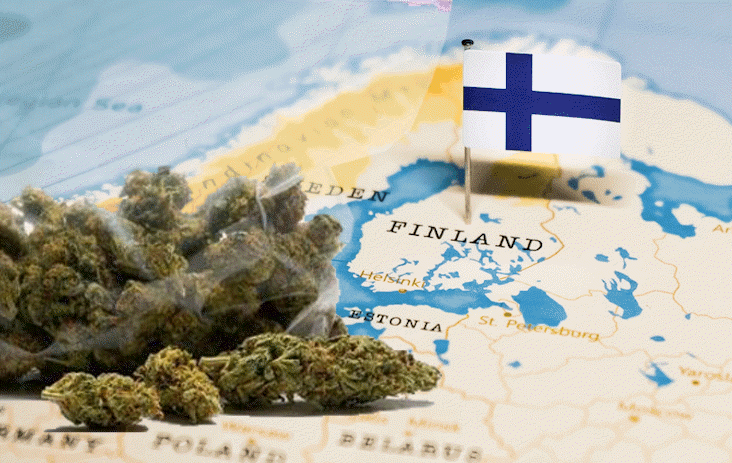 When most people talk about cannabis reforms, regulation, and legislation, America's first country usually comes to mind. This is mainly because American states are taking the lead on legalizing cannabis, and it is such an exciting time for the marijuana community. 
But another country is beginning to advance its cannabis industry, and we will discuss it in detail. You will be impressed by what you are about to discover with Finland's marijuana cannabis industry. 
Please give it up for Finland!!
Finland is not always on anybody's list when it is time to discuss the epicenter of marijuana reform. Still, the Scandinavian country is now taking a massive leap into its marijuana future. 
The Green Political Party in Finland, known as the Green League, is backing a policy to legalize and regulate its domestic marijuana market. Although the movie has no official stance at the legislative level, it is quite a historic moment. 
It has become the first time a political party in Finland and the Finnish parliament will be calling for the legalization of marijuana. Although, the fact that there seems to be minimal support at the federal level makes it seem like the process may not advance. The most exciting thing to hold on to is that Finland is making efforts, and that is good enough.
Marijuana in Finland
Finland is a region best known for its snow (lots of snow) and its occasional coolness. But beyond this, cannabis reforms have moved glacially at a pace that is quite shocking to other European countries. With Finland making this move, it is evident that many more European countries are becoming impatient with the war on cannabis prohibition and want it to end. 
The marijuana restriction in Finland dates back to the mid-1960s, even though the country was a leading liberal society in Europe. The criminalization of individual use has been controversial, and the national government attained this goal in 1972.
In this century, specifically in 2008, the government of Finland confirmed the use of medical marijuana flower, which was imported from Holland. In 2017, Finland's Supreme Court gave a ruling that the sentence for an aggravated drug crime can be reduced, but it will depend on the nature of the offense, the offender's role, and the amount of substance involved. 
In 2018, a survey showed that 18% of citizens of Finland believed that adult use of marijuana should be legalized. While in 2019, a citizen's initiative was set up to decriminalize cannabis in Finland. That initiative got 50,000 signatures which compelled the Finnish parliament to consider the citizen's stance. However, this piece of legislation still didn't pass. 
In Finland, the Narcotics Act asserts that using or holding on to illegitimate drugs such as marijuana is a punishable offense punishable by law. The punishments are determined by the amount of substance involved, after which it can be a 5-6 months jail time. But CBD is legal, while limited amounts of hemp can be grown in Finland. 
The legal status of marijuana in Scandinavia 
The new reality in Finland that the issue of marijuana reforms will be moving forward regardless of the opposition it faces is a good sign for the cannabis industry in Finland in particular and Europe in general. Generally, Scandinavia has strict laws about marijuana use. 
Sweden only permits the utilization of medical marijuana-based drugs. While in Iceland, the whole cannabinoid conversation, especially for medical use, is not even on the table. Norway eased up marijuana laws in 2018, thus making for small possessions in the country.
The only exception is Denmark, which started a four-year medical test in 2018 and sought to take on recreational trials. Denmark also has one of the most extensive cultivation systems in Europe because it granted over 40 licenses.
Now that agriculture signifies over 2% of Finnish GDP, it becomes unlikely that a more significant planting industry will commence from there. However, imports like it are in Germany, such as the medical type, can start showing up in the country, especially from nearby Denmark. 
Despite these issues, some marijuana reform is already on the political agenda, and that is an encouraging development. Currently, there is no part of Europe where is not at least a planned medical marijuana reform. If it is not already underway, it is considered. Beyond this moment, the next big hurdle will be to ensure that these plans come to fruition. 
Some people remain skeptical about worries about Europe's marijuana future and if legalization will happen. But if you have paid attention to the cannabis industry for many years, you will agree that this move is a glimmer hope for the future. 
Marijuana is on a steady rise across the world. Yes, there are still some drawbacks (which is to be expected), but the marijuana community wants to see some action. We want to know how the countries commit to these legalization processes and how they consistently try to operate in an inclusive way that benefits all residents. 
It took America a long time to arrive at the complete and ongoing legalization processes with its states, and Europe has the time. Europe is in its prime and set to make meaningful contributions to its cannabis sector. We will all be cheering them on as they make these moves starting with Finland.
Bottom Line 
For many years, the marijuana industry got the shorter end of the stick in Europe. Even to date, millions of Europeans are still skeptical about cannabis, especially for recreational use. 
But Finland has broken the jinx, and it is the dawn of a new era in Europe. The fact that America now has several states legalizing cannabis didn't suddenly happen. It all started with one state taking the giant leap, and from that moment onwards, other states did the same. 
Cannabis enthusiasts in Europe are delighted at this turnaround in Finland because this is how the ripple effect begins, with other countries also reevaluating their marijuana policies and setting the ball rolling for complete marijuana legislation in Europe.
FINLAND IN NEWS, READ MORE..
EUROPEAN CANNABIS NEWS – FINLAND DECRIMINALIZES WEED!