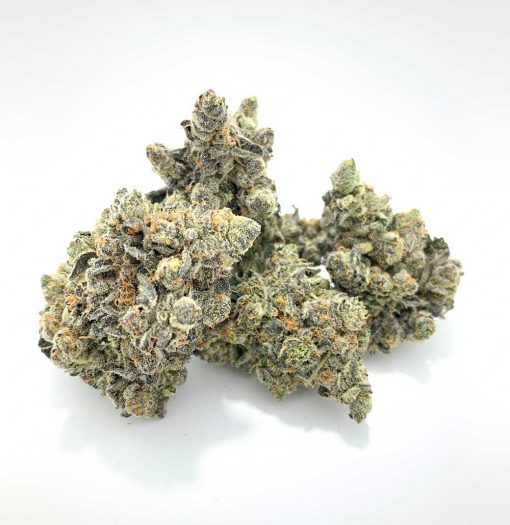 Thin Mint Hybrid GSC aka Thin Mint Girl Scout Cookies

$45.00 – $270.00
$65.00 – $290.00
$45.00 – $270.00
$65.00 – $290.00
Thin Mint Cookies emerged as a remarkable hybrid by crossing OG Kush and Durban Poison. Exhibiting near-perfect balance, this strain is composed of 50% Sativa and 50% Indica genetics. The buds of Thin Mint Cookies emit a minty aroma, which perfectly complements its sweet flavor.
Flavors: Chemical, Mint, Sweet Effects: Energizing, Euphoria, Focus, Happy, Relaxing, Uplifting Medical: ADD/ADHD, Chronic Pain, Depression, Fatigue, Nausea, Stress Potency: 20-28% THC
Thin Mint Cookies is a phenotype of the legendary GSC (Girl Scout Cookies) strain, bred from the genetic lineage of Durban Poison and OG Kush. Its dense buds display shades of dark green and royal purple, enveloped by a generous layer of crystals. The delightful minty fragrance encapsulates the essence of its name. Drawing upon the diverse traits of its Indica, Sativa, and hybrid predecessors, Thin Mint Cookies delivers a powerful full-body effect that has earned it an esteemed reputation. Novice consumers should approach this strain with caution due to its high psychoactivity. However, patients seeking relief from severe pain, nausea, swelling, insomnia, and appetite loss have acclaimed Thin Mint Cookies for its potent efficacy.
Take advantage of our special offers:
Buy 2 ounces (56g) and get 15% off
Buy 3 ounces (84g) and get 20% off
Buy 4 ounces (112g) and get 25% off
Indulge in this remarkable phenotype of the renowned Girl Scout Cookies strain, Thin Mint Cookies. Experience its enticing minty aroma, delectable sweet taste, and a powerful combination of uplifting and relaxing effects. Discover the therapeutic benefits it offers and take advantage of the enticing discounts when you stock up on this exceptional strain.
CLICK HERE FOR WESTCOASTSUPPLY™ MIX & MATCH MARIJUANA OUNCES