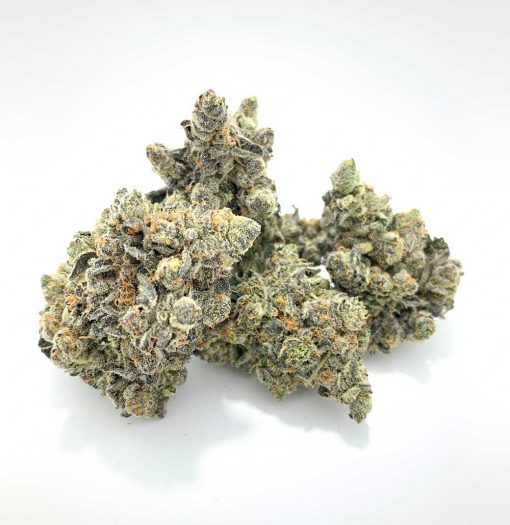 Thin Mint Hybrid GSC aka Thin Mint Girl Scout Cookies

$45.00 – $270.00
$65.00 – $290.00
$45.00 – $270.00
$65.00 – $290.00
The strain became a hybrid when crossed with OG Kush and Durban Poison. An almost perfectly balanced hybrid, Thin Mint Cookies is 50 percent Sativa and 50 percent Indica. The buds of Thin Mint Cookies smell like mint, hence the name, and taste sweet.
Flavors: Chemical, Mint, Sweet
Effects: Energizing, Euphoria, Focus, Happy, Relaxing, Uplifting
Medical: ADD/ADHD, Chronic Pain, Depression, Fatigue, Nausea, Stress
Potency: 20-28% THC
Thin Mint, a hybrid cross containing Durban Poison and OG Kush genetics, is a phenotype of the legendary GSC strain. Dark green and royal purple hues peek through a heavy coat of crystals, with a sweet minty smell that gives a full explanation of this strain's name. Thin Mint calls upon the powers of its Indica, sativa, and hybrid ancestors for a powerful full-body effect that gives this strain its sterling reputation. The high psychoactivity of this strain is not for novice consumers, but patients with a variety of symptoms are giving Thin Mint their seal of approval: severe pain, nausea, swelling, insomnia, and appetite loss are no match for the potency of Thin Mint.
Buy 2 ounces (56g) Get 15% Off
Buy 3 ounces (84g) Get 20% Off
Buy 4 ounces (112g) Get 25% Off
This is one among the phenotypes of the strain, 'Girl Scout Cookies'. This hybrid strain contains 'Durban Poison' and 'OG Kush'. This is another Indica-dominant strain with a THC percentage of 28%. This is the winner of third place in the '2014 Seattle Cannabis Cup'. The buds of this plant are found to be denser and are appearing in green color with traces of purple color. There is a thick layer of crystals all over. The strain gives off a sweet and minty aroma thereby giving the complete meaning of its name. Similar to the aromas, the flavors of this strain are also found to be minty and sweet. Having got the powers of both Indica and sativa strains from the ancestors, this strain is able to provide a whole-body effect thereby providing the strain with exceptional fame. As this strain is known to give higher psycho-activity, this is not advised for beginners. Thin Mint is known to be effective for the symptoms of pain, sleep disorders, loss of appetite, nausea, and swelling. This can also be taken for depression, stress, muscle spasm and tremors.
CLICK HERE FOR WESTCOASTSUPPLY™ MIX & MATCH MARIJUANA OUNCES