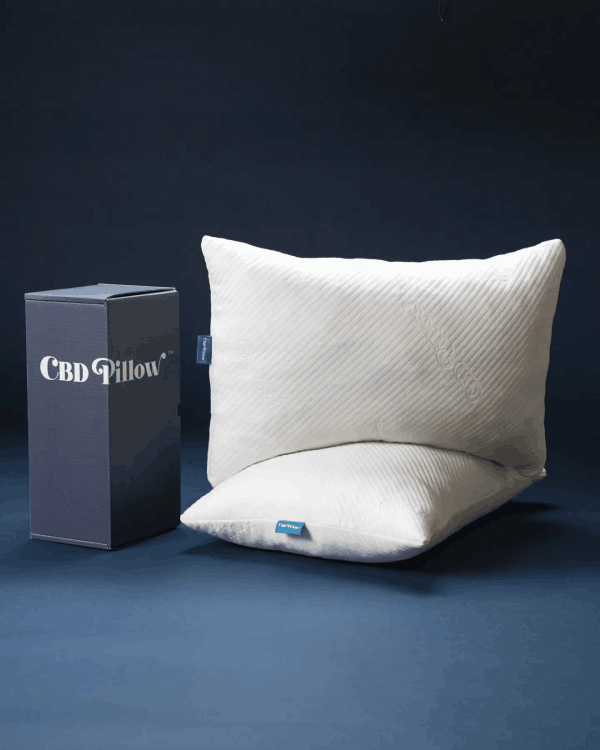 Buy The CBD Pillow – Highest Quality CBD for Deeper Sleep, Relaxation and Refreshing Morning


Introducing our revolutionary CBD-infused gel memory foam pillow, unlike any other on the market. Experience the ultimate sleep with our pillowcase infused with millions of microcapsules filled with the highest quality CBD, providing deeper sleep, relaxation, and a refreshing morning.
Unlike CBD oil or ingestible products that wear off quickly, the CBD Pillow releases micro doses of CBD throughout the night, ensuring a relaxing and uninterrupted sleep experience.
Wake up feeling refreshed, balanced, and free from grogginess. CBD has been proven to help relieve chronic pain and sleep troubles, guaranteeing an improvement in your sleep quality. We offer a 30-day money-back guarantee for your peace of mind.
Key Features:
Pharmaceutical-grade, lab-certified CBD
Sustained micro dosing of CBD all night
Premium materials for superior comfort
Adjustable comfort and customized support
Our CBD is pharmaceutical grade, derived from hemp, and rigorously tested in labs to ensure quality and safety. Each pillow contains an average of 150 milligrams of CBD, providing a consistent dose for optimal benefits. We prioritize transparency and provide access to our latest lab testing results.
Rest assured, our pillow is free from binders, fillers, excipients, dyes, or any unknown substances. It is non-psychoactive, containing less than 0.3% THC. We never include parabens, dyes, sulfates, toxic chemicals, GMOs, herbicides, or pesticides. Our CBD is sourced from hemp grown and harvested in the USA, and our product is federally legal to ship to all 50 states.
The CBD Pillow utilizes microencapsulation, an innovative process where CBD droplets are encapsulated in a protective polymeric coating. Applied to the fabric, the microcapsules break as your hair and skin come into contact with the pillow during sleep, gradually releasing the CBD.
Specifications:
Dimensions: 30″ x 20″ x 5″
Weight: Approximately 2.5 lbs.
Outer liner: Machine washable, cooling bamboo-derived breathable rayon that also serves as a built-in pillowcase
Inside: Zippered, breathable inner chamber
Fill: Medium-firm customizable blend of hypoallergenic certified shredded memory foam and plush microfiber
Feels dry and silky to the touch
Unscented
Additional Features:
Durable gel memory foam core providing support for your head and neck in any sleeping position
Suitable for side sleepers, stomach sleepers, and back sleepers
Customizable fill system allows you to adjust the firmness level to your preference
Proprietary blend of fill for the ultimate comfort formula
Certified by CertiPUR-US® and GREENGUARD Gold for low chemical emissions, ensuring safety and promoting better sleep without headaches or dizziness.
While a pillowcase is not necessary for your CBD Pillow, it can be used to dampen the effects if you find the CBD potency too strong.
Care Instructions for the Removable CBD-Infused Cover: Machine wash in cold water on delicate cycle. Avoid using fabric softener or bleach. Air dry.
Please note that to maintain the integrity of the CBD dosage, we recommend washing the pillow cover no more than once every two weeks.
Care Instructions for the Inner Pillow: To wash, remove the CBD-infused cover and secure the inner shell's zipper closed with a safety pin to prevent fill spillage. Machine wash in cold water on delicate cycle. Avoid using fabric softener or bleach. To dry, air dry for at least 24 hours or tumble dry on low until the inner material is completely dry.