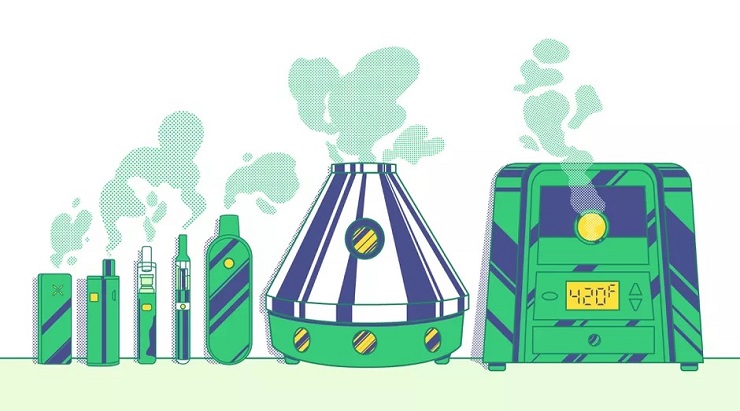 Weed vaporizer: Comparison of the different models of Vapos
The use of tobacco in joints is a bad habit with many people. Most of them do not know that the nicotine and other toxic products contained in tobacco have a real impact on their health and especially their "high". There are alternatives to tobacco especially if your mission is to quit smoking! Buying a vaporizer can be a solution but it can be confusing at times, it is a sad reality but don't let it put you off. The first thing to understand is that there are 3 main categories of vaporizers and as a bonus have told you which is the best vaporizer around.
Vaporization: convection / conduction VS Combustion
The difference of it's 2 process lies in the heating temperature. Temperature control of your vaporizer is fundamental for optimum use, as each cannabinoid has its own vaporization temperature, typically between 160–185 ° C. The vaporization allows to obtain a soft smoke and full of pure flavors at the end of the nozzle.
The combustion process begins above 220-230 ° C. This phenomenon generates a heavy and thick smoke, often hot and potentially dangerous for your respiratory system, because it contains in particular many tars.
Consuming by vaporization has a number of advantages on the one hand for your health, you prevent toxic products from entering your body, you fully enjoy the effects and in the end it is good for your wallet. The effects of spraying depend on the quality of the product you are using, but they are usually more dense and cerebral. Note: A study conducted at the end of 2018 showed that vaporizing cannabis produces a more potent high compared to that of the joint by combustion.
to read : Are the seals disappearing?
Vaporization is less harmful to health than smoke induced by combustion
The reaction of extracting active ingredients is diametrically different between vaporizing and smoking. The vaporization gently heats your product (hash or cannabis) which allows a perfect extraction of the cannabinoids present. The steam extracted by this process is healthier and purer, as the temperature is controllable and remains below 230 ° C.
Combustion and tobacco are not good for your health, this process results in many chemical residues like carbon monoxide, tar, acetone, ammonia, hydrogen cyanide and other toxins contained in tobacco. All of these chemical compounds are toxic and known to be highly carcinogenic!
Originally, vaporizers were meant to be "placed on the table" because they were large and heavy. They are called fixed models. Today vapes weigh only a few grams and can be transported easily.
The vaporizer models have evolved in terms of format, you can find a good number basic, these devices are around a hundred euros. On the other hand, there are very sophisticated machines, true condensed technologies with for example color screens, intelligent heating system connected to the Bluetooth of your phone. It is easy to understand that therefore the prices of these top-of-the-range machines tend to be around 350 euros or more.
To help you in choosing a vaporizer purchase, here is a comparison of the main benefits of this mode of consumption.
to read : 10 Surprises between man & woman
Best Vapos: Test and Comparison
The Firefly2 +
The Firefly 2+ is the only vaporizer that dynamically heats up over a wide temperature range with each inhalation. As you breathe in, the air temperature is increased to the maximum
Small and practical
Perfect for stealth vaping
ultra fast convection
affordable price
Easy to use
very thick clouds of vapor
improved battery
The Mighty
The Mightly from Storz & Bickel, is a portable vaporizer for the home.
Imposing volume for a portable vape
Less easily transportable
Convection and conduction heating
Coherent thick clouds of vapor
Easy to use.
Battery life of 1.5 to 2 hours
The Volcano: Classic / Hybrid / Gold
The Volcano is the world's most popular and respected vaporizer for herbs and concentrates. Manufactured by industry leaders Storz and Bickel in Germany, it heats up faster and more efficiently than any tabletop device and for the first time combines balloon inflation with direct inhalation.
A vape that adapts to all situations
Truly versatile home vaporizer
Precise and variable temperature control
User purchases disposable balloons with valves
No need for cleaning
Thick and storable vapor clouds
Easy to use.
The Pax 3
Smart, intuitive and instant. Its mini format makes it a bestseller. A true dual-use portable vaporizer for flowers and extracts. A vapor experience at the highest level.
Small and pocket
100% conduction heating
Perfect for stealth vaping
affordable price
Easy to use
fine vapor clouds
battery 2 times more powerful than the PAX 2