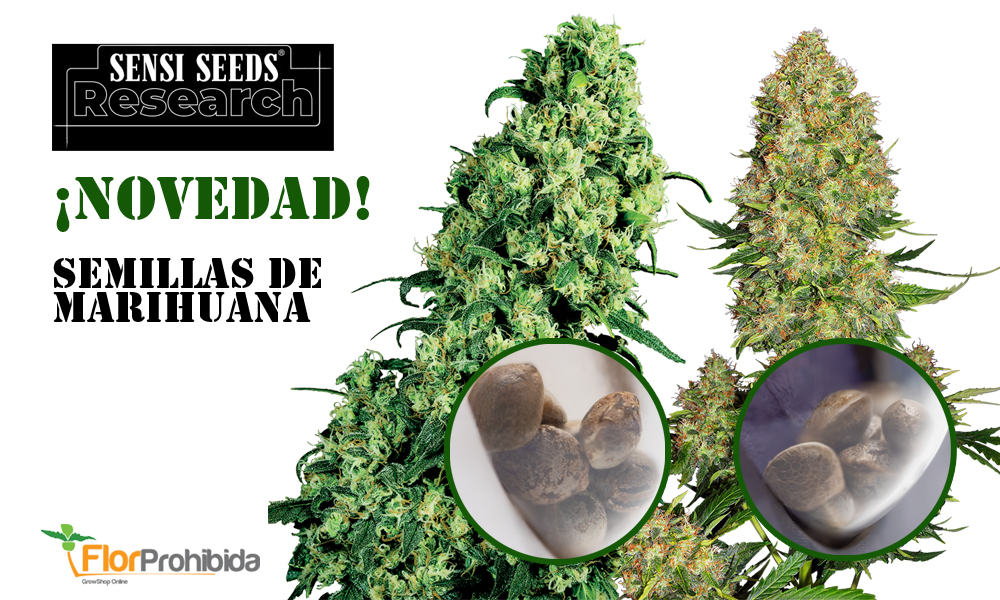 Today there are multiple varieties of seeds of all types and brands, and it is very difficult to decide on one and differentiate the ones that are really worth it. But there are seed banks that by their trajectory and their criticism we can deduce that they are really seeds that will provide us with superior performance and qualities.
Stay and meet one of the most prestigious and experienced cannabis seed banks in the world of marijuana cultivation. Also discover its new line of Research seeds with unique and surprising combinations.
Sensi Seeds history
Sensi seeds have more than 35 years of history and today they have become the largest seed bank in the world with more than 500 varieties. Sensi Seeds led the marijuana seed industry in 1985 and is so important today that even the Dutch government chose the genetics of Sensi Seeds to develop drug-supplied medicinal cannabis.
The company has developed specific equipment and processing methods for growing hemp that have become an industry standard. And it is that, the attitude of the world towards the cannabis industry has changed, countries are legalizing cannabis for recreational and medicinal use, and all this thanks to companies like Sensi Seeds that fight for the acceptance of cannabis around the world .
NEW VARIETIES OF SENSI SEEDS
Sensi Seeds has recently surprised us with new varieties of seeds that you can already find in our online marijuana seed store.
With this new line of seeds, Sensi Seeds has combined its legendary strains such as Northern Lights and Hawaiian Indica with new and incredible international strains for you to enjoy unique marijuana plants on the market.
Sensi Seeds Research
Below we will review some of the top varieties of this new line of marijuana seeds that you can find in our online grow shop at the best price.
Banana frosting
Feminized Banana Frosting is a 70% indica and 30% sativa strain, and her genetics include Silver Haze, Hindu Kush, and Skunk Kush.
With these seeds you will experience a very short flowering time and a remarkable performance. It is suitable for hot and sunny climates.
The strain produces an intense and fast-acting high, you can experience physical relaxation without it being deep, and a feeling of down and happiness. It has a fruity flavor and aroma that reminds us of the banana with certain touches of spices and brown sugar.
N13 Kush
Feminized N13 Kush is 90% indica and 10% sativa, and her genetics include G13 Hash Plant and Nicole Kush.
It is a compact plant with a fairly fast flowering time (between 50 to 65 days) so that you can collect the buds quite quickly.
Being 90% indica, it highlights a warmth and deep, fast-acting relaxation. Also during the growing phase, the plants produce a pleasant earthy scent, with hints of rich berries and pine.
Blackberry cake
Feminized Blackberry Cake is a 70% indica and 30% sativa strain with a formidable genetic heritage that includes Wedding Cake, Black domina and Druban.
Like most indica, they are compact, bushy plants full of big, sticky buds.
If grown in hot climates, you can get huge yields without too much effort. They have a relaxing effect and give off a rich, earthy and woody aroma, with a citrus note, which is also present in the flavor.
Auto Mandarine Punch
Mandarine Punch autoflowering seeds are a 60% indica, 20% sativa and 20% ruderalis variety.
It features some impressive mother plants like award-winning NYC Diesel, Hindu Kush White Widow, and Maple Leaf Indica.
The plants are short and robust and with a powerful and relaxing effect. But you can also notice the feeling of euphoria and joy thanks to its sativa influence. Ideal for beginners as it is a feminized and autoflowering plant, with a short flowering time (9 weeks) and a discreet size.
During the growth phase it presents a pleasant sweet and intense citrus aroma, and its final result will produce notes of tropical fruit along with a delicious sweet flavor.
Auto Sensi Amnesia
Sensi Amnesia in its automated variety is 50% sativa, 20% indica and 30% ruderalis.
It arises from the combination of mother plants such as Jamaican Pearl, Hawaiian Indica and Afghani # 1, and offers us an abundant production with compact buds.
This variety grows in most locations, whether indoors or outdoors. It has a relatively long flowering time (10-12 weeks), but with proper care it will produce moderately good yields.
Being a 50% sativa strain we will notice a euphoric, revealing and cerebral effect. It gives off a strong and tropical aroma that reminds us of the exotic flavors of pineapple and tropical fruit.
Sensi Seeds
When we have talked about the new line of Sensi seeds we have made mention on several occasions to mother strains from which these new seeds have emerged.
That is why we are going to review the top seeds that Sensi Seeds offers us. This famous seed bank offers us quality and performance with spectacular results, and it is that the reputation and the good reviews confirm it and give us an assurance of authenticity. Since as you know, there is no visible difference at first glance between a regular, feminized or autoflowering seed.
Seeds Feminized
Feminized marijuana seeds produce female plants and are what give us our precious buds. Thanks to this variety of seeds we should not be attentive and select between females and males, we will directly have a production of female cannabis plants which will save us a lot of time, money and effort.
Skunk 1
These seeds will produce uniform plants, very well structured, very fragrant and with great production and power. You'll experience fast and rewarding flowering thanks to the sturdy stems and branches it produces to sustain that high yield.
Growers regard Skunk # 1 seed variety as the icon of consistent and reliable performance. The term 'skunk' is currently used to define a powerful farm thanks to the power that this variety has.
Sensi Skunk
Sensi Skunk is a variety of seeds that have undergone a substantial improvement from the previous Skunk # 1. It is more powerful, has much larger calyxes and short pistils. It has a more citric and intense flavor than Skunk # 1, very similar to American varieties.
It is a very good variety both for exterior and interior, since it supports high adverse climates and has a very high quality and production. In addition to producing very large and dense buds, it is highly resistant to fungi and pests.
Jack Herer
One of the most famous cannabis strains on the planet, it has it all: potency, production and unmatched aromas and flavors. The Jack Herer variety arises from the crossing of a Haze hybrid, with the powerful NL # 5, plus a productive and tasty Shiva Skunk, thus achieving genetics with a lot of personality and an unmatched power and flavor.
It has an aroma with a great variety of nuances: fresh with earthy Afghan touches and strong and fruity sweets. In short, a spectacular 50% sativa / indica hybrid plant with a powerful energetic effect in the initial high that over time becomes a relaxant capable of leaving you trembling on the spot.
Early skunk
It could be defined as the best off-road variety in Sensi Seed's seedbank outdoor collection. It arises from the crossing of the famous Skunk # 1 (quantity and vigor) and the Early Pearl (exterior strength), a hybrid that presents a very fast, strong flowering, resistant to pests and cold and humid climates.
This strain is created so that outdoor growers can grow the Skunk strain in short summers, allowing them to harvest weeks earlier than Skunk # 1 and with a great yield.
Seeds Autoflowering
Autoflowering marijuana seeds allow us to produce very fast and almost automatic plants since they do not require much care. Achieving a good bud production in just 2-3 months was unthinkable until the arrival of autoflowering seeds, a variety that allows us to do everything automatically, without depending on daylight hours or weather conditions.
They are a great choice for novice growers or gardeners living in less hot climates who want to grow in open ground or on a balcony. You can produce both indoors and outdoors allowing you to grow several autoflowering seed crops during the season (2-3) and in warm areas you can grow throughout the year as they better withstand inclement weather.
You know if you want fast and quality production, one of the best options is undoubtedly the variety of automated seeds from the Sensi Seed bank.
Auto skunk 1
If you want to grow one of the most famous varieties on the market, you can also do it in much less time thanks to the variety of automated seeds from Sensi Seeds.
As we have mentioned, Skunk strains stand out for their smooth growth, becoming one of the fastest and easiest ways to obtain high quality medical or recreational cannabis in record time.
Auto Northern Lights
This variety of autoflowering seeds produces compact, fast-growing plants with lush flowering. It has a fresh, unique flavor and its smell is floral, an ideal option if what you are looking for are plants that do not smell much.
It arises from a cross between the Northern Light and the autoflowering indica, which allows it to be ready to harvest after 70-80 days from germination.
Auto Afghani 1
The variety of autoflowering Afghani It has the powerful effect of indica, making it a good appetite stimulant, as well as offering a relaxing effect that helps you fall asleep.
It has been crossed with rudelaris to make growing even easier for beginners and indoor growers with limited space. Auto Afghani seeds double in size in the flowering stage and you will have them ready after a period of between 7 and 9 weeks.
Difference between Indica and Sativa
There are many differences between an indica plant and a sativa, and it is convenient to know them to be an expert in the world of cannabis.
If we look at the origin, the indica variety comes from Central Asia and the Indian subcontinent, while the sativas come from equatorial areas (Mexico, Thailand, Jamaica …).
If we analyze its physical appearance, we will observe that an indica plant has denser, heavier and more aromatic buds, and sativa buds are usually larger but weigh less when dried since they are less dense than indica.
Sativas generally take much longer to flower (between 60 and 90 days) than indica (45 and 60 days). Indica is expected to increase its vegetative height by a factor of 50-100%, on the other hand, the most normal thing in sativa is that it increases by 200-300%.
The deepest difference is in the effect, indica cannabis strains are associated with a feeling of body relaxation, as if stress is flowing out of the muscles. On the contrary, in the case of sativa we can appreciate a sensation of stimulation at the cerebral level.
---
Once you know the seed varieties and all their effects, it's time to start growing. Start your adventure in the world of cannabis cultivation with Forbidden flower, where you will find the best offers in seeds and all kinds of tools for growing, as well as all kinds of paraphernalia and accessories to enjoy a unique cannabis experience.
Now it's your turn. Tell us about your experience with Sensi seeds and what is your favorite variety.