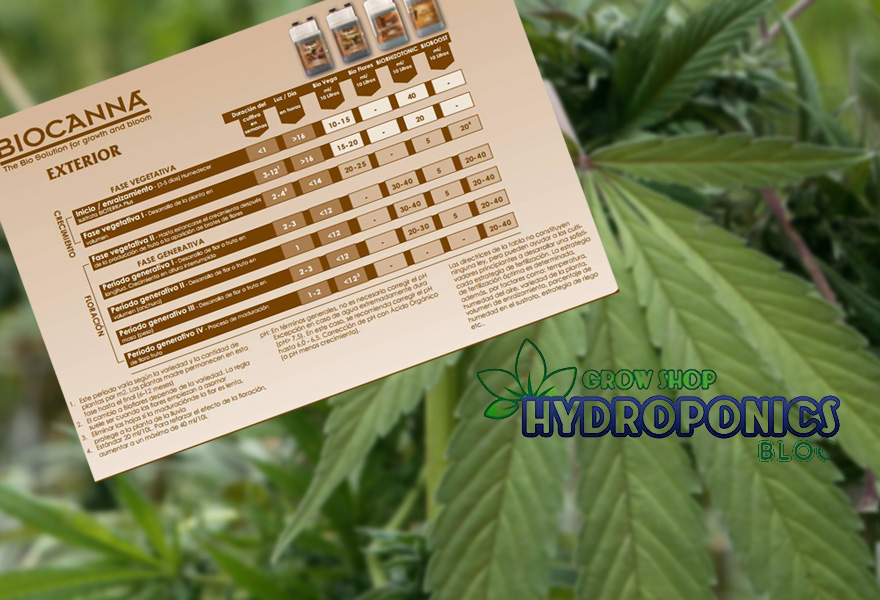 BIOCANNA outdoor cultivation table, belonging to CANNA's wide range of 100% organic fertilizers.
This BIOCANNA Grow Table has the appropriate measurements for outdoor crops
BIOCANNA outdoor grow table
Here we leave you the table of cultivation of BIOCANNA fertilizers, to be able to see the development from the beginning to the end of how to make the necessary food at the marijuana plants in each phase. We can see on the left of the table that there are two cultivation phases: the growth phase and the flowering phase.
BIOCANNA fertilizers are 100% organic and they are developed for cultivation on land. They are plant-based and the composition of the products is synchronized with what the plant needs.
The essential products to follow this BIOCANNA outdoor grow table, are the following:
Recommendations:
1. Vegetative phase I.
This period may vary depending on the variety grown and the number of plants per m2. If mother plants are grown, it must be considered that they will remain in this phase until their life cycle ends. It is recommended between 6 to 12 months.
2. Vegetative phase II.
The change to Bio Flores varies according to the variety of plants. Usually the transition is made when the flower begins to appear.
3. Vegetative period IV.
It is the process of maturation of the flower, where you have to eliminate the leaves that have a slow maturity and protect the marijuana plants from the rain.
You can find all the necessary products to follow this table in our online store www.growshoponline.com
Hydroponics Blanes – Grow Shop Online – España