Although we can start from the basis that your pet does not need to consume marijuana (much less smoke it), surely on some occasion you will have encountered the unpleasant surprise that one of the plants of your wonderful harvest mysteriously dawns mutilated. Cats and dogs use the plants in the garden to purge themselves and as they see your marijuana plant within reach, they will not miss the opportunity.
But from the way they devour it, don't you get the feeling that they've enjoyed it almost as much as you? Is it possible that there are animals that like marijuana?
Animals remember their favorite drugs
It is an evolutionary issue that Darwin himself was aware of when on one of his trips he discovered that a group of monkeys always returned to the same place to consume the same type of plants. What would not be your surprise when you understand that those striking flowers were not exactly a delicacy from the nutritional point of view but that they had psychoactive effects that made them like motorcycles.
These examples are repeated in many other cases. And it is that animals have the ability to remember their favorite drugs. Those plants that for one reason or another make them feel good. This is how the reindeer fondness for hallucinogenic mushrooms, cats for magic, is well known. yerba gatera or the monkeys and elephants for the fruit already passed, whose alcohol content causes an intoxicating sensation. Such are these animals!
And what about marijuana? Did you think that with how aromatic it is it would stay on the sidelines? Too tempting for any animal species to notice its presence. As far as they can, there are several animals that are on the hunt. So don't lose sight of your crops.
More than just insects threaten your marijuana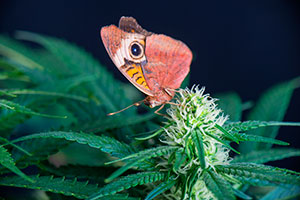 Not only fungi, insects and other microscopic beings pose a threat to your cannabis plants. In outdoor plantations, exposure to the most common pests may be the least of your worries.
There are other types of animals that feel a fatal Attraction by marijuana, either by the already developed plant or by its seeds. It is such a close relationship that veterinary medicine is already studying to find out if it can benefit from it.
At the moment these curious facts about the relationship between marijuana and certain animal species are already revealing enough for you to know what types of threats you should pay attention:
Cows are heavy users of cannabis. Until relatively recently in Switzerland and Lichtenstein hemp feed was used as a supplement to their diet and farmers (and apparently cows too) were very happy with the results. However, this type of diet was prohibited because it was considered that THC (whose levels in this product were really low) could pass into the milk.
Ham flavored with marijuana?Ranchers in Washington, a state where marijuana is legalized, say that pigs fed cannabis are fatter and tastier. Pigs seem delighted to be able to eat the leftover stems, roots and leaves of growers in the industry. And so everything is used.
Mice and hamsters are very fond of. If you give them to choose from a very varied selection of seeds, studies have shown that in the end they end up opting for marijuana. Rodents have developed a great tolerance for cannabis seeds, so be careful where you keep them because perhaps when you go to prepare your next crop you will realize that they have disappeared.
Seeds to copulate. Cannabis seeds appear to increase copulation among birds. For a reason, in a bag with different types of seeds, hemp seeds are the first thing the birds eat.
Rabbits and cannabinoids. During the lactation period, the milk produced by female rabbits has a certain content of cannabinoids. It is a natural way for the young to have more appetite, nurse more and consequently grow faster. This discovery made in 2001 by the Hebrew University of Jerusalem has served to open the doors to other investigations about the potential of marijuana when it comes to whetting the appetite.
Medical marijuana for pets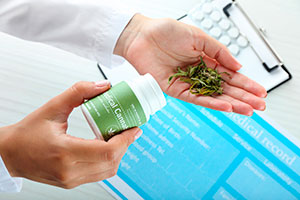 Apart from the fact that some animals have this fixation with cannabis, during the last decades many veterinary studies have focused on the search for a therapeutic utility of marijuana also in companion animals.
When your dog or cat destroy a marijuana plant, they don't do it precisely with the aim of getting high. They do it because they like to feel good. It is another way of verifying that cannabis has a series of medicinal properties that are beneficial for the body, regardless of whether it is a person or an animal.
Giving your pet the marijuana that you consume without the supervision of a specialist could be counterproductive. It is one thing that the dog has entered a fit of rage and has launched itself against the plant and quite another is that a cannabis compound with the active THC and CBD is prepared for him, an issue that is not even regulated.
But studies in this field indicate that there are undoubtedly many useful applications of marijuana and its benefits in domestic pets. The use of hemp (with very low levels of THC and a high percentage of CBD) is often given as an example in dogs with anxiety and behavior problems or in the treatment of tumors and bone pathologies that are very common and painful in animals of adulthood.