Buy Joy Organics Premium THC-Free CBD Oil Products

Premium CBD Oil Products
The ways to take advantage of CBD's benefits are nearly endless. That's why we work tirelessly to provide our customers and partners with exciting new products. We're continuously improving our formulas to ensure we only use the best available ingredients. Take advantage of our current offerings, and keep an eye out for what's coming soon.
Our USDA Certified Organic Fresh Lime CBD Oil Tincture is crafted with four premium ingredients and no artificial colors or flavors. This full-spectrum formula contains less than 0.3% THC and provides a variety of phytonutrients believed to enhance CBDs efficacy. It can be taken day or night to promote calm and overall wellness!
Our first full-spectrum formula, Fresh Lime CBD Oil Tincture is crafted using four premium ingredients with both taste and efficacy in mind.
This USDA Certified Organic CBD oil tincture contains a variety of phytonutrients including flavonoids, terpenes, and minor cannabinoids that work together synergistically to promote wellness and balance throughout the body and mind.
Each 1oz bottle contains 30 servings and every batch is third-party tested to ensure potency and purity. Fresh Lime is offered in three different strengths: 450mg, 900mg, and 1350mg.

Tranquil Mint Organic CBD Tincture (Broad Spectrum)
Our Tranquil Mint CBD Oil Tincture formula has always contained the finest ingredients, and we are proud to announce that it is now also USDA Certified Organic.
This premium 0.0% THC CBD oil tincture contains no artificial colors or flavors and is one of the best-tasting and cleanest formulas on the market. Our Tranquil Mint CBD Oil Tincture contains organic olive oil, organic peppermint essential oil, and organic broad-spectrum hemp extract.
Every batch of our Tranquil Mint tincture is completely 0.0% THC and third-party tested to ensure purity and potency. Each 1oz bottle contains 30 servings and three strength options: 450mg, 900mg, and 1350mg

We've refined our existing Summer Lemon formula to craft a fully organic 0.0% THC CBD tincture our customers will love.
We believe that in order to maximize CBD's benefits, this amazing plant compound should be combined with only the best carrier oils and essential oils. That's why this premium CBD oil tincture contains the highest quality ingredients we could find and absolutely no artificial flavors or colors.
With 30 servings per 1oz bottle, our Summer Lemon CBD Oil Tincture is available in 3 different strengths: 450mg, 900mg, and 1350mg. This tincture can be taken day or night to bring a little extra sunshine into your life! All batches are tested through a third-party lab to ensure potency and purity.

Organic CBD Salve
While a lot of Joy Organics customers are looking for a CBD product they can ingest, some are looking to introduce CBD into their lives in other ways. Perhaps you are looking for additional moisture for your skin, or maybe for some muscle support. Our CBD Salve is the ideal choice for those who want to experience the benefits of CBD through topical application.
Your skin is the largest organ of your body, meaning that it provides an excellent substrate for quick absorption and fast effects. Our CBD Salve is effective as soon as the product is absorbed into the skin. Unlike oils, which have to be metabolized inside the body, salves can be applied locally for pinpointed accuracy.
Our broad-spectrum, premium-grade CBD is mixed with organic beeswax and aromatic essential oils to create a salve that will benefit your skin and your joints in multiple ways. All of our salves are mixed in the USA, ensuring the highest quality.
As you may have realized by now, not all CBD companies are the same. The good news is that Joy Organics has your best interest at heart. We use only the best quality ingredients in our products and make sure all batches of our CBD products are tested by third-party labs for potency and contaminants. Pick up some CBD salve today and use it as often as you need.

CBD Gummies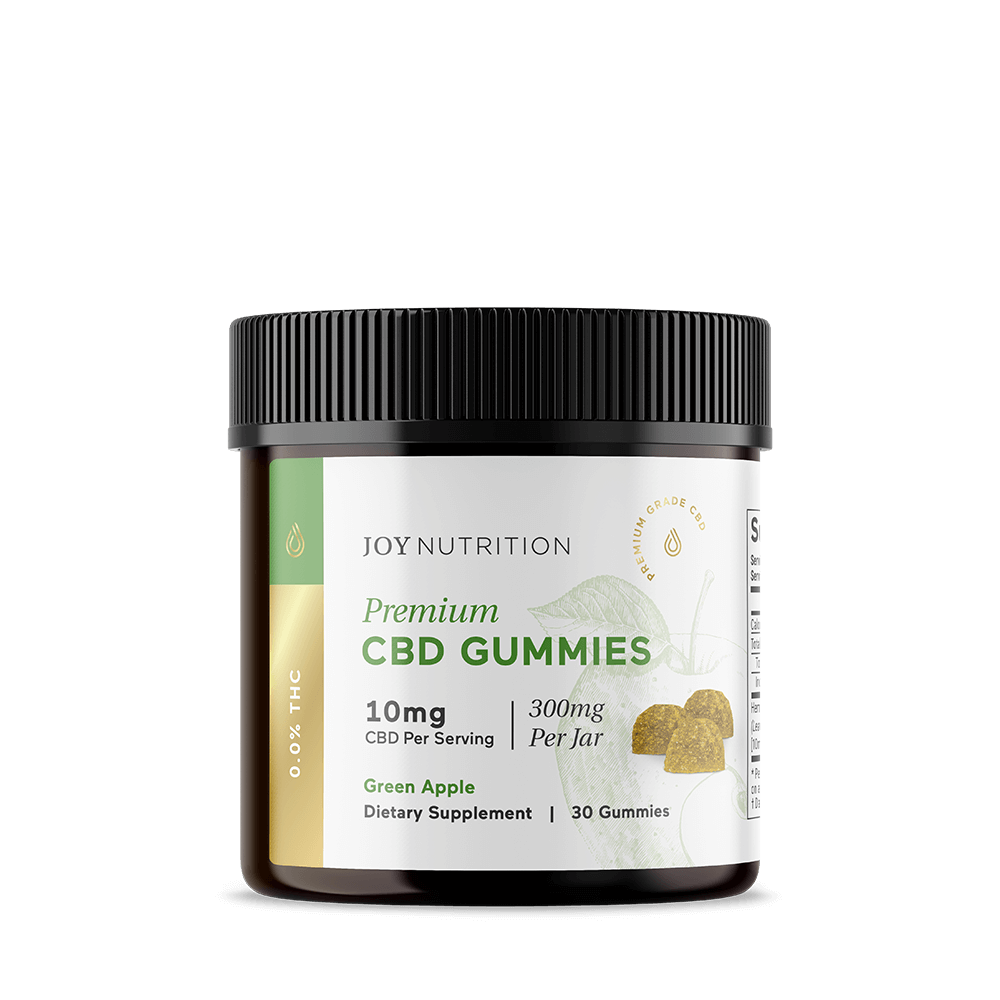 CBD gummies are quite popular these days, and it's no surprise why. Tasty, convenient and fun to take, gummies are a reliable option for pretty much anyone.
At Joy Organics, we strive to create the most natural products possible. Our CBD Gummies include 10mg of CBD each and other clean ingredients like organic tapioca syrup and organic cane sugar. These tasty treats are gluten free, vegan and, of course, 0.0% THC. In green apple and strawberry lemonade flavors, these gummies are the tastiest CBD gummies around.

CBD Softgels – 10mg & 25mg Options
You can find broad-spectrum CBD capsules in a variety of places, but Joy Organics CBD Softgels are in a class by themselves. When you choose Joy Organics for your CBD soft gels, you can be sure you are getting the best products on the market.
Oil and water don't exactly mix. The human body is mostly made of water. That's why when you take a regular CBD product, you don't absorb much of it. Our soft gel formula utilizes nanoemulsion technology that decreases particle size, transforming our premium hemp extract into a consistency more easily absorbed by the body. This increased bioavailability means that you'll see similar benefits that you would with a regular CBD product but with a smaller serving size.
Adding to the benefits, Joy Organics CBD Softgels are made with broad-spectrum oil, packed with naturally occurring phytonutrients. The combined benefits of CBD and other cannabinoids and terpenes from the hemp plant make our CBD softgels truly synergistic. This process is known as the entourage effect, which just means you are getting the best of what the hemp plant has to offer when you trust Joy Organics for your CBD needs.
Joy's CBD Softgels give you predictable results in an easy-to-swallow format. Because of our water-soluble nanoemulsion technology, bioavailability is much higher than an oil-based CBD product. If you are looking for fast and effective CBD results for any time of the day, our 10 or 25mg softgels are the perfect product for you!

CBD Energy Drink Mix
If you listen to coaches and trainers, you'll find three letters popping up again and again: CBD. It's easy to see why. CBD products align perfectly with what athletes need. You don't have to be an athlete to enjoy Joy Organics' Energy + Focus Drink Mix, but those that are will undoubtedly feel its impact.
How can Joy's energy packs help you reach peak performance?
With 75mg of caffeine in each packet, you'll experience more available energy to help you get the most out of your workout, hike, studying, day in the office or anything else that requires some extra pep in your step.
Whether you're preparing for a physically demanding performance or are needing to concentrate on your work or studies, our energy drink will help you stay focused on the task at hand.
Joint or muscle discomfort can sideline even the most devoted athlete. Our CBD energy packs help support proper joint and muscle function so you can get back into the game.
Who enjoys post-workout soreness? Not us, which is why we love our energy packs for supporting recovery after a hard workout.
There's no need to take our word for it when it comes to the benefits of CBD for athletes! At the start of 2018, the World Anti-Doping Agency acknowledged CBD's benefits and removed it from its banned substances list.
Joy Organics sources our CBD from hemp plants grown in the USA. This means that our broad-spectrum, premium-grade CBD is of the highest quality. We source our CBD from hemp plants and extract even the trace amounts of THC, meaning that you don't have to worry about the intoxicating high associated with marijuana-based CBD. If you are ready to try an all-natural alternative to most of the other sugar-packed energy drinks on the market, our Joy Organics Energy Drink Mix is perfect for you.

CBD Cream
Say goodbye to the discomfort of dry, itchy skin and hello to a CBD-infused experience for your whole body.
Enjoy 250mg of CBD in each one-ounce container of our CBD Cream. The premium lotion is packaged in a convenient pump bottle with a snap-on lid.
Because we always choose broad spectrum hemp oil, our customers benefit from the naturally occurring components of the hemp plant combined with CBD, commonly called the entourage effect. Our third-party lab results ensure that what we say on the box is what's inside the product.
We offer free shipping and a money-back guarantee, making Joy Organics new CBD lotion the perfect choice for your CBD needs.

CBD Sports Cream
Sore muscles are relieved and tension released with Joy Organics' CBD Sport Cream. With 400mg of Premium CBD, menthol and camphor, our 4oz pump container is essential for a trip to the gym or a day in the garden. Vegan and 0.0% THC. Use it before, during or after activity and keep moving throughout the day. Apply to joints or muscle strains as needed to relieve discomfort.
Joy Organics' Sport Cream is vegan and 0.0% THC as well as third-party lab tested. View the lab report for this product.