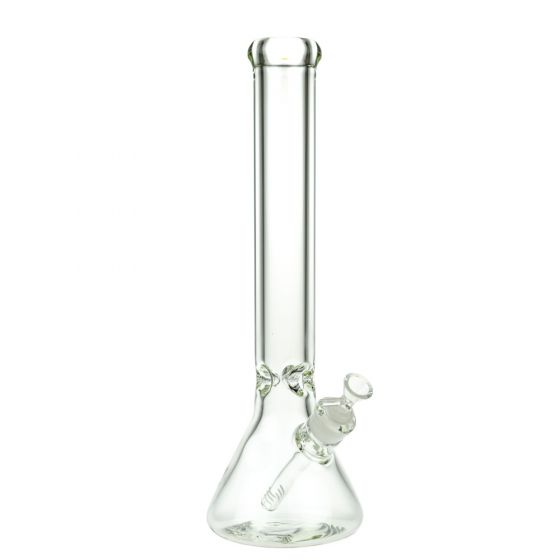 Glass Beaker Base Ice Bong 7mm | 15 inches

Sturdy beaker ice bong for a great price
High quality 7mm thick borosilicate glass
Stable beaker base
18.8 mm ground joint
Inside-cut 18.8mm > 14.5mm slitted diffuser downstem
14.5mm male herb bowl
Ice notches
Straight neck
Rimmed mouthpiece
Description
Glass Beaker Base Ice Bong 7mm | 15 inches
Looking for a durable, solid beaker base ice bong for every day use, but you don't have a large budget to spent on it? Then have a look at this clear glass beaker base bong. Made from the finest, 7mm thick, borosilicate glass, this bong can take a bit of rough handling.
The bong measures 38 cm / 15 inches in height and comes complete with an 18.8mm ground joint, a removable inside-cut 18.mm > 14.5mm slitted diffuser downstem and a 14.5mm male herb bowl. The slits in the diffuser spread the smoke into all the angles of the bong water, for much better diffusion of the smoke.
This bong has a beaker base design, which provides more surface, allowing for more water to be added than in a straight tube bong for better filtration and a much milder hit. The comfortable mouthpiece is rimmed for a great lip seal when you inhale. The ice notches give you the option to place a few ice cubes in the tube for a frosty hit.
This no nonsense glass beaker ice bong is the ideal piece to add to any glass collection and with a price like this it is hard to let an amazing offer like this pass you by.