Buy Doc Patels CBD Gummies- Orange (25mg / per gummy)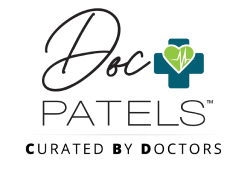 Try our newest product! Doc Patels CBD Gummies. Each jar has 30 gummies and each gummy has 25mg of premium 0.00% Broad Spectrum CBD.
Fast Free Shipping
0.00% THC
Lab Tested
Curated By Doctors
These CBD Gummies, each one coming in at 25mg of CBD, are perfect for a simple, great-tasting way to consume CBD. 30 count gummies per container. Gummies available in Orange and Strawberry flavors.
When you choose Doc Patels, you can rest easy knowing all of our CBD products are hand-selected by doctors to ensure safety, consistency and quality every time.
Ingredients
We use a limited number of high-quality ingredients to ensure you have the best product possible with no fillers.
Orange Gummies: Glucose syrup, cane sugar, pectin, water, citric acid, natural preservatives, natural flavors, natural colors, Coconut MCT, Carnauba Wax. Each gummy contains 25mg of high-quality 0.00% THC Broad Spectrum CBD.
Suggested Use
Take CBD gummies on a full stomach with something heavy in fats.
Curated By Doctors
We are dedicated to creating high-quality 0.00% THC Broad Spectrum CBD products that you can feel confident in. Our CBD products are hand-selected and Curated By Doctors offering you a brand you can trust with a 15-Day Money-Back Guarantee if you are not satisfied.
CBD Certification Stamp by Dr. Rachna Patel
As a world-recognized expert physician in the realm of Cannabinoid Medicine, approval from Dr. Rachna Patel means products withstanding rigorous testing, meeting her high standards, and product safety & effectiveness.
This Certification Stamp gives the buyer the confidence of knowing the product has been vetted and hand-selected by Dr. Rachna Patel.